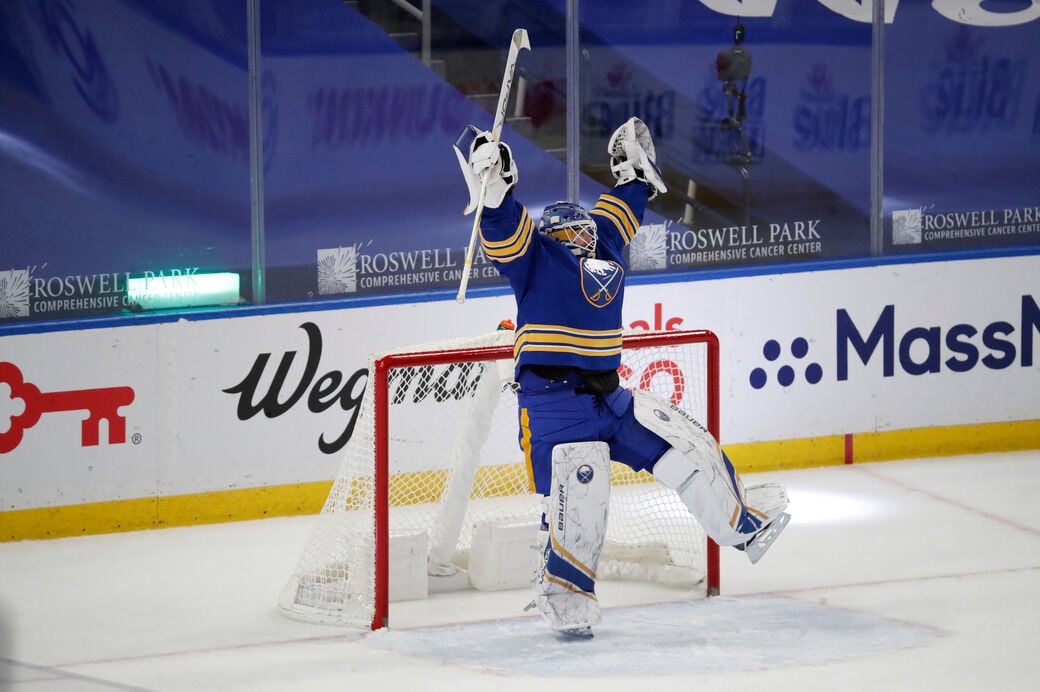 The outlook in goal for the Buffalo Sabres might have brightened Monday with the surprising return of Linus Ullmark at the morning skate in KeyBank Center.
Ullmark, 27, practiced with the Sabres for the first time since he suffered a lower-body injury in a game against the Boston Bruins on April 13. It was an unexpected development after interim coach Don Granato told the media last week that Ullmark was not an option for the Sabres anytime soon.
However, Ullmark felt well enough to take shots from teammates and received medical clearance to rejoin the team. The Sabres will monitor Ullmark's health to determine if he can be an option before the season ends with a game Saturday in Pittsburgh.
This was a second unrelated lower-body injury for Ullmark, who has missed a combined 26 games in 2020-21.
"It certainly was a very frustrating thing to happen, especially when you've gone through a bigger one beforehand," Ullmark said following the skate. "If I can rewind and obviously do something different I would've done it, but looking back at it at the time, I did what I had to do to be ready for the game and to play like I normally do. It was kind of a weird thing that just happened and I'm standing here now."
The injury occurred during the first period in Boston's TD Garden. Ullmark appeared to be experiencing some discomfort upon standing up from the butterfly position after making a save on defenseman Mike Reilly. Ullmark remained in the game before he skated to the bench and was replaced by Dustin Tokarski.
Ullmark, a pending unrestricted free agent, has a .917 save percentage in 20 games. General Manager Kevyn Adams opted to not trade Ullmark before the April 12 deadline, as both sides plan to continue to discuss a new contract for the starting goalie.
"It was all right," Ullmark said of his first skate with the team. "It's the first practice back and it was certainly enjoyable. I had fun out there skating around with the boys. And regarding the future, there's still things that need to be done beforehand but we'll see."
The Sabres are still awaiting word on the severity of the ankle injury rookie goalie Ukko-Pekka Luukkonen suffered in the final moments of the second period Saturday in Boston.
Luukkonen, 22, dropped to the ice in pain after gliding to the left post while tracking the puck in what would be a 6-2 loss to the Bruins. He managed to scramble in the crease until time expired, when he was then helped off the ice and did not return.
A second-round draft pick in 2017, Luukkonen has a .906 save percentage in four games with Buffalo. His backup in those games, Tokarski did not skate with the Sabres on Monday morning for what Granato later said is a "family matter" to tend to.