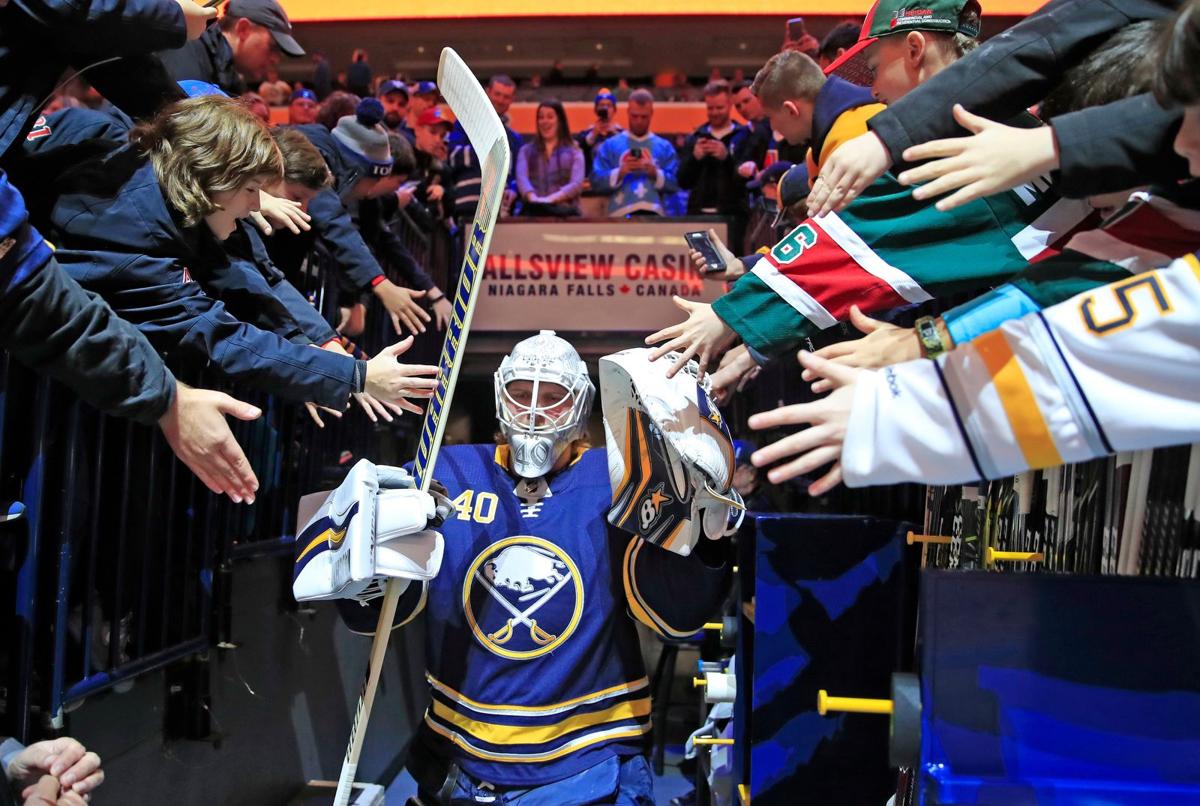 Robin Lehner should feel better than he does. Losing keeps bringing him down.
The Buffalo Sabres goaltender was impressive during a three-game road trip, stopping 125 of 133 shots for a .940 save percentage. All he had to show for it was a 1-0-2 record.
"It's obviously hard to find a bright spot when you're losing," Lehner said Monday. "It really is."
History suggests good news could be coming. The Sabres host Ottawa on Tuesday, and Lehner has tormented his former team. He is 4-0-2 against the Senators with a .959 save percentage and 1.30 goals-against average.
Lehner could use a pick-me-up. Despite getting four of six points during the road trip, Lehner left the crease following overtime goals by Chicago and St. Louis.
"I'm just kind of disappointed," he said in KeyBank Center. "We're working hard. We're trying to turn things around, and they're big points for us. Obviously, the points are big, but just the emotion of winning right now is such a boost. When we win a game, it feels so good right now.
"If we do a few things and maybe just push that little bit extra, we could have come out 3-0 on this road trip. That would have been a hell of a boost for us. We still got four out of six, and that's a positive, but I hate losing. Most of the guys hate losing, and it's tough sometimes."
Despite the disheartening losses, Buffalo (7-17-6) has points in three straight games for the first time this season. It will look to make it four against a team facing similar struggles.
Ottawa is sliding toward the bottom with a 1-9-2 drought. The Senators are 9-12-7 and ahead of only Buffalo in the Eastern Conference.
Lehner can get the Sabres a little closer.
"We're working hard," he said. "There's a few things we need to get better at, and I need to get better at a few things, too. We're still heading in the right direction. We just need to get a little bit more consistent as a team, all of us, and we'll move forward from there."
Nathan Beaulieu lost so much weight last week that he refused to even dole the exact figure.
"A lot," the Sabres defenseman said. "I lost an extreme amount of weight and was pretty weak."
Flu-like symptoms rocked the 200-pound Beaulieu, who returned to practice after failing to join Buffalo on its road trip. He's questionable for Tuesday's game against Ottawa.
"It's tough with these things," Beaulieu said. "Some days you feel really good, and then some days you think you've still got a bit of it."
Beaulieu started feeling ill during the Dec. 2 game in Pittsburgh. He left after skating just 7:46.
"I threw up twice on the bench," he said. "It was just wasn't the right thing to do to be around my team. It wasn't fair to them. I didn't want to pass it on."
The Sabres returned home after the Pittsburgh game and left for Colorado on Monday. Bealieu stayed home, missing Tuesday's victory over the Avalanche and the overtime losses.
"It was a really weird situation," Beaulieu said. "It was unfortunate, but those type of things you don't really want to fly with the team and spread the germs.
"It knocked me out pretty good, hit me really hard. I've never been hit by that before. … I did everything I could to get back. Unfortunately, I wasn't able to. The guys did a great job, and hopefully I'll be out there soon."
The Sabres want Jacob Josefson to stick around longer than three games this time. So even though the center is making rapid progress with his ankle injury, his return to the lineup isn't imminent.
Josefson was a surprise participant in Buffalo's optional practice. He reinjured his right ankle Nov. 25, and the initial timeline was four to six weeks. He's skating in just more than two.
"It feels like I'm a little bit ahead of schedule, so the rehab must have been good," Josefson said. "It responded well, I think, so now it's a matter of getting back with the team."
That won't happen until the Sabres are sure his ankle can handle it. Josefson originally hurt the ankle Oct. 15, and he didn't return until Nov. 22. He suffered the same injury three days later.
"He's still week-to-week," coach Phil Housley said. "It's good to see him out there moving his feet and turning hard, cutting hard on his lower body. It's going to be a progression for him, but we've got to be smart because of his injury."
The setback was a disappointment for Josefson and the Sabres. He provided an immediate boost upon his return, earning an assist against Minnesota and scoring against Edmonton before leaving during a loss in Montreal.
"It was frustrating, but I feel a lot better now," Josefson said. "Hopefully, I can be in for the rest of the year."
Be the first to know
Get local news delivered to your inbox!