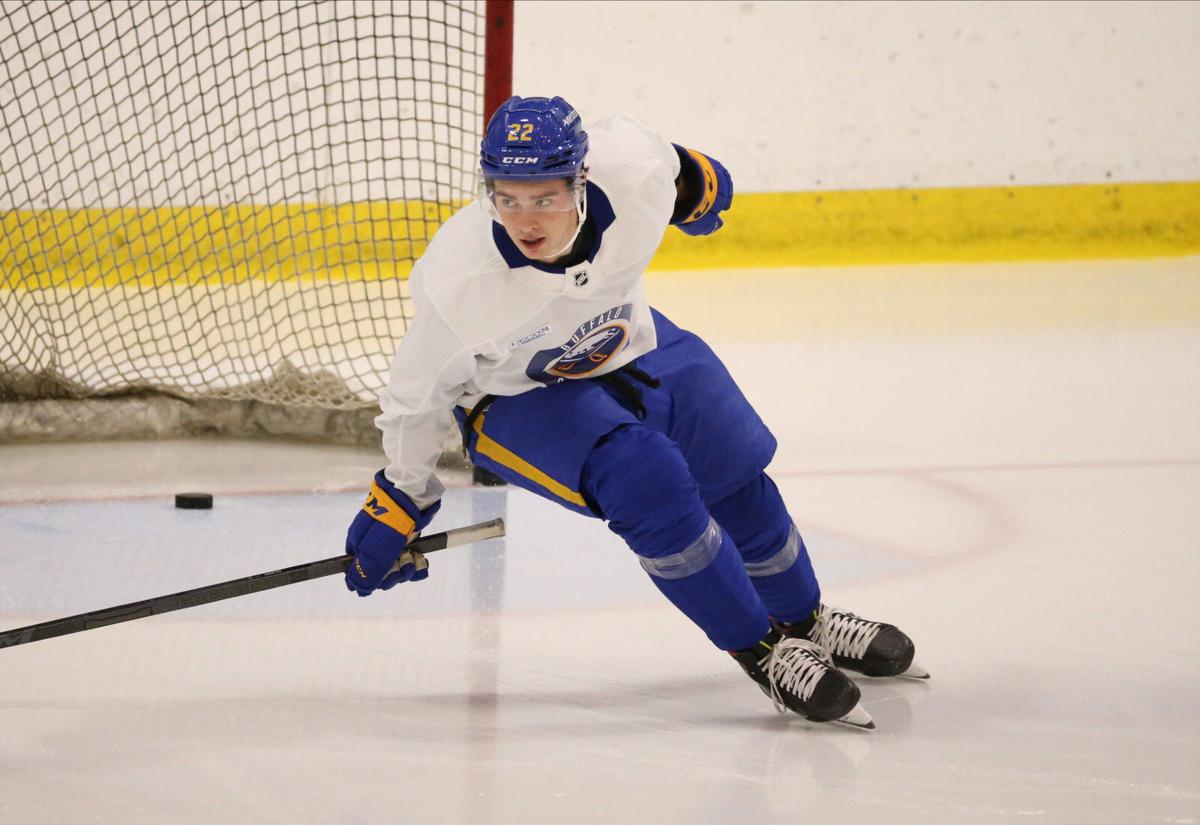 SAN JOSE, Calif. – A slow start to training camp and exhibition games didn't carry over to the AHL season for Jack Quinn.
The Buffalo Sabres' No. 1 draft pick in 2020 was named the AHL's Rookie of the Month for October on Monday, after surpassing his offensive output for the 2020-21 season in just six games. 
How much are teams willing to give up for Jack Eichel? GM Kevyn Adams is driving a hard bargain.
Quinn tallied five goals and five assists for 10 points as the Amerks went 4-2 and finished tied for second in the AHL in scoring with 27 goals.
On the road back from hernia surgery, Quinn had nine points in 15 games for Rochester last season (two goals, seven assists). But he scored less than five minutes into the Amerks' season opener Oct. 17 at Utica and that set a good tone.
Quinn then notched his first three-point game as a pro in an Oct. 22 win over Syracuse, and his first career two-goal game in a win at Toronto the next day. He's excelled on a line with JJ Peterka and West Seneca native Sean Malone.
"Work ethic, his daily habits, they've always been good," Amerks coach Seth Appert said on a video call Monday. "It's taken another notch now. He's really embracing being a pro, he's embracing coming to the rink and finding ways to try to get 1, 2, 5% better at different areas of his game on and off the ice every day. So his attention to detail and his habits are extremely high. That usually leads to confidence."
Sabres coach Don Granato was thrilled to hear the news after practice in SAP Center and recounted the meeting he had with GM Kevyn Adams to tell Quinn he was going back to the AHL.
"He looked at both of us and he said, 'I'm OK with going down in one sense. I played below the standard I believe I can play in the American League,' " Granato said of Quinn's reaction. " 'And I feel like I need to go back there and prove to myself that I can play better in that league.' "
"His immediate response was I still have some unfinished business down there," Granato added. "And that's what he went down there looking at it. That's exactly why we drafted him and picked him and that's why we enjoy having him in our organization. He's like a homing torpedo."
The Eden native burned his hometown team with his third goal of the weekend for the Los Angeles Kings. 
The AHL also honored Williamsville native Andrew Poturalski as its player of the month after he poured in five goals and nine assists over six games for the Chicago Wolves to lead the league in scoring. Poturalski is back in the Carolina organization, where he won a Calder Cup with Charlotte in 2019 and played his two NHL games in 2017.
Center Cody Eakin was a full participant in Sabres practice for the first time since he was injured in an Oct. 20 workout and could be ready to return to the lineup Tuesday.
We're gonna just see how it feels throughout the day, how it feels in the morning after a good skate like that," Eakin said. "And then make a decision after that. You just have to got to stay positive. There's nothing you can do about it. I would beat myself up earlier when I was younger. But you just frustrate yourself."
"We did some pretty good compete drills especially at the end and he battled," Granato said. "So it's his tolerance now. Nothing medically that anybody can give him advice on. He just has to feel comfortable. And he's going to take another morning skate to figure that out. But the rest of practice, he looked great. He's got great jump and great energy."
• Winger Victor Olofsson left practice early with what Granato termed a "soft tissue" problem. He was getting evaluated after practice but Granato said he expected Olofsson to play Tuesday.
• Granato on the team's blown leads the last two games: "On the positive side, we're up three goals and then up two goals in opposing buildings. But I don't think what happens is anything uncharacteristic. It happens all the way to the Stanley Cup final. It's a team gauging efficiency versus maybe shortcuts. You want to play efficient, but you don't want to take shortcuts."