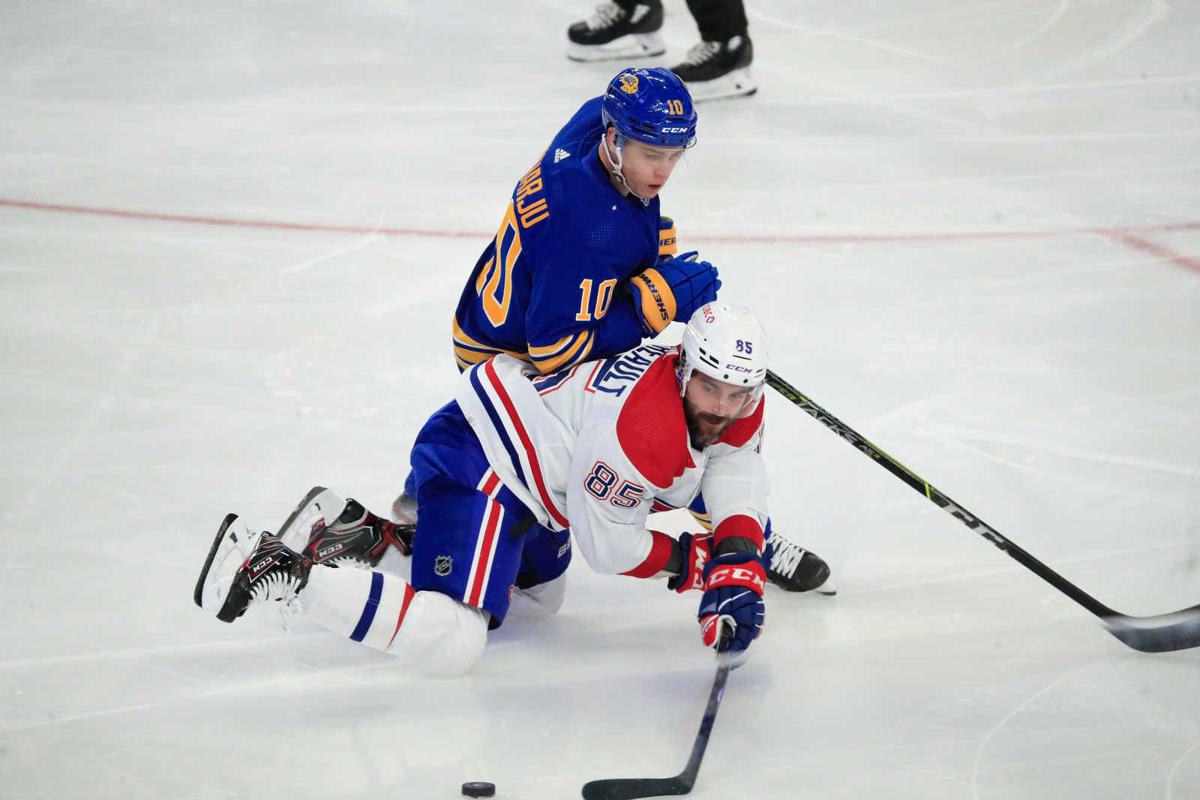 The Buffalo Sabres' defense corps moved closer to full strength Friday with the surprising return of Henri Jokiharju at practice in KeyBank Center.
Jokiharju, a right-shot defenseman, skated with the team for the first time since he suffered a lower-body injury in the season-opening win over Montreal on Oct. 14. The 22-year-old practiced on a defense pair with Jacob Bryson but isn't ready to return to the lineup.
Coach Don Granato told reporters following practice that while Jokiharju looked strong on the ice, he will require more practice time and won't be in the lineup Sunday in New York against the Rangers. Jokiharju is listed as day to day on the team's injury report and should be an option sometime next week.
"Henri looked great," Granato said. "It's just a matter of strength and making sure we give him time to get back to [full] strength. ... The only concern going forward would be how fast he may fatigue."
Jokiharju confirmed to reporters that he broke a bone in his ankle on a blocked shot. He remained in the game for two periods, finishing with 16:39 of ice time.
Jokiharju signed a three-year, $7.5 million contract with the Sabres in September after a season in which he totaled three goals and eight points in 46 games. He skated with Rasmus Dahlin on a defense pair during the final weeks last season, showcasing top-four potential after experiencing some struggles under former coach Ralph Krueger.
Since joining the Sabres in a trade from Chicago in July 2019, Jokiharju has 23 points in 116 games. He should receive ice time on the penalty kill and will stabilize a blue line that struggled in Thursday's 5-0 loss to Calgary. It's unclear who will draw out of the lineup when Jokiharju returns from his 15-game absence. 
"It's gonna be big," Sabres winger Kyle Okposo said of Jokiharju. "He's been so solid for us the last couple years since he came over here. I really liked the way he looked in camp and that first game. It gives us another right shot back there, too, which is nice. He's just a very solid defenseman, very smart and moves the puck well and is only going to get better."
The Sabres' top six has been Dahlin, Bryson, Mark Pysyk, Colin Miller, Robert Hagg and Will Butcher.
Hagg missed practice for maintenance Friday and is expected to be on the ice Saturday. Miller, meanwhile, skated with the team after missing the final 10:52 of the game Thursday night. Miller was placed in concussion protocol after he fell into the boards on a hit from behind by Milan Lucic of the Calgary Flames. Miller was cleared and is in line to play Sunday when the puck drops at 6 p.m.
Granato didn't inundate the Sabres with information after the loss to Calgary. There was a brief team meeting Friday, followed by an intense practice. He's planning a longer on-ice session Saturday in preparation for their first of five games in seven days.
Granato pinpointed the mistakes and will implement corrections. Okposo, meanwhile, didn't view the performance as anything other than an outlier, though he noted that it can't happen again.
"I'm not worried at all," Okposo said. "We're going to revert back to what we usually do. I have the utmost confidence in the guys that we're going to do that. One game, we move on, had a good day today, digested it. Obviously, there was a very sour mood in the room last night, but you move past it. The sun comes up today and we get to work. ... It's a big week and looking forward to some great efforts."
Granato made changes to the forward lines midgame Thursday, only to return to the same groups he's deployed in recent games. It appears the personnel will be status quo Sunday in New York. During practice, Tage Thompson skated with Rasmus Asplund and Jeff Skinner, while Zemgus Girgensons remained with Cody Eakin and Kyle Okposo. Dylan Cozens centered Drake Caggiula and Vinnie Hinostroza, while Arttu Ruotsalainen was between Anders Bjork and Arttu Ruotsalainen.
Winger Victor Olofsson, center Casey Mittelstadt and goalie Craig Anderson are still listed as week to week on the Sabres' injury report.