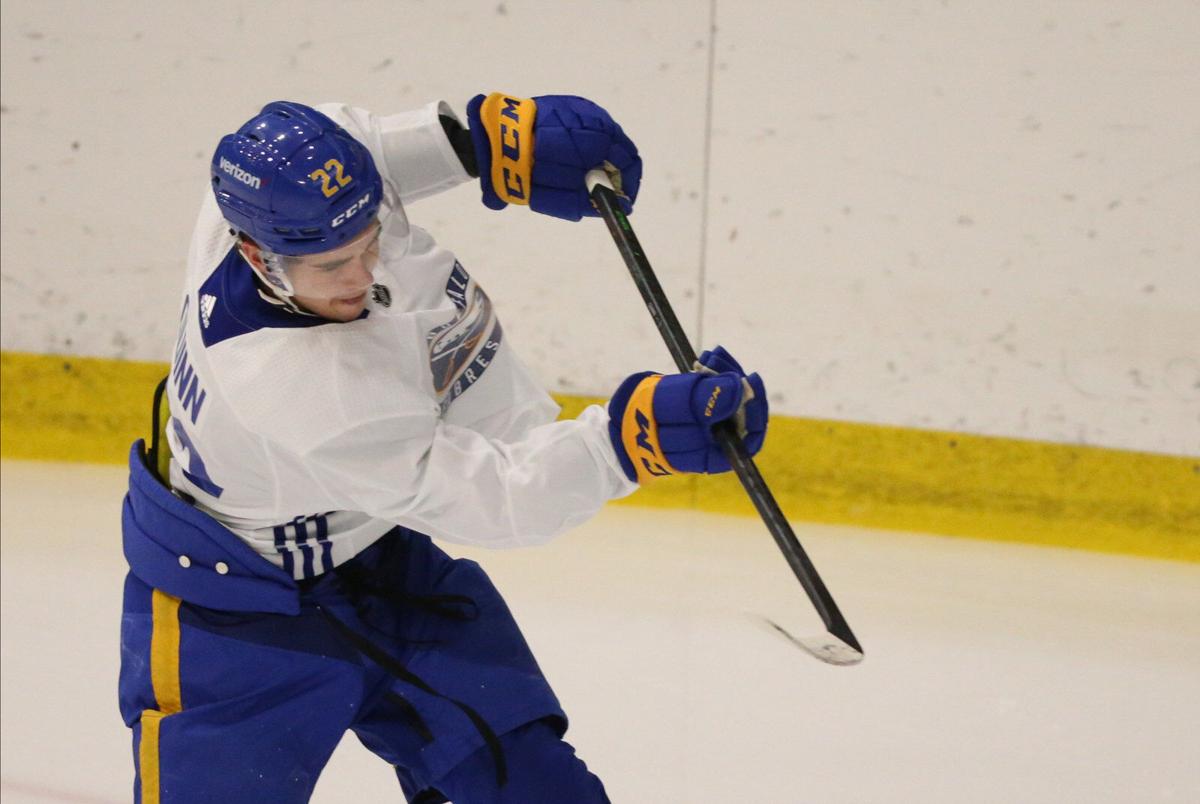 PITTSBURGH – Jack Quinn's remarkable start to the season in Rochester hasn't gone unnoticed by Buffalo Sabres coach Don Granato.
Granato told reporters following the morning skate Tuesday at PPG Paints Arena that he and his staff watch every Rochester Americans game to monitor the prospects.
Yet, it wasn't Quinn or fellow top prospect Peyton Krebs who were recalled by the Sabres when an extra forward was needed for their game in Pittsburgh against the Penguins. Winger Brett Murray got the call again.
Murray, 23, is a power forward with skill who impressed during training camp and spent time with the Sabres during their trip to the West Coast this month. He has appeared in three NHL games since debuting in May and could be on the cusp of a full-time job in Buffalo.
The Sabres likely didn't want to pull Quinn, Krebs or JJ Peterka away from Rochester with the Amerks having a game Wednesday night. A trip to Pittsburgh would also require a prospect to miss a practice in Rochester. Murray is far enough along in his development where time between games does not make as much as an impact, and the Sabres are determined to wait on Quinn, Krebs, Peterka and others until it's the right time and fit for their arrival.
"When we're not playing, we throw those games on," Granato said of the Amerks. "I get them on the computer, so I watch them after the fact as well. We're obviously excited about the number of guys down there and we communicate. Just as Kevyn has communicated many times, we're in this for the big picture of developing guys and we're not in a rush. We're going to do it the right way, and we think of that even with callups now. We called up Brett because we figured with where he's at, it made more sense than bringing a young player up."
Quinn's nine goals are tied for the league lead, and his 16 points in 11 games are third in the American Hockey League. He has improved in every area of the ice after scoring twice in 15 games in Rochester last season. Krebs has two assists in four games since joining the Amerks following his inclusion in the Jack Eichel trade.
Former Sabres center Evan Rodrigues has established himself as a reliable top-six fill-in for the Penguins. Entering Tuesday, Rodrigues ranked first on the Penguins in goals (6) and points (11) after filling in for Sidney Crosby, who had missed all but two games this season.
Rodrigues requested a trade out of Buffalo in January 2020 and received a change of scenery a month later when he was dealt along with Conor Sheary to Pittsburgh. Rodrigues had 14 goals and 26 points in 56 games since joining the Penguins.
The first meeting of the season between the Sabres and Penguins was a Pride Game, as the two teams came together to celebrate LGBTQ+ communities, while also raising funds and awareness.
A seven-day joint auction began Tuesday night, featuring Pride-taped sticks from both teams, rainbow warmup jerseys and more. Proceeds will assist You Can Play, GLYS Western New York, Proud Haven, Pride Center of Western New York, Persad Center and Niagara Pride.
The Sabres announced Tuesday they have partnered with Wegmans and Audacy for a Thanksgiving turkey drive on Thursday to benefit the Buffalo City Mission and FeedMore WNY.
The drive will take place from 7 to 9 a.m. at the following locations: KeyBank Center Surface Lot on Baltimore Street, Wegmans in Amherst on Alberta Drive and Wegmans in West Seneca on Orchard Park Road.
For every 20-pound turkey dropped off, or the equivalent of a 20-pound turkey, the Sabres will give the donor one voucher, good for two tickets to a future Sabres home game. Vouchers will be distributed immediately by volunteers at the drop-off sites and it's a maximum one voucher per person.
It can be redeemed for one of the following games at KeyBank Center: Nov. 22 vs. Columbus, Nov. 29 vs. Seattle, Dec. 7 vs. Anaheim, Dec. 10 vs. the New York Rangers, Dec. 20 vs. Columbus, Dec. 22 vs. Colorado, Dec. 27 vs. the New York Islanders, Dec. 29 vs. New Jersey, Jan. 6 vs. San Jose and Jan. 20 vs. Dallas.