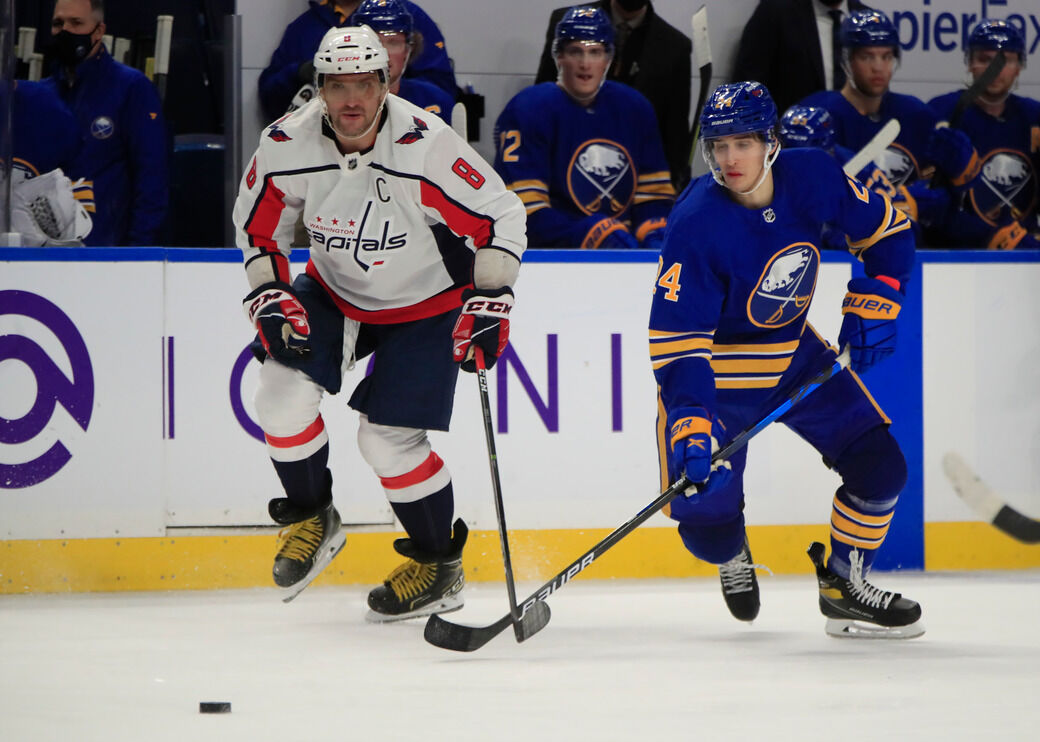 Three games into his rookie season and less than two weeks after he left the World Junior Championships. That's apparently how long it's taken for 19-year-old Dylan Cozens to push into the top-six group of the Buffalo Sabres' forward lines.
Cozens was on right wing Sunday with Eric Staal and Victor Olofsson, and it appears he will open there Monday night in Philadelphia.
The Sabres' top draft pick in 2019 averaged 12 1/2 minutes over the first two games against Washington, playing with Tobias Rieder and Cody Eakin. He collected his first NHL point (an assist on a Rieder goal), and played to a 52% Corsi rating and an even plus-minus. Cozens said the size and strength of NHL players has been a quick eye-opener, but he's ready to take on a bigger role.
While adventure sports are beloved in the isolated region, hockey is often the talk of the town, as citizens of the Yukon Territory's only city monitor from afar their beloved son, Dylan Cozens.
"They're a lot stronger than what I'm used to, so that's a big adjustment there," he said. "But I think the biggest thing I've picked up on is just how much guys take care of their bodies. Especially in a year like this, where there's so many games in such a short period of time, I think the biggest thing is just ensure I take care of my body."
Players and coaches have been impressed with Cozens' on-ice maturity since he arrived in camp, and there's no question already being in game shape for the World Juniors has given him a quick boost at the start of his NHL career.
"It was definitely a big for me to go skate in a competitive environment for two months, and then play those games and get myself back in game shape," Cozens said. "Being able to come into camp here at the top of my game, top of my conditioning. I think it was really big for me. I'm happy that I got to get that tournament in."
"I think it's his mind and his brain for the game. You can just see it at work daily," Staal said. "Whether it be practice or even in games, if something didn't go right, the next time he does it, he does it differently and gives himself a better result. As a young player, it's a whirlwind. There's a ton of things going on ... but he's handled it all really well. And he looks comfortable."
Coach Ralph Krueger said Cozens' off-the-puck game has been impressive as well.
"What stands out truly is his ability to take care of the gritty work that needs to be done to play in the National Hockey League and to not be a risk," Krueger said. "He enjoys the coverage role, he enjoys getting back, his tracking is very strong, he finds his inside position naturally. And we were actually positively surprised at how he dealt with one-on-one battles. Even against (Zdeno) Chara, he had a couple of situations where he was able to to make something out of it. So that stands out."
The Sabres have put Cozens' stall in the dressing room between Staal and Jack Eichel. Cozens said he's keeping a low profile and trying not to pepper Staal with a lot of questions.
"It's scary to think that I was him back in the day," Staal said. "Time goes fast."
Taken No. 2 in the 2003 draft by Carolina, Staal sat by current Seattle GM Ron Francis in his first year ("pretty phenomenal"), and then current Canes coach Rod Brind'Amour in his first couple of NHL seasons.
"Any little questions or any little things to Dylan, I'm always willing to talk and mostly it's been fun to kind of come this full circle," Staal said. "But hopefully the circle continues for me for a little while."
Sabres coach Ralph Krueger regularly texts with Bills coach Sean McDermott, Buffalo players …
Krueger, who regularly texts with Bills coach Sean McDermott, was thrilled by the team's victory Saturday over Baltimore and joined assistant coach Steve Smith in talking about it with the Sabres before practice Sunday.
"I live in Elmwood Village and there were some horns probably until the middle of the night, so I'm happy for the people of Buffalo," a smiling Krueger said. "Lots of sound, lots of people running around with flags in the Village, so that buzz was terrific to feel. It's a good learner for us too to see the passion of the Buffalo sports fan. It was fantastic for me to witness that on the pick-six (the 101-yard touchdown return by Taron Johnson). I think the whole city just exploded."
To avoid conflict with the AFC Championship Game – and undoubtedly avoid a ratings disaster for the Sabres' MSG telecast – the NHL and Washington Capitals have moved the start of time of Sunday's game in Capital One Arena from 7 p.m. to 3 p.m. The Bills' game in Kansas City will be kicking off at 6:40 p.m.
Monday's game in Philly is on NBC Sports Network with the No. 1 team of Kenny Albert and Pierre McGuire on the call from the network's studio in Stamford, Conn. They will be calling two of the four games of a Martin Luther King Jr. Day quadrupleheader, starting with Columbus-Detroit at noon.