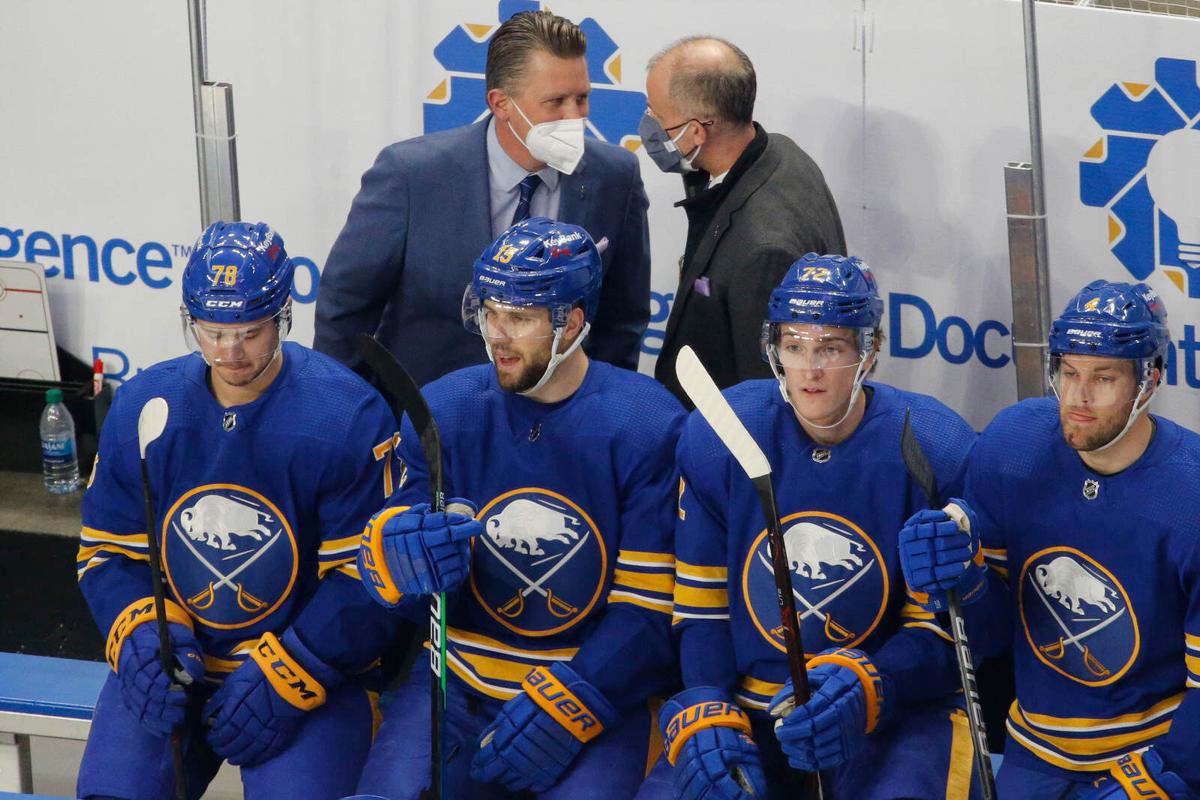 Across his first two weeks as interim coach of the Buffalo Sabres, Don Granato held extensive individual and team meetings to install the various changes he made to the team's struggling 5-on-5 game.
The conversation with his colleague in Rochester did not have to be as long.
Many of the subtleties we're seeing from the Sabres under Granato were used by Rochester Americans coach Seth Appert during his time with the USA Hockey National Team Development Program. That's not a coincidence.
Granato was head coach at NTDP from 2011-16, and his longtime assistant there, Nick Fohr, worked alongside Appert at the program from 2017-20. Appert and Fohr implemented many of the same concepts Granato used to coach various star players that came through the facility at Plymouth, Mich., including Sabres captain Jack Eichel and Toronto Maple Leafs center Auston Matthews.
This allowed Appert to quickly make changes in Rochester to have the Amerks' system more closely resemble that being used by Granato in Buffalo.
You have early questions? We have answers.
"Well, the interesting component there is Seth runs a lot of what I run anyways by default," said Granato, who left NTDP for the University of Wisconsin ahead of the 2016-17 season. "He followed me at the National Team Program and he inherited the assistant coach that I had for five years and used him extensively when he went into that. So, I know that for a fact, because we communicated a lot while he was coaching there on intricacies and details to it and practice reps. So, he has the entire drill book that we have that we put together over the years."
This is one of the advantages to elevating Granato into this role. Previously, Appert and former Rochester coach Chris Taylor ran many of the same concepts deployed by former Sabres coach Ralph Krueger. There were subtle nuances that were different because the Amerks had different personnel, but the verbiage and strategy were the same.
Krueger and his coaching staff communicated what he referred to as "Sabres hockey" to the Rochester coaches through various meetings and video calls ahead of the past two training camps. Granato did not have the same free time to cover every detail with Appert and his assistant coaches, Adam Mair and Mike Weber.
The system worked well for Appert at NTDP. With the NTDP, Appert, 46, helped implement a development model that produced an NHL-record 17 draft picks in June 2019, including eight in the first round. The group included first overall pick Jack Hughes of the New Jersey Devils.
The NTDP's foundation was built around on-ice training between games. One component of the practice plan was small-area games in which the two nets are facing each other at one end of the ice for a competitive, physical 3-on-3 game. Granato has used this drill since taking over as interim coach on March 17. Pace and execution are the focus during each practice and morning skate.
In eight games since Granato took over, the Sabres have allowed the second-most goals in the NHL while ranking 29th and 21st on the power play and penalty kill, respectively.
Ensuring a seamless transition to the NHL will be important for the Sabres, as Granato told the media Wednesday that the team plans to give prospects currently in Rochester an opportunity in Buffalo over the season's final weeks.
The Sabres will soon have roster spots to fill, as they are expected to trade pending unrestricted free agents Taylor Hall and Brandon Montour ahead of the April 12 deadline.
"Obviously ,we're in a position where we need our young players to be learning and growing and getting better, but we just have to figure out a way to balance all that," General Manager Kevyn Adams said during a live stream Wednesday morning. "The veterans know when you're in a situation like we are there may be guys on the move, and we'll see where it goes the next couple weeks."
Defenseman Brandon Davidson and winger C.J. Smith did not stay in Rochester for long. The two were assigned there by the Sabres on Friday and played in the Amerks' 6-2 loss to Syracuse in Blue Cross Arena.
Although the Amerks played again Saturday night, Davidson and Smith were returned to the Sabres' taxi squad since every NHL team must carry a minimum four players on days in which the team skates. Smith had an assist and four shots on goal for the Amerks.
Bryson's blend of top-end speed, unteachable instincts and ability to forecheck above his weight class have led to his ascent from fourth-round draft pick to reliable NHL player.
There was some controversy in the Amerks' game Friday night, as the officials did not call goalie interference when Rochester's Ukko-Pekka Luukkonen was knocked over while attempting to make a save in the third period.
The Crunch were awarded their fourth goal and the Amerks went on to lose. There is no replay review in the American Hockey League this season. Davidson was outspoken afterwards, going out of his way to criticize the officiating.
"I noticed there was no giving up tonight," said Davidson. "I felt that even with what's happened here with these guys lately, going through Covid and losing guys to Buffalo. There was no quit all game long. I felt like we fought against the refs. Fought a hard game. Really tested the character here in this locker room. I think if we had more time on the clock and if we had a better ref we would have been all right."