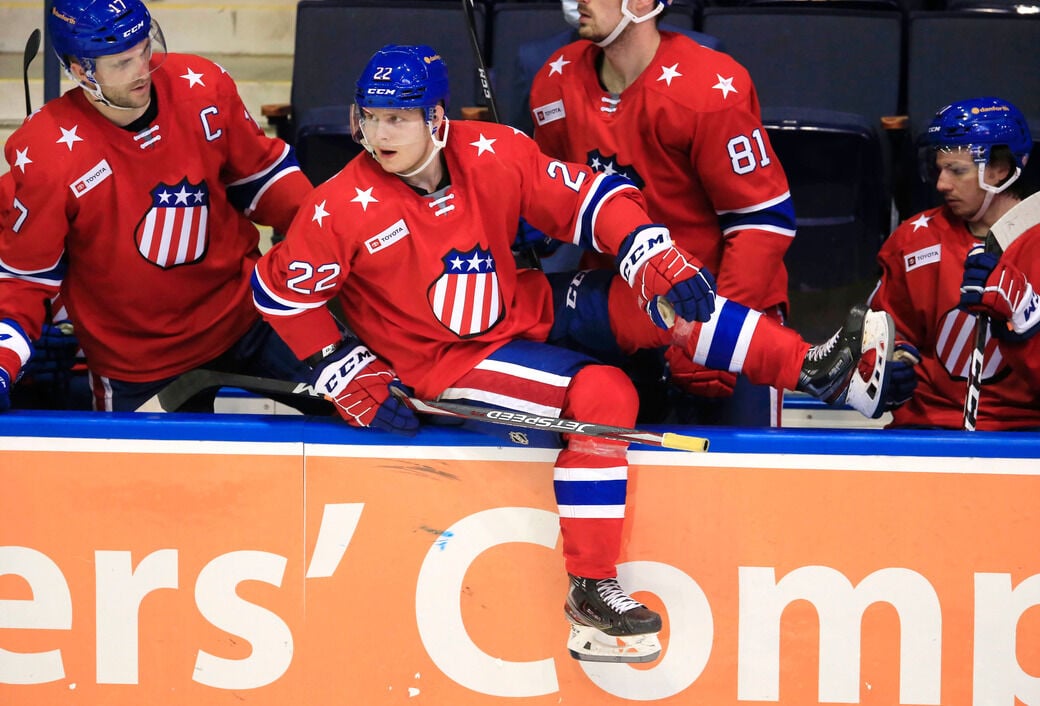 Don Granato wouldn't commit to Tuesday night's game in New Jersey being the one, but the Buffalo Sabres' interim coach said Arttu Ruotsalainen's day is coming.
The Finnish forward got the call from Rochester on Monday to join the Sabres' taxi squad and practiced fully with the team in KeyBank Center. He traveled to New Jersey and now it's up to the Sabres to decide if he'll make his NHL debut against the Devils there Tuesday night or perhaps when the teams play again in Buffalo on Thursday.
Arttu Ruotsalainen centered Rochester's top line, helped kill four Amerks penalties in the second period and scored a power-play goal.
"We're interested in seeing him at some point. We plan on that at some point," Granato said. "He has earned it by his his work ethic, his commitment, all the intangibles. He's done a nice job down there, consistently progressed."
Kyle Okposo took Monday off for maintenance and is expected to play. If he doesn't, that would appear to be an opening for Ruotsalainen to step in.
"I've been waiting for this moment for a while now, so I think I'm ready and hopefully get some ice time here," Ruotsalainen said after practice Monday. "But I felt pretty good at Rochester and I think I was doing well in training camp also. So I think it's been a good year for me."
Many of the subtleties we're seeing from the Sabres under Granato were used by Rochester Americans coach Seth Appert during his time with the USA Hockey National Team Development Program.
Ruotsalainen, a natural center, has gotten work on the wing in Rochester and on both sets of special teams. He has five goals and 13 points in 13 games in his first taste of North American hockey.
"I'm a pretty good learner, I learn pretty quick," said Ruotsalainen, who added he's felt good making the adjustment to the smaller North American ice surfaces. "It takes maybe a couple games, but after that I felt pretty good."
Ruotsalainen said he's been happy with his work in the defensive zone and on the penalty kill in Rochester as well.
"It's hard. You come over here and you obviously want to go right to the NHL, but it's a tough road," said Sabres forward Steven Fogarty, who was the Amerks' captain. "And I think he handled it well going down there and just approached every day as another day to earn an opportunity up here. So you see the numbers he's been putting up and the consistency and the amount of ice time in different situations he's playing down there. So I'm excited to see him up here."
Fogarty had several chances to play on Rutosalainen's wing in Rochester.
With a shootout victory against the New York Rangers on Saturday, Ullmark improved to 33 of 38 in his career, and his .868 save percentage took over first place all-time in the NHL for goalies with at least 10 shootouts.
"He's a good distributor. He can find little pockets," Fogarty said. "I think he generates a lot because maybe teams see he's got that lethal shot, so it opens up things for his linemates. He's not only putting up goals but putting up assists down there."
Cozens, Borgen back skating
After the team finished practice Monday, center Dylan Cozens and defenseman Will Borgen took the ice to skate. Cozens has been out three games after taking a check into the boards early in the March 29 game against Philadelphia, while Borgen has been out since suffering a fractured hand while blocking a shot Feb. 20 in New Jersey.
"We'll get information based on that skate today and know more about integrating them," Granato said. "I don't see us integrating them over the next few days."
Granato said there's some hope Cozens could return to practice within a week, while Borgen's timeline is longer.
"One thing has quickly become apparent: Granato may have been hired simply to keep the seat warm for somebody else, but he has a real chance to keep his candidacy growing," writes Mike Harrington.
Bedeviling Jersey on the PP
The Sabres are converting power plays at a 38.9 percent clip in their six meetings against the Devils this season, going 7 for 18. Buffalo has connected in five games and the seven goals are its most against any opponent.
New Jersey entered Monday's play 30th in the NHL in penalty killing at just 73.1 percent.
The Sabres said they sold only 302 tickets for Saturday's game against the New York Rangers, the first where paying fans were in KeyBank Center. As per New York State regulations, fans had to pay for Covid-19 testing on top of the price of the ticket. Capacity was 10 percent of the building, or about 1,900.
Many season-ticket holders have simply opted for refunds or credit for the 2021-22 season based on last season's canceled games and the current shortened season. Most did not pick up their option for this game.
The next game where fans can purchase tickets is Friday night's visit by Washington and fans can show proof of vaccination 14 days prior in lieu of the Covid-19 test.