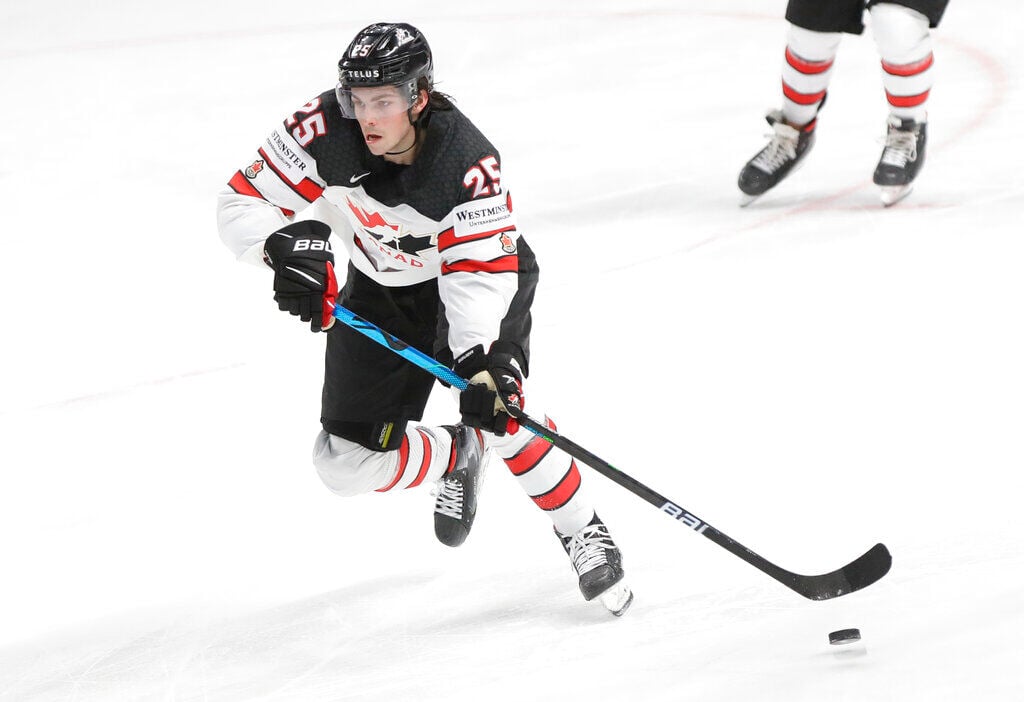 Owen Power will wait to make his National Hockey League debut with the Buffalo Sabres.
Power, the left-shot defenseman drafted first overall by the Sabres last month, will return to the University of Michigan for his sophomore season, a source told The Buffalo News on Thursday morning.
Since 2000, only one No. 1 draft pick did not make an immediate jump to the NHL: defenseman Erik Johnson spent one season at the University of Minnesota after his selection by the St. Louis Blues in 2006. Alex Ovechkin had to wait a year in 2004 because the NHL lockout delayed his debut in North America.
The Sabres are expected to sign Power to an entry-level contract at the end of the 2021-22 season. Neither the Sabres nor Michigan have announced Power's plan.
"I think Owen was extremely impressive," Sabres General Manager Kevyn Adams said of Power following the draft's first round. "The way he handles himself on the ice in all parts of his game. With the puck, his poise. The defensive reads he makes. The great stick. His hockey IQ. I love his length. I love his skating. He's just an all-around good player that we really think is going to continue to get better and better. And he's a really high character kid, who's excited about being in Buffalo. ... We're really excited about him."
Power, 18, appeared in every game for Michigan as a freshman, totaling three goals and 16 points in 26 appearances. His 0.62 points per game helped him secure rookie of the year honors from the College Hockey News, and he was a Big Ten Freshman of the Year finalist. The Wolverines' season ended when they had a Covid-19 positive test at the start of the NCAA Tournament.
Listed at 6-foot-6, 213 pounds, Power has the physical tools to join the Sabres this season. He also proved at the IIHF World Championship this spring that he can excel against NHL competition, ascending to a prominent role during Canada's gold-medal run in Latvia.
However, Power stated before the NHL draft last month that he preferred to return to Michigan. Another season will afford Power the opportunity to round out his game on a Wolverines team that's expected to contend for the NCAA Championship. Additionally, Power did not have a normal college experience last year, as the Covid-19 pandemic prevented him from skating in front of a sold-out crowd at historic Yost Ice Arena in Ann Arbor, Mich. This decision will also allow Power to represent Canada at the IIHF World Junior Championship. 
Power is the Sabres' presumed selection with the first overall pick, but it's uncertain where he will play this season.
Power will play heavy minutes in every situation for Michigan, whereas a roster spot in Buffalo would have likely come with a lesser role to ease him into the grind of an 82-game NHL season. While the Sabres expressed confidence that Power would immediately excel on their roster, conversations with Power and his family, as well as Michigan coach Mel Pearson, led to this decision.
The Wolverines' players report to campus Monday and classes start Aug. 30. Their first game is scheduled for Oct. 8, and the NCAA Frozen Four is set take place in Boston from April 7-9. The Sabres' regular season isn't scheduled to end until April 29. The club could sign Power at the conclusion of his season, but he will burn a year of his entry-level contract if he appears in a game with the Sabres in March or April.
"Could he play in the National Hockey League next year? Absolutely," Pearson said in phone interview with The News last month. "But having said that, I have so much respect for the NHL. It's the greatest league in the world. You have to be ready. It's a man's league and you have to be ready to step in and perform and contribute on a nightly basis. You have to be ready for that physically, emotionally, spiritually. …
"Number one, can he put on some man strength and be so much more ready to play at that level? I totally think he can. Just because you're drafted first, or when you turn 18, doesn't mean you're necessarily ready to play in the National Hockey League. Everybody is ready at different times. Owen's a great player. He's going to play in the league, whether it's next year or the year after."
The Sabres were prepared for Power's return to Michigan, as their NHL roster is projected to include defensemen Rasmus Dahlin, Will Butcher, Robert Hagg, Henri Jokiharju, Colin Miller and Mark Pysyk. Mattias Samuelsson and Jacob Bryson will also compete for a spot on the blue line. Dahlin and Jokiharju are restricted free agents in need of new contracts, while Miller, Pysyk, Butcher and Hagg are scheduled to reach unrestricted free agency next summer.
While it's not common for a No. 1 pick to go back to the NCAA, young defensemen have benefited from additional time in college, particularly Cale Makar, Adam Fox, Quinn Hughes and Zach Werenski.
Makar, drafted fourth overall in 2017, became one of the league's best after playing two seasons at UMass-Amherst. Hughes, who went to Vancouver at No. 7 in 2018, went back to Michigan for his sophomore season and finished second in Calder Trophy voting for 2019-20. Werenski made the same decision in 2015 after his selection eighth overall by Columbus. Fox won the Norris Trophy in Year 2 with the Rangers after spending three years at Harvard University.
Young defensemen require patience and support in the form of a reliable partner on the blue line, and the Sabres saw firsthand with Dahlin that even a No. 1 draft choice can face a steep learning curve when playing in the NHL at 18 years old.  
Sabres brass is confident that Power will be ready to make a significant impact when he arrives in Buffalo. After all, he quickly earned the trust of Team Canada coach Gerard Gallant at the world championships after beginning the tournament in a lesser role, skating under 8 minutes in the team's opening game.
Injuries thrust Power into a prominent role, as he was named player of the game after earning 24:07 of ice time against Russia. He skated for more than 27 minutes in a semifinal win over the United States. In the final, Power was on the ice for 24:17 to help Canada earn gold at the annual event for the first time since 2005.
Power finished the tournament with three assists, 17 shots on goal and a plus-1 rating while averaging 20:07 of ice time in 10 games.
"I think he's better than people think he is, actually," Brock Sheahan, who coached Power with the United States Hockey League's Chicago Steel, said last month. "I don't think people understand how great he can be. A lot of people are saying they don't know if this is a good draft, but I'll tell you what, there's definitely one elite player in this draft and that's Owen Power. There are others, but he is very, very special."