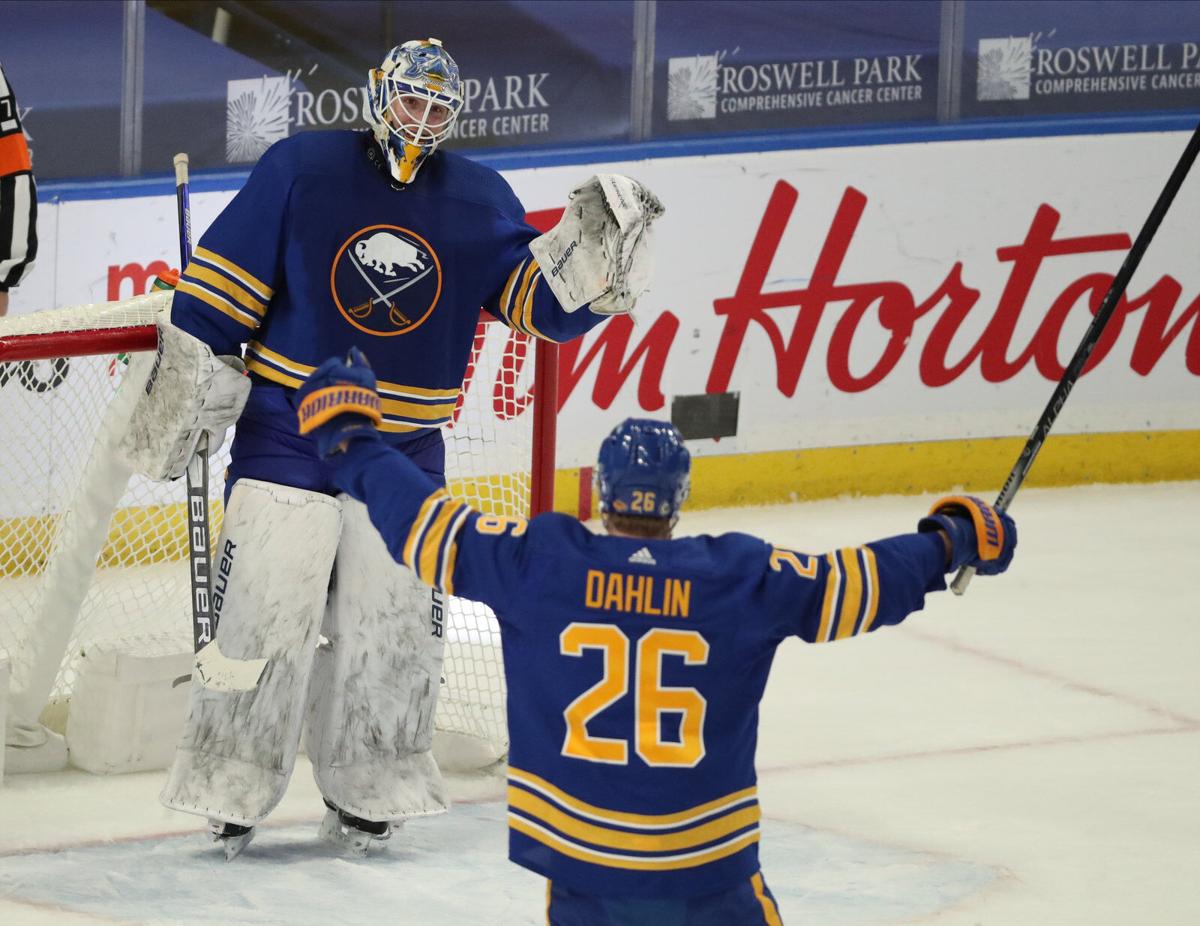 If the Buffalo Sabres are going to reverse their fortunes under General Manager Kevyn Adams, they'll need to add impact players to the young core of Dylan Cozens, Rasmus Dahlin and Casey Mittelstadt.
The organization's prospect pipeline is far stronger now than in 2017, when former General Manager Jason Botterill inherited a club that had few high-upside unsigned draft choices.
Under Botterill, the Sabres added Cozens, Dahlin, Mittelstadt, Ukko-Pekka Luukkonen, Mattias Samuelsson, Ryan Johnson and Jacob Bryson, among others. More work is needed, though. Adams owns 10 selections in this draft, including the first overall pick.
Short-term needs aren't considered in the NHL draft, where most prospects are years away from contributing. Projecting future performance was more difficult for scouting staffs this year because Covid-19 impacted leagues across the globe.
However, a quick look at the Sabres' current prospect pipeline shows a need for more impact forwards. Here's a look at every player, signed and unsigned, who has yet to appear in more than 15 NHL games for the club:
Filip Cederqvist, left wing/center, fifth round, 2019 
Cederqvist, 20, has not been able to carve out a role in Sweden's top professional league after making his debut at that level as an 18-year-old in 2018-19. He is coming off a season in which he had nine goals and 36 points in 51 games with Tingsryd AIF of the country's second-tier league and is expected to play for Djurgardens IF of the SHL in 2021-22.
Matteo Costantini, center, fifth round, 2020
A Buffalo Jr. Sabres alumni, Costantini was forced to relocate to the United States Hockey League's Sioux City Musketeers because the British Columbia Hockey League could not launch a season amid the Covid-19 pandemic. He had seven goals and 22 points in 37 games with Sioux City and is expected to play for the University of North Dakota this season.
Aaron Huglen, center/winger, fourth round, 2019
It wasn't long ago that Huglen's career was in question, as he missed the 2019-20 season with back surgery that required a microdisectomy, the removal of abnormal material that places pressure on a nerve root or the spinal cord. However, Huglen made his comeback this season with the USHL's Fargo Force, totaling 15 goals and 35 points in 39 regular-season games. He added three goals and nine points in eight playoff games.
Huglen is expected to play for the University of Minnesota in the fall, and the 20-year-old's play this season showed why he was considered a high-upside selection by the Sabres in Botterill's final draft.
Jakub Konecny, center/left wing, seventh round, 2020
Another player impacted by Covid-19 shutdowns, Konecny played for three teams in 2020-21. The 19-year-old had eight goals and 12 points in 19 games for HC Stadion Litomerice, a team in the Czech Republic's second-tier league.
Brett Murray, left wing, fourth round, 2016
Murray, 22, made his NHL debut during the final two games of the season for Buffalo, a well-deserved audition after a strong two years with the Amerks. After joining Rochester on an AHL contract for the 2019-20 season, Murray had 18 goals and 44 points in 82 games over two years.
A 6-foot-5 power forward with some skill, Murray has shown a fearlessness around the opponent's net and will be given the opportunity to earn a bottom-six role with the Sabres this season.
Matej Pekar, left wing, fourth round, 2018
Beloved by Sabres fans for his tenaciousness at recent development camps and prospect challenges, Pekar took some time to get adjusted to professional hockey this season. He had zero points in his first 17 games with the Amerks and one goal with six points in the final eight games.
A pest who routinely irritates opponents, Pekar will need to learn how to play a rugged game without taking too many penalties, but the 21-year old has the intangibles to become a bottom-six forward in the NHL.
JJ Peterka, left wing, second round, 2020
A forward with tantalizing skill, Peterka was considered a steal when the Sabres traded up in the second round to select him in October. The 19-year-old signed an entry-level contract with the club in June after a season in which he had nine goals and 20 points in 30 games with EHC Red Bull Munchen of Germany's top professional league. He also had 10 points in five games at the IIHF World Junior Championship. Peterka will skate with the Sabres in training camp, but it's likely he'll start the season with the Amerks.
Jack Quinn, right wing, first round, 2020
Drafted eighth overall in October, Quinn was unable to have a normal season of development because the Ontario Hockey League did not play games. This thrust the 19-year-old into an unexpected role with the Amerks, as he finished with two goals and nine points in 15 games before a hernia ended his season in April. Quinn also had one goal and five points in seven games at world juniors.
Quinn wants to parlay the early pro experience into a spot on the Sabres' roster this season.
Lukas Rousek, left wing, sixth round, 2019
Rousek is a lesser-known prospect because he went undrafted during his first year of eligibility, but the late bloomer showed in the Czech Republic that he has on-ice vision and skills to develop into an NHL player. The 22-year-old had 14 goals and 38 points in 49 games for HC Sparta Praha of the top league in the Czech Republic last season. Rousek signed his entry-level contract with Buffalo in April and is expected to play in Rochester this season. A nice find by Sabres scout Frank Musil.
Linus Weissbach, left wing, seventh round, 2017
Weissbach signed an entry-level contract with the Sabres in April after the 23-year-old completed a four-year career at the University of Wisconsin. A second-team All-American as a senior in 2020-21, Weissbach totaled career highs in goals (12) and points (41) – his 1.32 points per game ranked fifth in the NCAA – while appearing in 31 games. He is expected to play his first professional season in Rochester.
Linus Cronholm, left-shot defenseman, fourth round, 2018
Cronholm, 21, spent most of last season with Malmo of the Swedish Hockey League, recording one goal and three points in 27 games. He's expected to play for Linkoping of the SHL next season.
Casey Fitzgerald, right-shot defenseman, third round, 2016
A restricted free agent, Fitzgerald played four seasons at Boston College, two as team captain, before signing his entry-level contract with Buffalo in March 2019. He has appeared in 53 games with the Amerks, totaling five goals and 22 points.
Ryan Johnson, left-shot defenseman, first round, 2019
Drafted with the first-round pick acquired by Buffalo in the Ryan O'Reilly trade, Johnson took a significant step in his development last season by showing that he possesses outstanding vision and playmaking ability to go with his defensive prowess and elite skating. The 19-year-old had two goals and 14 points with a plus-15 rating in 27 games as a sophomore with the University of Minnesota.
Johnson also helped the United States capture gold at world juniors, and it's fair to wonder if he'll be ready to sign his entry-level contract with the Sabres after this season.
Albert Lycasen, right-shot defenseman, seventh round, 2020
Lycasen played 24 games across three leagues, including nine with Linkoping of the SHL. He's expected to return to Linkoping next season.
Miska Kukkonen, right-shot defenseman, fifth round, 2018
Another talented, under-the-radar prospect, Kukkonen played well in a shutdown role for Luukko of Finland's Liiga and has appeared in 80 games in the country's top professional league.
Oskari Laaksonen, right-shot defenseman, fourth round, 2017
Laaksonen had a superb bounce-back season, delivering one goal and nine points in 30 games with the Amerks, his first time playing pro hockey in North America. He was named to the AHL North Division all-star team.
Mattias Samuelsson, left-shot defenseman, second round, 2018
Two seasons at Western Michigan University better prepared Samuelsson to make the jump to professional hockey, where with the Amerks, he showed that he's much better with the puck than people give him credit for. Samuelsson, 21, appeared in 12 games with the Sabres, recording two assists.
William Worge-Kreu, left-shot defenseman, seventh round, 2018
Worge-Kreu has carved out a role in the Swedish Hockey League, appearing in 31 games with Linkoping last season. He's expected to spend 2021-22 with IK Oskarshamn, a team that earned a promotion to the SHL two years ago.
Ukko-Pekka Luukkonen, second round, 2017
A 22-year-old who underwent double-hip surgery in 2019, Luukkonen won his NHL debut with the Sabres in April by stopping 36 of 40 shots against the Boston Bruins. Luukkonen appeared in four games for Buffalo, posting a .900 save percentage before suffering a season-ending ankle injury.
Luukkonen showed he's further along in his development than expected, but it's too soon to pencil him in for a roster spot in Buffalo. He has appeared in only 51 pro games in North America, including just 25 with the Amerks. Luukkonen likely won't be ready for a full-time NHL job until 2022-23.
Erik Portillo, third round, 2017
Portillo, 20, was named the USHL's goaltender of the year after a remarkable season with the Dubuque Fighting Saints in 2019-20. However, Portillo was limited to only seven games as a freshman for the University of Michigan last season because the Wolverines had former Big Ten Goalie of the Year Strauss Mann.