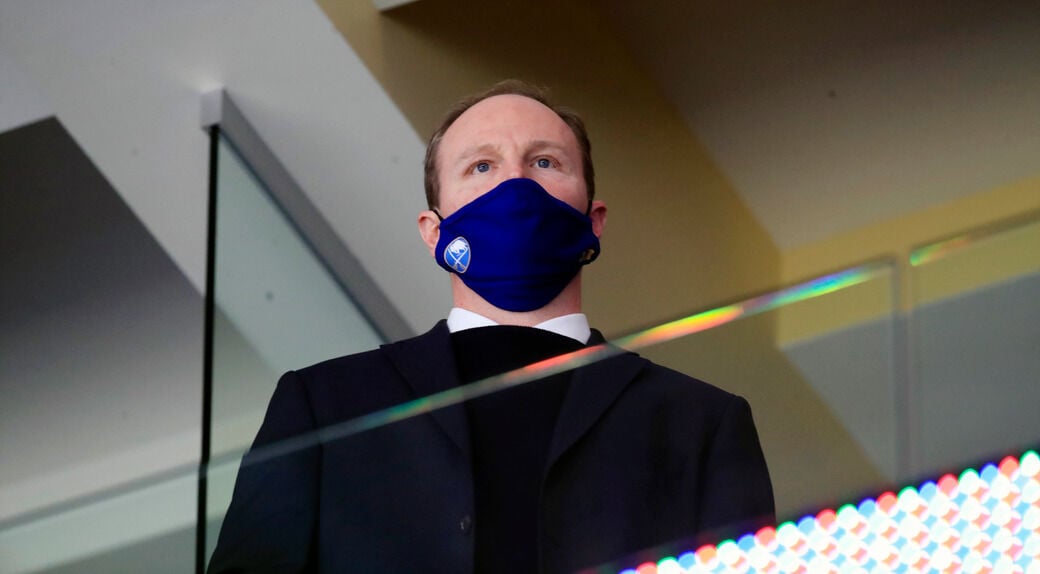 Ten months after mass firings in the Buffalo Sabres' hockey operations department, General Manager Kevyn Adams made another significant hire Wednesday that will help him determine what's next for the struggling franchise.
Jason Karmanos, a longtime assistant general manager under Jim Rutherford with the Carolina Hurricanes and Pittsburgh Penguins, was officially hired by the Sabres as associate general manager.
Karmanos, 46, will serve as general manager of the Rochester Americans. He'll also oversee the team's scouting, player development and analytics departments.
Karmanos worked under Rutherford in Carolina and Pittsburgh from 1998 through the 2019-20 season. The two won three Stanley Cups together, including one in Carolina in 2006 when Adams was a veteran forward for the Hurricanes. Karmanos' father, Peter, was principal owner of the Hurricanes and Hartford Whalers from 1994 through 2018.
"This is a really good choice," Rutherford told The Buffalo News. "He's a very experienced assistant general manager. He knows the game, he knows the players, he knows the CBA, he knows contracts and he's going to be able to help in all area. This was a good hire for the Sabres.
Karmanos joined Rutherford in Pittsburgh, where the two built back-to-back Stanley Cup champions in 2016-17. Karmanos was a behind-the-scenes figure for the Penguins, occupying the assistant general manager role while helping build a strong analytics department.
Adams first interviewed Karmanos in Pittsburgh on March 25, hours before two false positive Covid-19 tests forced Adams to serve as head coach for the Sabres' 4-0 loss to the Penguins.
The trade deadline delayed Adams' hiring process, though he told reporters Monday that he recently had "very, very serious" conversations with a candidate. Adams also plans on adding to the scouting and player development staffs, as the Sabres try to replenish departments that were decimated by the firings.
"It's a huge hire in terms of how we're putting together the hockey department and structure and, like I said before, we need to build the front office back up," said Adams. "We need to hire more scouts, we need to make sure that we're putting the pieces in place from our front office right through the scouting department, player development department and just make sure that as we move forward, we're having the right people in the right positions. But that is a priority for sure, though. It's a huge priority."
Karmanos' arrival comes after a restructuring in Adams' scouting department, as Jeremiah Crowe was reassigned to director of pro scouting and Jerry Forton took over as director of amateur scouting. Jason Nightingale, director of analytics, will continue to assist with the scouting department.
This new scouting model is similar to the one Adams scrapped upon taking over for former General Manager Jason Botterill in June 2020. Following Botterill's firing, the Sabres parted ways with 21 hockey operations employees, as ownership preferred to cut costs. Scouts were asked to use more video for pro and amateur player evaluations. 
This was all part of owner Terry Pegula's vision for a more "effective, efficient and economic" approach to running the franchise.
"Today's sports world – and I'm the last guy to know anything about technology, I can't even mute this thing we're talking on here – but I can tell you this, with all the existing technology that exists in the world of sports today, we can move forward much leaner than we operated in the past and much more efficient," said Pegula after Botterill was fired.
"So, we're – you're right – we're going to get leaner. It's just the way the world's heading. Any business today, you look at the things you do, they're more efficient, they do things quick, they use this new technology that we all have at our fingertips."
The organization has not had a general manager for Rochester since Randy Sexton was fired last June.
The Sabres have yet to hire scouts in Finland, Russia and the Western Hockey League. Rob Riley, an amateur scout based in Boston, was fired as part of the recent restructuring, as well as director of hockey strategy Charlie Mendola.
The team's player development department has also been decimated over the past year, as director of player development Matt Ellis and development coach Dan Girardi are currently serving as interim assistant coaches on the Sabres' staff.
Since taking over as general manager last June, Adams has hired two scouts: Tristan Musser and Anders Forsberg.
In Karmanos, though, Adams is adding someone with ample experience in hockey operations, an attribute the organization was missing after the firings last summer.
"I knew Jason when he was really young," said Rutherford. "I probably met him when he was nine or 10 years old. I knew him personally and that made the working relationship easier when he first came in. But he's a very smart guy, he played the game, so he knew the game. It was a matter of getting him started in each role, which he picked up very quickly because he's a very bright guy."