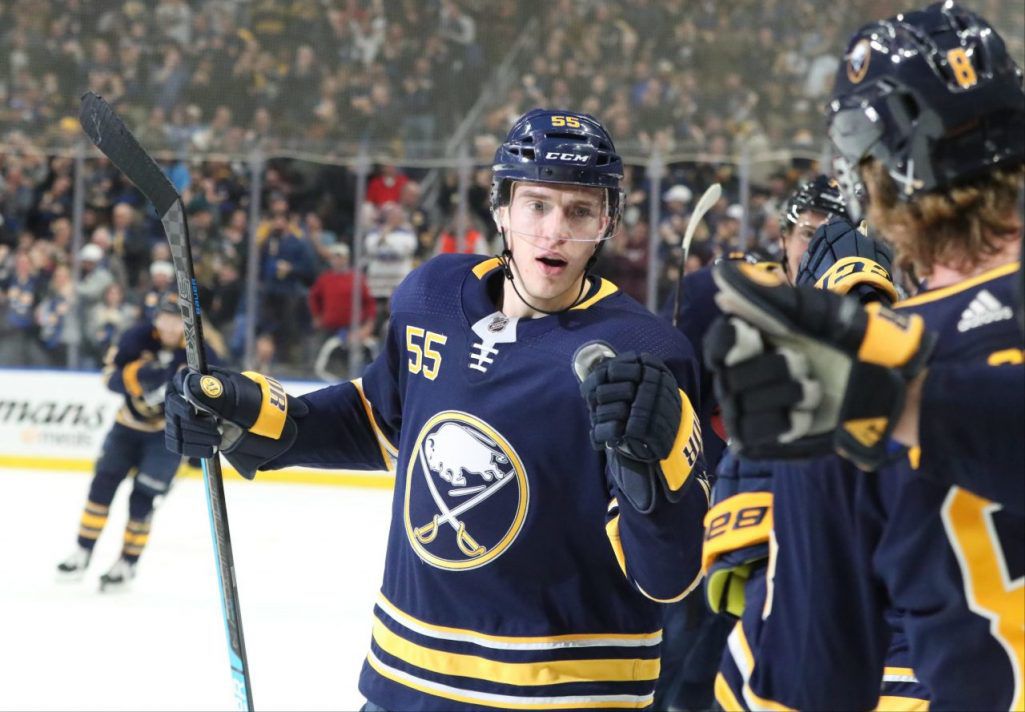 Hockey season is upon us. The Buffalo Sabres will host their prospects challenge beginning Sept. 6, and training camp will open the following week.
Finally, after months of speculation, we'll learn more about how the Sabres will play under new coach Ralph Krueger. Though style of play could be evident early in camp, several questions will linger until the season opener, including whether Rasmus Ristolainen will remain with the team.
That topic seems like a perfect way to begin the latest Sabres Mailbag:
Garret Smith: Is Rasmus Ristolainen going to be on the roster opening night?
Lysowski: No. The Sabres would be perfectly content if Ristolainen agrees to stay and a trade isn't consummated. He's still a 24-year-old right-shot defenseman with some serious upside. There's reason to believe a diminished role will coax more out of him offensively and defensively.
However, Krueger isn't the type of coach who will tolerate a player not buying in. He was encouraged by his conversation with Ristolainen, but that took place three months ago.
Ristolainen's recent comments to a Finnish news outlet indicate he could still want out. The problem is the league is at a halt because of the number of unsigned restricted free agents and the Sabres can't have much leverage in negotiations since Ristolainen has been vocal about his displeasure.
General Manager Jason Botterill won't pull the trigger on a trade unless he gets the package he wants in return. That seems unlikely to materialize anytime soon, though the season doesn't start for another six weeks. The league's salary cap has led to some significant late-summer transactions in recent years, most recently San Jose acquiring defenseman Erik Karlsson from Ottawa last September.
Sharples: Is Rasmus Dahlin currently better than Dallas defenseman Miro Heiskanen?
Lysowski: Excellent question. My answer would have been Dahlin prior to the Stanley Cup Playoffs. However, Heiskanen's playoff performance for the Stars – averaging more than 25 minutes of ice time in 13 games, while ranking fourth on the team in shots on goal – lead me to believe he's the better player at the moment.
That said, I believe Dahlin will become the better player and soon will be one the best defensemen in the National Hockey League. Those who left him off the Calder Trophy ballot must not have watched him last season. Dahlin can make plays few others dare to try, and he was remarkable despite facing a number of challenges.
Remember, Heiskanen is one year older, was surrounded by more talent in Dallas and played in a better defensive structure. Dahlin was forced to play with a number of different defensemen and the Sabres' lack of structure wasn't ideal for his development. He'll take a significant step forward in 2019-20.
BuffaloSportsSuffer: With the current logjam at left wing, how likely is it Victor Olofsson starts the season in Rochester?
Lysowski: It's unlikely that Olofsson goes to Rochester. He has the offensive skill set and defensive awareness to be a full-time NHL player. Krueger has to find a role for Olofsson, whether it's at left or right wing. Olofsson is likely to play the former since Conor Sheary and Marcus Johansson are capable of moving to the right side.
It was surprising that Olofsson did not produce in the Calder Cup Playoffs, but I'm not putting the blame squarely on him. He had some quality scoring chances and Toronto did an exceptional job limiting him on the power play.
Olofsson has the edge over Tage Thompson and C.J. Smith. Though the Sabres sound encouraged by Thompson's progress, his struggles defensively could prevent him from earning a top-six role. The 21-year-old would benefit from more time with the Amerks. Smith, meanwhile, is better suited to break camp as a bottom-six player, which will prove difficult since he'll be competing against a few veterans.
Mike Kolb: Why didn't the Sabres buy out Vladimir Sobotka? And why did they spend money on Zemgus Girgensons, Johan Larsson and Remi Elie?
Lysowski: Botterill isn't a fan of buying out players, and I don't blame him. Sure, it provides salary-cap relief in the interim, but buying out Sobotka would give Botterill less money to spend next summer. Flexibility is so important when it's unclear what the salary cap will be from year to year.
The Sabres don't need to scramble to create cap space, either. They can buy time by placing one or more players on long-term injured reserve, and there are a few players who will be candidates to be traded at the deadline in February, including Zach Bogosian and Marco Scandella.
I didn't disagree with bringing back Girgensons and Larsson. They weren't part of the problem last season. They're competent fourth-line players who are effective penalty-killers when healthy. Elie, meanwhile, was a cheap signing on a two-way contract, so he can be sent to Rochester.
The forward group has fans concerned because there isn't a sure-fire second-line center, but it appears Botterill is gambling on young players such as Casey Mittelstadt and Olofsson. Personally, I have no problem with that approach since the Sabres are still saddled by a few bad contracts, but this team needed another proven goal scorer.
Donnie Trautman: Who is the second-line center at the start of the season?
Lysowski: The lines likely will change routinely over the first month of the season. That will be part of Krueger's process to evaluate who has chemistry and how players fit into particular roles.
However, it's difficult for me to imagine a scenario in which Mittelstadt does not start the season as the team's second-line center. He has physically matured from his first full NHL season and players typically make a significant jump during their second year. Mittelstadt also has the most upside and should benefit from his linemates.
Mittelstadt would fit perfectly on the second line with Reinhart and possibly Johansson. That will take some pressure off Mittelstadt since Johansson is outstanding at entering the offensive zone, and Reinhart is outstanding at creating offense down low.
There are some concerns with Mittelstadt, particularly faceoffs and defensive awareness, but he was making progress in both facets late last season. His top competition in camp likely will be Evan Rodrigues, who can play wing and has the ability to contribute in the top- or bottom-six.