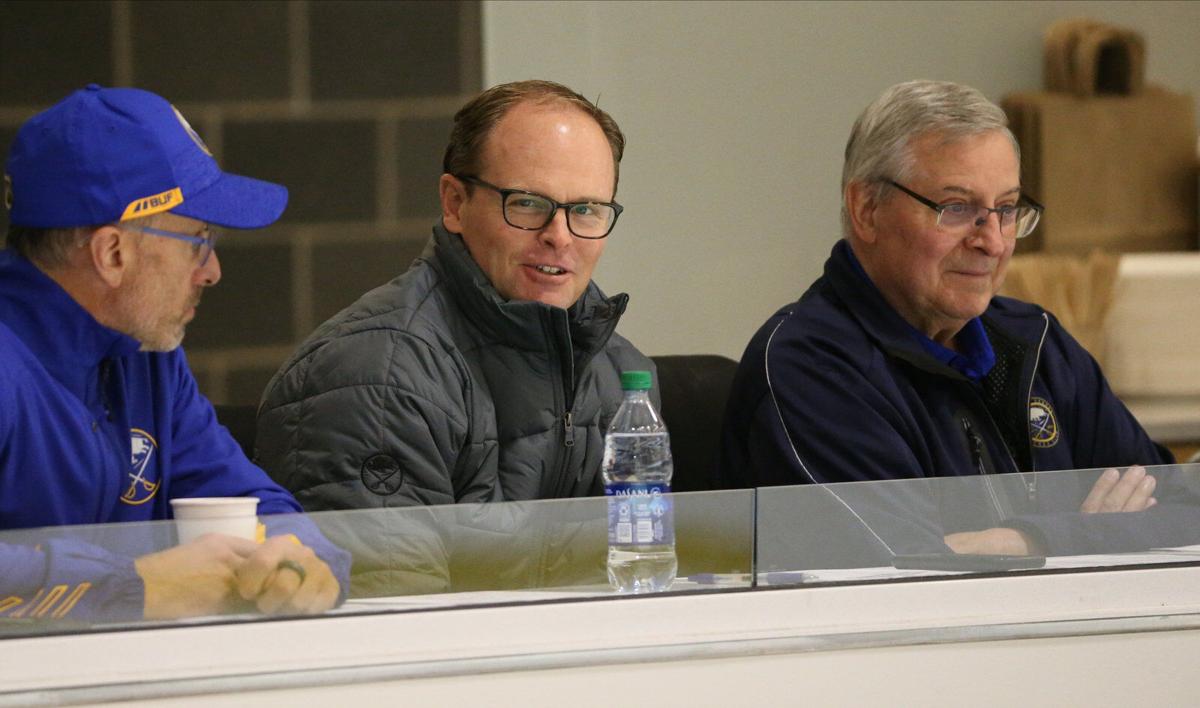 Almost six months have passed since Jack Eichel revealed to reporters a disconnect between he and the Buffalo Sabres over treatment for the herniated disk in his neck.
Yet, Eichel is still awaiting surgery and a trade. He changed agents and was stripped of his captaincy. Meanwhile, the team he left behind has begun an 82-game season under coach Don Granato. The Sabres are 3-1-1 through five games and host the Tampa Bay Lightning on Monday night in KeyBank Center.
There's nothing new on the trade front, but there's plenty to discuss about Eichel and the Sabres' start to the season. We'll get right to your questions:
Rick Arnonal asks: How much does no-movement and no-trade clauses impact trade talks involving Jack Eichel?
Lance: It's significant. Most teams don't have the cap space to acquire Eichel's $10 million cap hit without shedding salary. Many of the high-priced players on teams reportedly interested in Eichel have no-movement or no-trade clauses. Although the Sabres' aren't guaranteed to be on a player's no-trade list – remember, Eric Staal didn't have Buffalo on his – it's likely they are and a full no-trade clause would allow someone to block a deal. Additionally, General Manager Kevyn Adams doesn't want to acquire a player who doesn't want to be in Buffalo. It's a balancing act. It's more likely that the Sabres will add multiple players to help offset Eichel's salary. Also, the team acquiring him will have flexibility in the form of long-term injured reserve.
Andrew Sember asks: Can the Sabres keep up this level of play all season and, if so, can they make the playoffs?
Lance: Pardon me while I conjure up my best Jim Mora impression: "Playoffs?!"
The Sabres have shown several encouraging signs early. There's an identity and consistent effort, basic tenets that were missing under former coach Ralph Krueger. There's also speed with and without the puck. But I have a very difficult time predicting them to finish close to a playoff spot until they show more finishing ability, particularly from their top young players. I'm also not sure this roster has the depth to keep up in a difficult division. This team hired the right coach, but this is going to take time.
Bert Litman: Why are the Sabres giving defenseman Colin Miller a larger role when, in my opinion, the possibility of acquiring a sixth-round draft pick at the deadline is remote?
Lance: Miller has five points in five games and contributed for Vegas in the 2018 Stanley Cup Final. He's also a right-shot defenseman, often an area of need for playoff-bound teams, and he can help on special teams. The cap hit will be reasonable and, in my opinion, the Sabres could acquire a pick as high as the second or third round. Remember, teams are desperate at the deadline and injuries can pile up quickly. 
Tim Drake: Which forward from the Amerks will be the next to join the Sabres?
Lance: JJ Peterka. Jack Quinn has been outstanding for Rochester through three games. He's already matched his four goals from 15 games last season and looks better prepared for pro hockey. Most important, Quinn has scored his goals around the net, instead of from the perimeter. But Quinn isn't ready physically and it would be wise to let him grow confidence with the Amerks.
Peterka, on the other hand, can drive play from the wing and had an outstanding training camp. The door is open for both to help the Sabres this season, but Peterka is my early choice because his game is more well-rounded and he has experience playing pro hockey in Germany.
Tim Collins: Will the Sabres still sell at the trade deadline if they're contending?
Lance: The Sabres will be sellers, even if they're a fringe playoff contender. Adams got burned last season by holding onto Linus Ullmark at the trade deadline. You can't blame Adams, but it won't happen again. Miller, Vinnie Hinostroza, Will Butcher, Cody Eakin and Robert Hagg are among the candidates to be moved. You have to get more futures to fortify the prospect pipeline and it's unlikely any of those players factor into the Sabres' long-term plans.
Johnny W: What would you consider a successful season for the Sabres?
Lance: Their top young players need to emerge as consistent difference-makers. Dylan Cozens and Casey Mittelstadt need to drive play at center. Rasmus Dahlin must show he's ready for more minutes and difficult assignments. There must be a solid foundation in place for when this organization's top prospects reach the NHL in the near future. This team doesn't have enough depth right now. It will if their top players move closer to their potential. It will also be a success if Granato's system and approach prove to be the solution for this club. Stability is critical.
Todd Gack: Which Sabres college prospect is the first to make an impact in the NHL?
Lance: Defenseman Ryan Johnson will join the Sabres before Owen Power because I expect Michigan to advance further than Minnesota in the NCAA Tournament this spring. Johnson's skating and defensive awareness are at a professional level. He's still tapping into his potential offensively, although I think his niche at the next level must be as a defensive stalwart with upside on the second or third pair. Johnson, who possesses a left-handed shot, can step into the Sabres' lineup right away, especially once Adams trades defensemen ahead of the deadline.
Power won't be far behind. My prediction is the Sabres will sign both to entry-level contracts this spring. This club's long-term options on the back end must have fans excited: Dahlin, Power, Johnson, Henri Jokiharju, Mattias Samuelsson and Oskari Laaksonen.
Cody: Do Owen Power and Jack Quinn make the Sabres' opening-night lineup for 2022-23?
Lance: Yes, both. Power is physically ready to play in the NHL now and will use his sophomore season at Michigan to round out his game. The Sabres will want to see Power play a more physical game and show dominance in longer stretches with the Wolverines. He's playing in every situation for a national title contender and will be better for it. Quinn, meanwhile, is off to a hot start in Rochester while skating on a line with Peterka and Sean Malone. For Quinn, he needs to continue to work on his skating and build more strength. He doesn't seem strong enough to play in the league yet, but he's close.
Quinn, like Cozens, has a strong defensive foundation that will keep his head above water while he learns how to score at 5-on-5 in the NHL. This is such an important season for Quinn to prepare for a full-time role in Buffalo. Remember, he played through a hernia injury last year and his development was negatively impacted by the Covid-19 pandemic because he was forced to start his pro career sooner than he would have. Quinn and the team will need to have patience. It will be tempting to rush him to the NHL, but he needs the minutes in Rochester.
Rick: Do the Sabres alter their trade demands for Eichel now that the season has started?
Lance: The timing and lack of suitors will force the Sabres to lower the asking price. Eichel's no-movement clause kicks in this July, so Adams is slowly losing leverage. Few teams that can take on his salary and the Sabres reportedly have no interest in retaining money. In my opinion, the Sabres will acquire a first-round pick with conditions related to Eichel's recovery, a high-end prospect, a middle-tier prospect with upside and a proven NHL player to help offset the cap hit.
The Sabres need to add a forward who can score goals.
JSymon: Do you expect the Sabres will add an impact scorer in the Eichel trade?
Lance: It's possible because the Sabres will likely need to take on salary to make any trade work. I don't suspect Adams will want to acquire someone to take ice time and opportunity away from young players, especially an established veteran who expects a certain role and might not be happy to join a team in transition. The exception I see here is someone like Alex Tuch of the Vegas Golden Knights, a younger, yet established forward who fits with the Sabres' long-term plans. Goaltending is also a possibility, perhaps John Gibson of the Anaheim Ducks.
Payden asks: Who has been the pleasant surprise through training camp and early in the season?
Lance: Rasmus Asplund played well under Granato in the final weeks of last season, but I didn't expect him to seize a top-six role so quickly. He's led all Sabres forwards in ice time in two of the past three games. Asplund, 23, is also on the top power play and contributes on the penalty kill.
Rob Gregoretti asks: Are you confident the Sabres will get a fair return in the Eichel trade?
Lance: You can't get an equal trade return for a 24-year-old center who, when healthy, has shown he can be elite. At least not immediately. Because prospects and/or draft picks will likely be the centerpiece of any deal, it's going to take years to assess this one. We don't know if or when Eichel will return to form, and public perception will be heavily influenced by how the Sabres perform without the former captain. We'll also have to wait to see how the players they acquire develop. But if the young core blossoms, and the prospects arrive to help push this franchise into contention, fans will be willing to look past how the club handled the Eichel saga and won't be as quick to criticize the return.