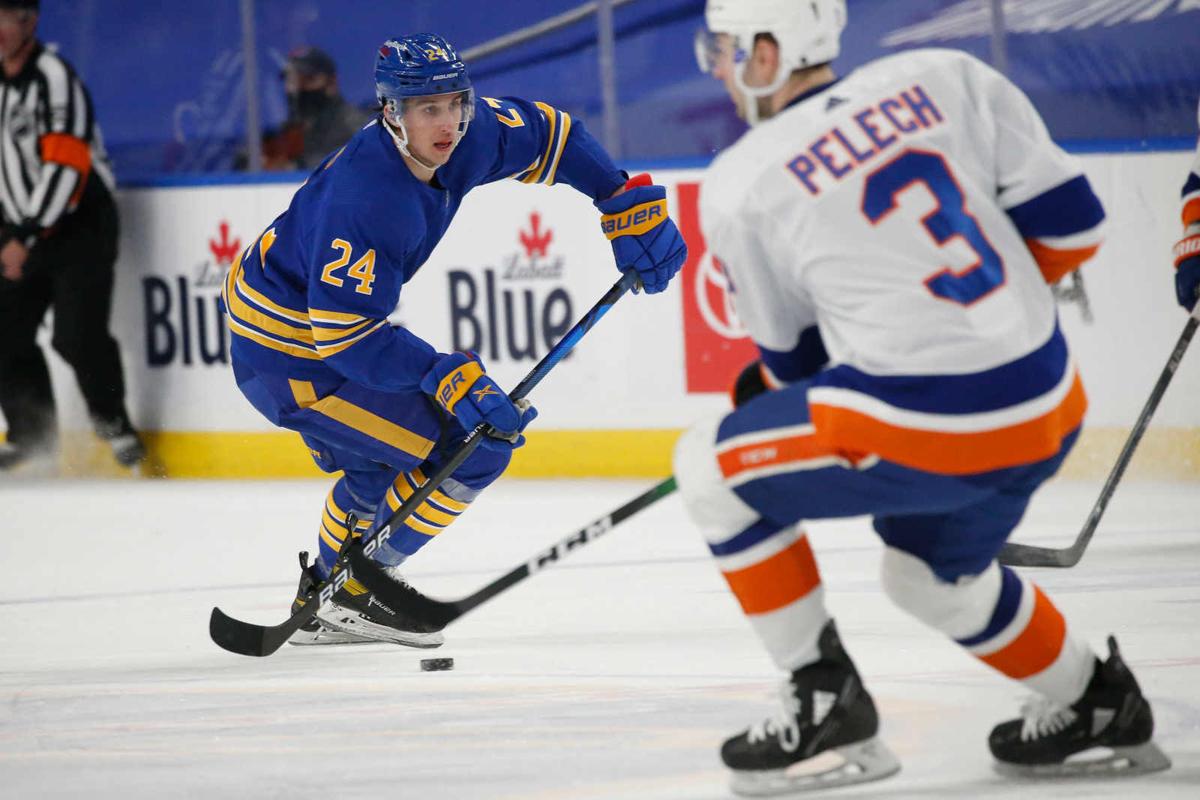 Kevyn Adams' second roster as general manager of the Buffalo Sabres began to take shape in recent weeks, beginning with the trade that sent defenseman ­Rasmus Ristolainen to Philadelphia.
Then came Sam Reinhart's exit to South Florida and a batch of signings to add role players, most notably winger Vinnie Hinostroza. The defense corps received a makeover with the arrival of Will Butcher, Mark Pysyk and Robert Hagg, and, as of now, the plan is for a four-man competition in net after Linus Ullmark bolted for Boston.
Adams' work isn't complete. Jack Eichel, the face of the franchise and a three-year captain, remains under contract with the Sabres. The disgruntled center is awaiting a trade and, in turn, surgery to repair the herniated disk in his neck.
Until a trade is consummated, it's impossible to predict the Sabres' roster for the season opener against Montreal in KeyBank Center on Oct. 14. However, we know the young core will play a prominent role under coach Don Granato.
Let's start there with the latest Sabres mailbag, which features questions submitted by readers via email or Twitter.
In a matter of six days this month, general manager Kevyn Adams spearheaded a facelift of the Buffalo Sabres' defense.
Andrew Sember: As the depth chart stands now, who is more likely to center the Sabres' top line: Dylan Cozens or Casey Mittelstadt?
Lysowski: There will be a competition in camp, but Cozens' refined two-way game likely puts him in the drivers' seat to center the top line. The 20-year-old faced other teams' top centers during the final weeks of last season – including Sidney Crosby and Patrice Bergeron – but it might be wise for Cozens and Mittelstadt to alternate in that role. After all, it will be important for Cozens and Mittelstadt to generate confidence, particularly with the puck.
The Sabres need to find a way to unleash Cozens' scoring ability because injuries and a steep learning curve prevented him from consistently generating offense as a rookie. He totaled four goals and 13 points in 41 games. It might be difficult to expect more offense from Cozens if he's handed the most difficult assignments every night.
Christian Stemberger: Could a lack of support around the Sabres' young players hurt their development? And what's the strategy behind Eichel's agents releasing statements and information regarding his preference to have surgery?
Lysowski: Absolutely. Unlike the previous rebuild, the Sabres have an encouraging supporting cast at forward and defense. Hinostroza, Rasmus Asplund, Tage Thompson, Arttu Ruotsalainen, Anders Bjork, Jeff Skinner, Kyle Okposo and Drake Caggiula are some of the options to skate alongside Cozens and Mittelstadt. Rasmus Dahlin and Henri Jokiharju have Butcher, Pysyk, Hagg and Colin Miller to fill out the defense corps.
But most of those core players are unproven in the NHL. The biggest issue, in my opinion, is all the losing this group will endure while developing. We saw firsthand how losing can spoil the culture in the dressing room and impact a player's confidence.
As for the second question, Eichel's agents are trying to control the narrative. They wanted to correct the misconception that an artificial disk replacement is an experimental surgery and make it known that Eichel is training as much as possible under the circumstances. 
"That weird, sent-at-9:45-p.m. statement to Buffalo media outlets Friday night did your client no favors. The Sabres are dug in hard and if you and your client want a deal out of town, that's not the way to get it done."
Matt Cohen: Following an Eichel trade, how do you see the Sabres handling the vacant captaincy?
Lysowski: My best guess is the captaincy will be vacant for one season, and Granato will challenge one of the young players – specifically Dahlin, Cozens and Mittelstadt – to earn the responsibility in 2022-23. Meanwhile, the Sabres can have three alternate captains, perhaps Okposo, Skinner and Dahlin.
Sam Lewkowitz: What are your thoughts on the job done by Kevyn Adams and how long would you give him in the role?
Lysowski: It's too soon to tell. Adams did well in the Ristolainen trade and, upon further review, probably acquired as much as possible when sending Reinhart to Florida. Do I always agree with Adams' approach to addressing questions regarding Eichel? No. But as far as the roster goes, Adams' plan is clear: add experienced role players to help guide the club's young core, and when the time is right, use cap space to spend on major additions. By all accounts, the Sabres also did well in the draft and kudos to Adams for two excellent hires in associate general manager Jason Karmanos and director of analytics Sam Ventura.
Adams also made the smart move in bringing back Granato. However, it's no secret that the Eichel trade will have a significant impact on how we assess Adams' performance, although it will be important to not rush to judgment. He should be given ample time to fix this. Development of young players takes time.
Drury, the former Buffalo Sabre who is the New York Rangers' rookie GM, has made some odd roster moves in recent days.
Brian Tolin: Which player on the Sabres do you expect to show the most improvement this season?
Lysowski: Bjork will make more of an impact than we saw during his 15 games with Buffalo late last season. Acquired from Boston in the Taylor Hall trade, Bjork had three goals and six points while receiving more consistent minutes under Granato. Bjork's role should only grow this season, as he could play a pivotal role on the Sabres' power play and receive top-line minutes. He has 20-goal potential.
Ted Brady: Do you see the Sabres signing any of the notable free agents still available, particularly Dominik Kahun, Nikita Gusev or Tuukka Rask? Is the team trying to trade Zemgus Girgensons or Cody Eakin?
Lysowski: Adams can't complete his plan for the club's forward group until he knows what the return will be for Eichel. Buffalo's needs will change if a deal yields an NHL-ready center or perhaps a power forward who can bring some physical play to the top six. The Sabres need help down the middle, thus making Kahun and Gusev unlikely targets, and Rask has stated that he'll only play for Boston.
Good luck trading Girgensons or Eakin. Girgensons has two years remaining on a contract that carries a $2.2 million cap hit and missed last season with a hamstring injury, while Eakin is coming off his worst year in the NHL. Both will need to regain their value before a trade is possible.
Derek Roland: Is there any reason to believe this roster will be competitive enough each game to make the Sabres interesting to watch?
Lysowski: Without knowing the Sabres' roster, fans can cling to what we saw from the young core during the final weeks of last season. Mittelstadt, Cozens, Thompson, Asplund, Dahlin, Jokiharju and Ruotsalainen, among others, were playing well against opponents who were battling for playoff position.
These weren't cupcake games against bottom feeders, and the group continued to show progress under Granato. Time will tell if Granato's approach works at the beginning of the season and with the NHL switching back to its previous division format. It appears the Sabres' division will be a buzzsaw.
Dr. Chad J. Prusmack characterized the disk replacement surgery as a likely "one-and-done" scenario and that 10-year follow-up visits show 4.8% of patients need a new surgery.
Peter Morris: Wouldn't any Eichel trade require the team acquiring him to approve of the artificial disk replacement?
Lysowski: Correct. Eichel isn't going to change his mind. He wants the artificial disk replacement, meaning any team interested in acquiring Eichel must approve of the surgical procedure.
Rick Arnonal: Would Linus Ullmark have signed with the Sabres for the same term he received with Boston (four years, $20 million) or would Buffalo have to pay more?
Lysowski: The Sabres were going to have to pay more than the Bruins. Ullmark, 28, is amid the prime of his career and Adams was going to have to provide more money and term to make this deal work. In the end, overpaying Ullmark didn't make sense given his injury history and Ukko-Pekka Luukkonen inching closer to the NHL. In theory, Ullmark will be in his 30s by the time the Sabres are ready to compete, and his asking price, a reported $6 million average annual value across six years, could make it difficult for Buffalo to add or retain players in the future.
Alan Henderson: Kevyn Adams indicated he wants the Sabres to be more difficult to play against, but he hasn't made any significant additions to address that weakness. Do you see them adding anyone else?
Lysowski: As of now, no. The plan could change based on what the Sabres acquire in an Eichel trade, but as presently constructed, the roster will be too easy to play against. Girgensons' return should help in that regard, and the same goes for adding Hagg on the back end, but teams will try to push Buffalo around unless a physical forward is signed.
Eichel's agents released a statement to the media late Friday night stating that Eichel and his representatives were initially under the impression that Buffalo would approve the surgery Eichel wished to have on the herniated disk in his neck. 
@EWSportsFan: Was there ever an agreement between Eichel's camp and the Sabres to trade him by a certain date?
Lysowski: No. Eichel was expecting a trade by the end of the NHL Entry Draft because that's a weekend when those sorts of moves are typically completed. Interested teams had more to offer because they could have included 2021 draft choices. His camp also wanted a trade completed by the start of free agency because some interested teams spent their cap space and filled their needs, particularly the Los Angeles Kings, who gave former Montreal Canadiens center Phillip Danault a six-year, $33 million contract.
Christopher Tetta: Are the Sabres content with their goaltending, or do you expect that they'll upgrade? Who is available for them to acquire?
Lysowski: Adams told reporters following free-agent frenzy that he and his staff will monitor the goalie market, whether it's via trade or waivers. Mikko Koskinen (Edmonton), Joonas Korpisalo (Columbus) and Anton Khudobin (Dallas) are the top goalies who could be available through a trade. Waiver options won't be clear until training camp. Though Adams expressed confidence in the current goalie plan, leaving the door open for an addition tells me that the Sabres are more cautiously optimistic.
Matti: Is it possible the Sabres could make the playoffs and shock the NHL?
Lysowski: No. The division is far too difficult, and this roster doesn't have enough proven NHL players for me to predict they'll be close to a playoff position. Success in Granato's first full season should be measured by the development of individual players, not the final standings. This is difficult news for Sabres fans, as the playoff drought could reach an NHL-record 11 seasons, but the club is rebuilding and doesn't have the pieces yet to compete for the postseason.
John Jarzynski: What's your current prediction for the Sabres' lines?
Lysowski: As of now, my lines would be the following (these will change following an Eichel trade):
Asplund-Mittelstadt-Thompson
Skinner-Girgensons-Ruotsalainen
Caggiula-Eakin-Hinostroza/Okposo
There's a significant hole at center. Someone needs to seize the opportunity to center the third or fourth line, and it's possible Girgensons could shift back to the position after playing mostly on the wing the past three seasons.
Larry Lundin: Do you see Ukko-Pekka Luukkonen coming up for full-time duty at some point this season?
Lysowski: Absolutely. My prediction is Luukkonen starts the season in Rochester, but it won't take him long to take the job in Buffalo. It would be wise for the Sabres to see if their defensive play will be strong enough to support a rookie goalie, but Luukkonen will have the perfect mentor in Craig Anderson.
@PJschrades16: Does Owen Power join the Sabres this season?
Lysowski: All signs point to that not happening until the University of Michigan's season is over, which will take a while. The Wolverines will be the favorite to win the NCAA title. If this doesn't provide enough time for Power to debut with the Sabres, or if they would prefer that his entry-level contract begin in 2022-23, the club can allow him to represent Canada at the IIHF World Championship and sign him after the tournament.