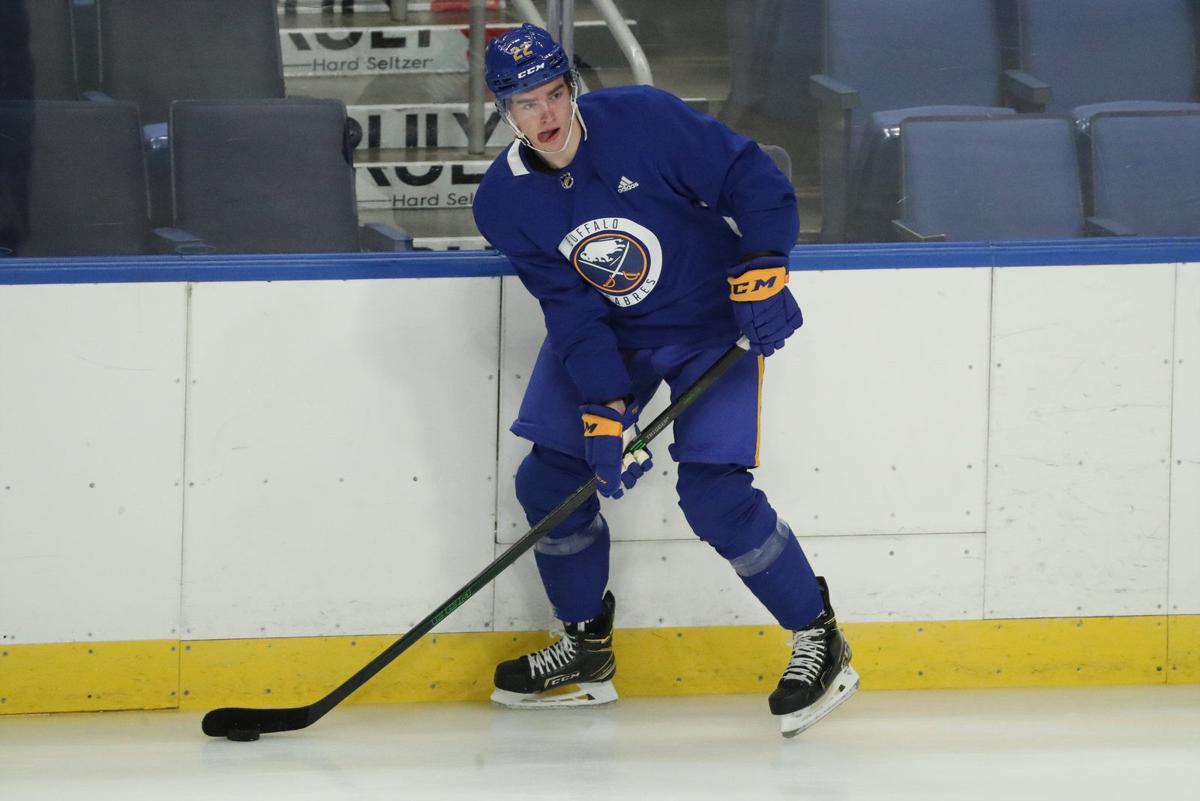 General Manager Kevyn Adams and the Buffalo Sabres can finally turn the page.
Jack Eichel and his $10 million annual cap hit are gone, replaced by Syracuse native Alex Tuch, top prospect Peyton Krebs and a first-round draft choice. With a clearer picture of the roster, Adams can start to plot out the future.
The question now is what's next for Adams and the Sabres? Will they trade veteran players before the March 21 deadline? When will prospects make the trip from Rochester to Buffalo? I tackled those topics and others in my latest mailbag, with the help of reader-submitted questions:
Notthefirstscot asks: What do you consider to be Rasmus Dahlin's real upside at this point, assuming he's not a generational defenseman?
Lance: It's too soon to say, but I'm not ready to give up on the generational label. Unfortunately, the expectations were unrealistic. In hindsight, he was rushed to the National Hockey League and his development was impacted negatively by Phil Housley's man-to-man defensive-zone structure, followed by Ralph Krueger's preference to have his defensemen play conservatively. 
We're starting to see more consistent signs of what Dahlin can become. So many people want to label Dahlin a bust because of what we're seeing from Cale Makar and Quinn Hughes. Far different players from totally different backgrounds. Victor Hedman struggled early in his career. We're seeing growth from Dahlin in how quickly he responds to bad plays, and this is the first time he's played 20-plus minutes per game in the NHL. Ask me this question in a year or two. In my opinion, his ceiling is still sky high.
@SabreseSocialist asks: In a hypothetical scenario, the Sabres are making a playoff push in 2024. Who is their goalie: Ukko-Pekka Luukkonen, Erik Portillo or Devon Levi?
Lance: Luukkonen is my pick, at least for now. We've seen him have success in the NHL, albeit in a very small sample size last spring. Luukkonen is much further along in his development than the two younger prospects. Credit to the current and previous regime for making this a possible position of strength for the Sabres, but remember, goalie development is volatile.  
@Donmnski asks: Should fans be concerned about Sabres prospect Ryan Johnson signing elsewhere after he finishes his eligibility at the University of Minnesota?
Lance: No. I expect Johnson to sign with the Sabres following his season with the Golden Gophers. While the Sabres have a surplus of left-shot defenseman, Johnson can play his off-side and looks ready to start his pro career. Perhaps Johnson can join the Amerks for a playoff push.
@Vanek26_ asks: Are there any unrestricted free agent goalies this summer that the Sabres could target?
Lance: The Sabres won't make a sizable bid for a free-agent goalie. When at their best, the Sabres' system limits chances to the outside, which makes the job easier for whomever is in net, thus negating the need to overpay on the open market. And there's no need to pay big money when Luukkonen is on the cusp of the NHL.
If Luukkonen is ready to take the job next season, the Sabres can bring back Dustin Tokarski or sign a reliable veteran to a reasonable short-term contract. You don't want to pay the wrong goalie when you have Luukkonen, Portillo and Levi in the prospect pipeline. If Luukkonen isn't ready, go the trade route. This franchise has made too many mistakes in free agency. It's wise to learn from the past.
@broadsword84: Do you see J-J Peterka, Peyton Krebs and/or Jack Quinn joining the Sabres at some point this season?
Lance: Quinn and Krebs, yes. Peterka, I'm not so sure. The Sabres are going to be patient. There's no reason to rush prospects given the state of the NHL roster. There is only so much ice time in Buffalo to develop young players. Granato can't have Krebs, Dylan Cozens, Casey Mittelstadt and Tage Thompson facing top centers such as Connor McDavid. Who shifts to the wing if Krebs joins the Sabres? It's a good problem to have.
Quinn, on the other hand, could immediately fill an area of need. He's a goal-scoring, play-driving winger who is willing to go to the net and plays well defensively. Still, Quinn is receiving 20-plus minutes per game in Rochester. He could have trouble cracking 15 in Buffalo. It makes sense to keep Quinn with the Amerks for now and bring him up if an injury to a top-six forward occurs or a roster spot opens because of a trade.
Peterka will need to be better defensively before he is ready for a recall. He has all the physical tools, but he has to play a simpler game to have success in the NHL.
Connor L: Do free agents avoid the Sabres because of the way the Jack Eichel situation was handled?
Lance: Winning will cure the recruiting problem for Adams. In the interim, this group needs to show notable progress under Don Granato for a proven player to want to sign here, although it's doubtful that Buffalo will be a major player in free agency this summer.
It's likely that agents will have questions regarding the Eichel issue, especially after his various comments following the trade. But I don't see that as a major deterrent given the unusual nature of the Eichel saga. It's a great hockey market, the coach is respected by top players around the league and the young core is impressive.
Christian Stamberger: Which of the Sabres' pending unrestricted free agents have put themselves in position to be traded before the deadline? What can the team get in a trade?
Lance: Colin Miller is atop the list. Right-shot defensemen are always coveted by contenders, and he's played in a Stanley Cup final. Miller has two goals and nine points in 16 games, and he can play in every situation. Vinnie Hinostroza, Drake Caggiula, Cody Eakin, Robert Hagg, Craig Anderson and Dustin Tokarski should also generate interest. I'm not including Mark Pysyk because I'm of the opinion that he'll be back next season.
The Sabres should be able to acquire more draft picks. The question is how many of these veteran players will be traded. I wouldn't clean house. Keep some around to support the young core and ensure that you don't have to rush up prospects from Rochester.
Ed Helinski: What does the Sabres' lineup look like when Casey Mittelstadt and Alex Tuch return?
Lance: This is a fun exercise. It's impossible to predict which players could be out of the lineup when those forwards return or if Adams makes a trade to make room up front. However, if everyone is healthy and I am making a realistic prediction about what the lines could look like following the Olympic break, here's a snapshot:
Jeff Skinner-Casey Mittelstadt-Alex Tuch
Anders Bjork-Dylan Cozens-Victor Olofsson
Rasmus Asplund-Tage Thompson-Vinnie Hinostroza
Zemgus Girgensons-Cody Eakin-Kyle Okposo
Given my thoughts on the prospects remaining in Rochester, I didn't include them in these mock lines. Caggiula also seems like a logical candidate to be traded. His speed and versatility would make him an interesting add for a contender, and the Sabres will need to create space for Tuch. The Okposo line seems destined to stay together until Eakin is moved at the deadline. This gets tricky if you add Quinn and/or Krebs to the mix.
Fletcher Doyle asks: Considering the core and prospects, what position would you add to this roster from outside the organization this offseason?
Lance: In terms of NHL-ready talent, another top-six winger and a forechecking presence for the bottom six. The Sabres need another scorer to skate alongside one of their promising young centers – someone with the speed and shot to finish chances created by Cozens or Mittelstadt. It would be wise to have insurance in the event Peterka isn't ready or Asplund proves to be more of a third-line player.
Also, the Sabres need to be harder on the forecheck. Speed is great, but you have to win one-on-one battles. It's an element they're lacking right now. They need an energy player in the mold of Yanni Gourde.
Connor Miller asks: What's behind the difference in play between home and road?
Lance: Line matchups and emotion. It's easier for an opponent to exploit weaknesses when they have second line change. For example, the Penguins were able to pick when and how to deploy Sidney Crosby. And we've seen the Sabres struggle to handle the pressure created by playing a close game in a loud environment.