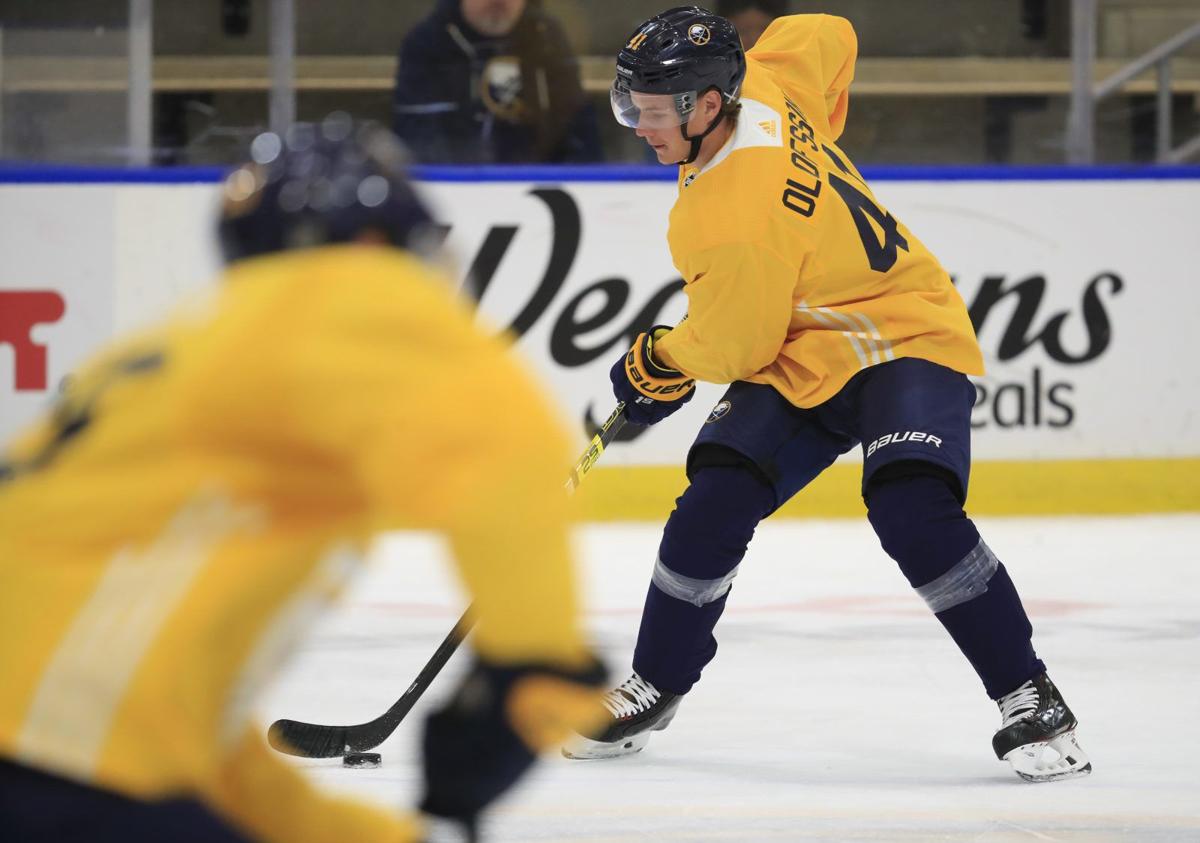 Hockey season is upon us. The Buffalo Sabres' prospects challenge will be held Sept. 6-9 in Harborcenter, with training camp opening only a few days later.
We'll soon learn more about Ralph Krueger's plan for the Sabres and should have a better idea how the roster could look when the season opens in Pittsburgh on Oct. 3. There is still time for the team to make a trade or add players on a tryout basis, however, as of now, it appears Victor Olofsson will have the opportunity to earn a prominent role in the NHL during training camp.
I'll begin this week's Sabres Mailbag with my prediction that Olofsson will become a reliable player in Buffalo this season:
Ryan: Among the following players, who is most likely to emerge as an above-average NHL player this season: Linus Ullmark, Victor Olofsson, Will Borgen or Dylan Cozens?
Lance Lysowski: Olofsson. The 24-year-old is the most well-rounded player of the group right now, possessing an elite shot and above-average defensive awareness. The Sabres handled Olofsson's development brilliantly. Rather than rushing him to North America, the team chose to keep Olofsson in Sweden through the 2017-18 season. Olofsson was ready when he arrived in Rochester last fall, and he led the team with 30 goals in 66 regular-season games.
There will be growing pains if Olofsson does earn a full-time role in Buffalo this season. After all, he's only played six NHL games. However, I believe he's ready for a top-six role. Cozens will eventually become the best player of this group, but he's likely going to play another junior season with Lethbridge. Additionally, Will Borgen probably won't have the opportunity to play much in Buffalo after the team acquired Colin Miller and Henri Jokiharju, who are also right-shot defensemen.
Peter Morris: Is there any interest in bringing Jason Pominville back? Are there going to be any players on one-way contracts sent to Rochester?
Lysowski: Barring injury, the Sabres don't seem to have room to add Pominville, even on a tryout basis for training camp. The 36-year-old winger is still talented enough to play in the National Hockey League. That was evident last season when he finished fourth on the team with 16 goals.
However, the Sabres added Marcus Johansson and Jimmy Vesey this offseason, plus General Manager Jason Botterill likely wants to give young players an opportunity to carve out a role, specifically Olofsson, Tage Thompson and C.J. Smith.
It's probably fair to wonder why the Sabres chose to let Pominville walk while bringing back Johan Larsson and Zemgus Girgensons. The problem is Pominville likely wouldn't see time on the power play or penalty kill. Meanwhile, Larsson and Girgensons are above-average in the latter. Additionally, bringing Pominville in on a tryout wouldn't make much sense because the Sabres are going to want to use ice time in preseason games on young players or other forwards who are competing for a roster spot: Arttu Ruotsalainen, Curtis Lazar, Jean-Sebastien Dea and Scott Wilson, among others.
In reference to your second question, yes, the Sabres are likely going to have to send one or more players on a one-way contract to Rochester. Lazar, Dea and defenseman John Gilmour are the most likely candidates at the moment. Fans will be disappointed that I didn't mention Vladimir Sobotka, but I believe he'll at least be the teams' 13th forward entering the season.
The Sabres will face a difficult decision with Smith since he would have to clear waivers if they attempt to send him to the Amerks.
Brian Gilbride: What has led to Rasmus Ristolainen not being traded? Are teams hesitant, is there a lack of interest or are the Sabres not satisfied with what they've been offered?
Lysowski: A number of factors have led to the lack of movement, or substantive rumors, involving Ristolainen.
A number of teams are unable to make any significant trades or free-agent signings because they have one or more unsigned restricted free agents. That includes the Winnipeg Jets, who seem to be an ideal fit for a Ristolainen trade. Also, Ristolainen did not do the Sabres any favors by publicly expressing his frustrations.
Botterill might not have much leverage to make a trade since teams could be under the impression that the Sabres are motivated to move Ristolainen before the season starts. That could explain why both Botterill and Krueger have spoken publicly about being prepared for Ristolainen to be a Sabre this season.
Lastly, the Sabres aren't going to trade Ristolainen unless they receive a significant haul that reflects what they're giving up: a high-upside, 24-year-old right-shot defenseman with a reasonable contract.
Trades can occur in September – Ottawa dealt defenseman Erik Karlsson to San Jose in the weeks leading up to last season's opening night – but there are a number of factors that will make it difficult for the Sabres to move Ristolainen.
Ron: Do the Sabres have any interest in Edmonton winger Jesse Puljujarvi?
Lysowski: I have not heard that the Sabres are among the teams interested in Puljujarvi. In my opinion, the acquisition cost would be far too high. Sure, Puljujarvi has signed a contract in Finland that has an NHL opt-out clause until Dec. 1, but the Oilers will only trade the 21-year-old if they receive the right player in return.
Puljujarvi is an intriguing player. He's a skilled player at a position of need that was drafted fourth overall only three years ago. But the Sabres already have a surplus of forwards and want to give young players in the organization an opportunity to make the team. There doesn't seem to be a fit.
Derek Roland: What sort of role can we expect for Rasmus Asplund to play in the next few years?
Lysowski: Asplund gradually improved during his first season in North America and became a reliable penalty-killer for the Amerks. He also improved offensively during the All-Star break, finishing with 10 goals among 41 points in 75 regular-season games.
Asplund will likely need at least one more season in Rochester, but he has the upside to become a reliable third-line center. He's been overlooked by people outside the organization because the Sabres have Jack Eichel, Casey Mittelstadt and Dylan Cozens. However, Asplund is a strong two-way player and has untapped potential. He's only 21 years old and he should produce more offensively this season.
Todd: Which player are you most looking forward to watching at the prospects challenge?
Lysowski: Cozens would be the obvious answer if he is cleared to participate. He was outstanding at development camp before suffering the thumb injury, and I want to see if he could surprisingly compete for an NHL roster spot in training camp.
Since Cozens is unlikely to participate, my answer is Matej Pekar, the Sabres' fourth-round draft pick from last June. Pekar is likely best remembered by fans for his physical play in last summer's development camp.
Pekar, though, is also very skilled and coming off a season in which he scored 14 goals among 36 points in 33 games for Barrie of the Ontario Hockey League prior to suffering a broken collarbone. The 19-year-old is likely headed back to the OHL for a second junior season, but I want to see how he performs against a player such as New Jersey's Jack Hughes at the prospects challenge. Remember, an injury prevented Pekar from participating in development camp in June.