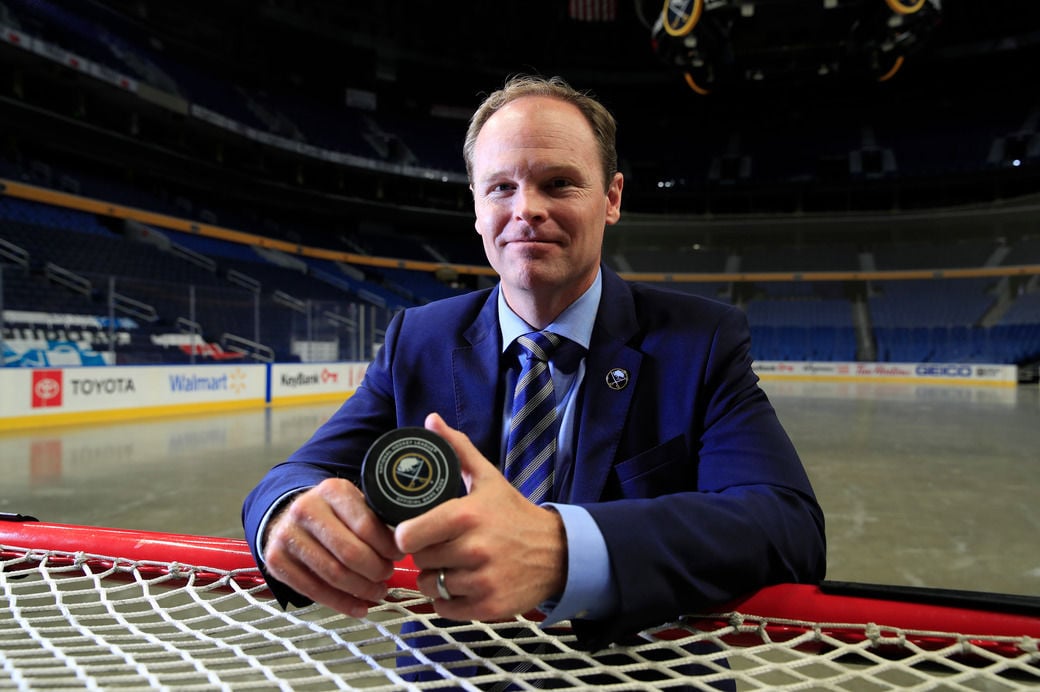 With $11.65 million allocated to four free agents, including $8 million to former Hart Trophy winner Taylor Hall, the Buffalo Sabres must now wait to see how much cap space is remaining for 2021.
Sam Reinhart will account for $5.2 million of the cap after he avoided arbitration with a one-year contract Sunday. Hours later, the team also avoided arbitration with Linus Ullmark by signing the 27-year-old goalie to a one-year contract worth $2.6 million.
Victor Olofsson has an arbitration hearing scheduled for Nov. 4.
According to CapFriendly.com, the Sabres have $6.545 million in cap space, not including the $1.275 million overage from last season.
Adding another player of significance via trade or free agency would likely require the Sabres to shed salary, and General Manager Kevyn Adams also must ensure he has future cap space to sign core players to long-term contracts.
With that in mind, it's time to answer questions submitted by readers through email or Twitter.
Andrew Bobeck Jr.: Will the Sabres dive into the trade market once the arbitration hearings are over?
Lance Lysowski: Yes, but I don't think it's realistic to expect a significant trade. The Sabres will likely be near the salary-cap ceiling following Olofsson's arbitration hearing and Adams will want flexibility to add at the trade deadline if this team is contending.
While upgrades are unlikely, I do envision a scenario in which the Sabres part with a player for a draft pick – possibly Colin Miller or Brandon Montour to recoup a third-rounder – and give a prospect such as Will Borgen an opportunity to make this team. Adding a goalie will be difficult given the cap situation, other teams' asking price for a starter and Carter Hutton's $2.75 million salary.
Tony Astran: Do the Sabres try to get Lawrence Pilut back?
LL: Yes, I believe Pilut will rejoin the Sabres in the future. Pilut has a two-year contract with Traktor Chelyabinsk, but it's unclear if there is an NHL out clause following this season. When speaking to people around the industry, the consensus is oftentimes only the player, his agent(s) and the KHL team have viewed the contract, which makes it difficult to confirm if such a clause exists. Pilut's agent declined to comment, but the Sabres' current regime is monitoring the 24-year-old defenseman's play in Russia and will attempt to bring him back if his development continues to trend upward.
John Jarzynski: What are the Sabres' chances of signing Hall beyond this season?
LL: Low. It's unrealistic for the Sabres to sign Hall, Reinhart, Olofsson and Rasmus Dahlin to long-term contracts. Someone won't fit. A Hall deal might be possible if this franchise had not already committed $72 million to Jeff Skinner, who carries a $9 million cap hit through 2026-26.
Best case scenario, Hall has an outstanding season on Jack Eichel's wing and leads the Sabres to the playoffs, but the price tag would likely become astronomical. I doubt Hall accepts a significant discount to stay.
Brian: Are there any prospects who weren't on the Sabres' roster last season that have an opportunity to make a difference in 2020-21?
LL: Borgen and Arttu Ruotsalainen. The Sabres need to find out what they have in Borgen, a 24-year-old defenseman who has played 140 games in the AHL. He would be a nice fit on the third pair, but the team's depth chart remains crowded. The smart play would be to trade Montour or Miller for a left-shot defenseman and have Matt Irwin as the extra.
Ruotsalainen, meanwhile, should receive a long look in camp. He can play center or wing and could bring some much-needed offense to that bottom-six. The 22-year-old is also strong enough defensively to play under Krueger. Entering Sunday, Ruotsalainen had seven goals and one assist in nine games with Ilves.
Dennis: Do Dylan Cozens and Tage Thompson make the Sabres' out of training camp?
LL: Yes. Cozens is ready for the jump, although he should start at right wing next to Eric Staal, and I would caution that defense might be an issue early for the former No. 7 draft pick. If either young player struggles amid what's likely going to be a truncated schedule, the Sabres can always give one a break, particularly on the road, in favor of a veteran such as Tobias Rieder.
Krueger needs to be cautious how he handles the development of Cozens and Thompson. It's important to not have a quick hook following a difficult shift or game. Let both learn on the job – like Krueger did with young Oilers in Edmonton in 2012-13 – and don't stick Cozens in a role that will give him only seven minutes a game.
DK: Which is the more significant need right now, a goalie or left-shot defenseman?
LL: Both are significant needs. It would be irresponsible to use Montour on the left side again and the potential of this team could be spoiled by a lackluster effort in goal. I believe Hutton will rebound after fixing his vision issue – remember, he had a .883 shorthanded save percentage in 2018-19 – but the Sabres currently have two 1B options. They should balance the blue line and grab a starting goalie that has a short-term contract. Ukko-Pekka Luukkonen's outstanding offseason has him primed for a very good season in Rochester.
Nelson: Will Sam Reinhart eventually receive a long-term contract and, if so, how much will it cost the Sabres?
LL: The one-year contract Reinhart signed Sunday was a team-friendly deal that will allow him to increase his value during a season in which he may play alongside Eichel and Hall. 
The price tag on a long-term contract will increase significantly if Reinhart scores 30 goals and continues to improve his game away from the puck. This is what happens when you give a productive player like Reinhart a bridge contract -- he signed a two-year deal in 2018 -- instead of trying to sign him long-term.