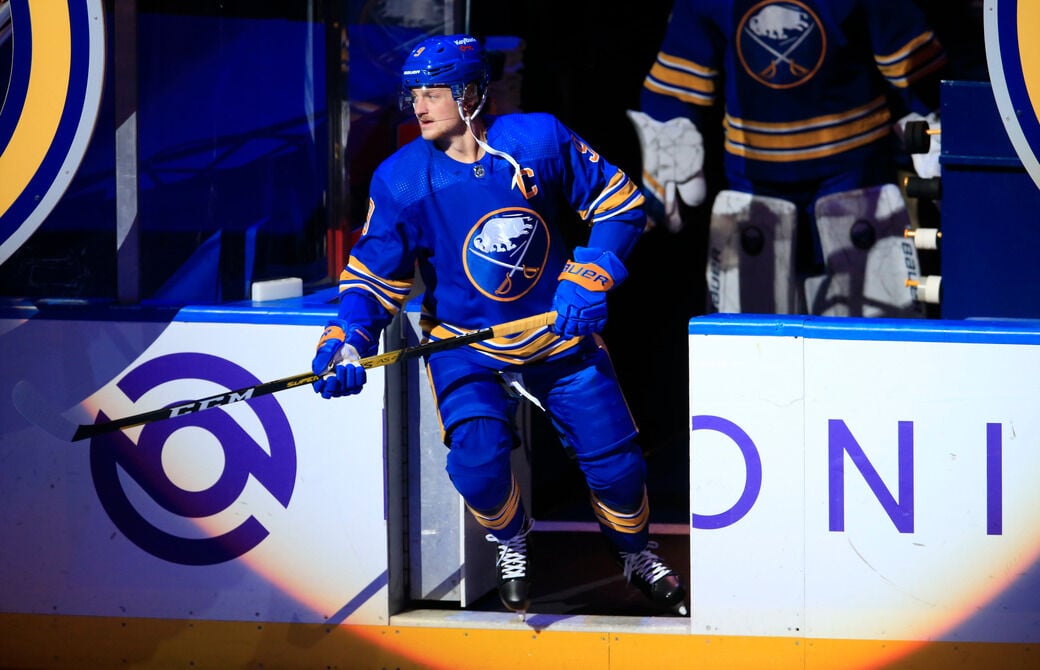 The search for the next coach of the Buffalo Sabres has lasted longer than one month.
Interim coach Don Granato's approach was effective with the young players on this roster, which leads us to the obvious question: What is Adams waiting for?
The coaching search is only one chapter in a busy offseason for Adams, beginning with the dilemma involving the Sabres' captain, Jack Eichel:
Jeremy Powley: What do you see happening with the stalemate between Eichel and the Sabres?
It's possible no general manager in the National Hockey League has more on his agenda this offseason than Kevyn Adams of the Sabres.
Lysowski: My prediction is that the Sabres will grant Eichel permission to talk to teams that are interested in trading for him. This dialogue will be necessary because any team acquiring Eichel must feel comfortable with his preference to have the particular surgery he is seeking to repair his injured neck. Allowing those sides to talk is a sign of good faith, and the Sabres also should provide all available medical information.
Then it will be time to field substantive trade offers. This process will need to move quickly, or the Sabres will find themselves in a hearing in which Eichel's camp can state its case to an independent arbitrator. It's better to pass the problem on to another team if the Sabres decide Eichel isn't part of their future.
If another team supports Eichel's decision and offers the appropriate trade package, the Sabres will complete the deal. If not, you might see this drag on for a while. Neither side is going to change its mind. In the end, an exit seems inevitable.
Kevin Theel: If the Sabres trade Eichel, what type of return would you prefer: mostly prospects or a blend of young and experienced players?
Lysowski: The Sabres need to acquire at least one experienced player in a trade. Adding leadership and veteran talent will enhance the development of Casey Mittelstadt, Dylan Cozens and others. It will be difficult to sign that sort of player in free agency given the acquisition cost, and Buffalo isn't an attractive destination right now.
The salary cap space created by trading Eichel is also a valuable bargaining chip. Adams can agree to take on a high-priced contract with the right term if in exchange he receives a better return in the trade. For example, the Sabres wouldn't typically want Los Angeles Kings goalie Jonathan Quick's $5.8 million cap hit, but what if doing so allows you to acquire Alex Turcotte, Gabe Vilardi, another prospect and a first-round draft pick?
Additionally, the Sabres need to avoid a full-scale rebuild, if possible. Becoming competitive is pivotal if they want to regain the trust of a fan base that's suffered through 10 years without playoff hockey. This trade can't be all prospects and draft picks.
Junior Strauss Mann and freshman Erik Portillo, a third-round draft choice of the Sabres in 2019, lent their analysis on each player to The News.
Rachel Bennett: If Jeff Skinner waives his no-movement clause, would trading him and the first overall pick to Seattle in exchange for No. 2 be something the Sabres could/would do?
Lysowski: Hypothetically, yes, this could make sense for both teams. The Kraken need to get to the cap floor and might view Skinner as a valuable veteran player who's worth the cap hit. Skinner is 29 and a seven-time 20-goal scorer who has a history with Seattle General Manager Ron Francis and assistant general manager Jason Botterill.
This scenario is dependent on the Kraken viewing defenseman Owen Power as the clear-cut top prospect in this draft. But it's likely that Francis would still want Buffalo to either retain a portion of Skinner's salary – potentially half of his $9 million annual cap hit over the next six seasons – or other assets in the trade.
For now, the cost of trading Skinner might not be worth the cap savings. After all, Buffalo won't have to worry about the cap ceiling if Eichel and/or Sam Reinhart are traded. The better play might be to kick the can down the road and bet on Skinner regaining some of his value. Or simply get Skinner to agree to waive his no-movement clause so the Sabres can protect another young forward.
Curtis: Do you think there's better than a 50% chance that defenseman Rasmus Ristolainen will be traded this summer? If so, is it more likely this happens before or after the expansion draft?
Lysowski: Yes, a Ristolainen trade seems inevitable. He's indifferent about remaining in Buffalo, and the Sabres have a capable replacement in Will Borgen. The best approach would be to trade Ristolainen before the July 21 expansion draft. You don't want to protect Ristolainen if it means you expose a promising young defenseman such as Borgen. If a trade can't be consummated before the expansion draft, then leave Ristolainen unprotected. If he's selected, oh well. If not, then the move would be to trade him.
Ristolainen deserves a change of scenery. He's endured so much losing during his eight NHL seasons, and you cannot accuse him of not working tirelessly to bring a winner to Buffalo. There should be a market for Ristolainen, especially with his contract expiring next summer, but it's unclear what the Sabres can get in return after Ristolainen's play deteriorated after his battle with Covid-19.
Winger J-J Peterka signed a three-year entry-level contract after representing Germany at the IIHF World Championship in Latvia.
Matt Weiner: Is there a world where you consider trading a contract like Skinner's for another bad contract like Florida Panthers goalie Sergei Bobrovsky's?
Lysowski: Anything is possible if the money fits, which, in this case, it would. But this sort of hypothetical is impossible to predict. The Panthers would need to want Skinner, who isn't exactly Joel Quenneville's kind of player, and the Sabres would have to view Bobrovsky as a bounce-back candidate.
A left wing with 21 goals in his last 112 games has less value than an overpaid starting goalie who had a .906 save percentage in 31 regular-season games. 
Kyle Ailinger: What should the Sabres do with their goaltending? Is Linus Ullmark the best free-agent option? Are either of the Columbus goalies worth acquiring in a trade?
Lysowski: Best case scenario, the Sabres sign Ullmark to a one- or two-year contract and add another goaltender via trade. My preference would be Elvis Merzlikins of the Columbus Blue Jackets. However, the situation becomes complicated if Ullmark walks in free agency.
Merzlikins would still be my choice because he's under contract for only one more season with a reasonable $4 million cap hit. Plus, Merzlikins, who turned 27 in April, has a .920 save percentage in 61 career NHL games and has more upside than the other goalies rumored to be available via trade. You can acquire him from the Blue Jackets as part of a bigger deal – perhaps one involving Reinhart – and the underlying numbers for Merzlikins are promising.
The Sabres would be wise to not overpay a goalie in free agency – Frederik Andersen might be the best available option on the market – unless it's on a short-term contract. Ukko-Pekka Luukkonen, 22, is likely closer to NHL-ready than anyone anticipated.
Andrew Sember: Can the Sabres make the playoffs next season if they trade Eichel and Reinhart?
Lysowski: Is it impossible? Of course not. But it's highly unlikely given that you aren't going to receive equal value, at least not immediately, when trading either player. The franchise's outlook brightened somewhat with the promising performances of young forwards during the season's final weeks, but it won't be easy to count on them to bring that level of production consistently for an 82-game season.
Plus, the Sabres have far too many holes to fill in one offseason. Their goaltending situation will be dire if Ullmark leaves. You need to add a reliable defenseman to complement the young corps on the back end. There isn't enough depth up front. Help isn't on the way from Rochester and free agency won't be a viable option to solidify any weaknesses.
If the Sabres trade Eichel and Reinhart, the best fans can hope for, in my opinion, is a rebuild with a two- to three-year waiting period before this team is ready to contend. And that's contingent upon Adams acquiring the right assets.
Seven players with Sabres ties were able to travel to Latvia when Buffalo concluded its season last month. Here's how they fared.
Philip Salerno: Are the Sabres three lines away from being a serious playoff contender? The New York Islanders, Montreal Canadiens and Vegas Golden Knights have four lines that can contribute.
Lysowski: What line can you say with absolutely certainty is positioned for success next season? At best, you might be able to point to Mittelstadt, Tage Thompson and Rasmus Asplund, but there isn't enough of a track record yet to label that group as reliable.
The Sabres aren't even a one-line team if they trade Eichel and/or Reinhart. We won't know where this team stands until after the dust settles. There are some great young players on this roster, but they're mostly unproven. Now it's a matter of putting them in a position to continue their development in the NHL.
Ted Brady: Would hiring Don Granato as coach signal a rebuild for the Sabres? And if Eichel is gone, will Reinhart likely follow?
Lysowski: Not at all. Hiring Granato signals that he's the best fit for what will likely be the youngest team in the NHL next season. His background and track record in development are ideal for the state of this organization. Granato's message has proved to work with the players we expect to be the Sabres' future core.
That said, trading your top two players is what would signal a rebuild and yes, an Eichel trade all but seals Reinhart's inevitable departure. Do you think Reinhart wants to stick around if Eichel is gone? Adams should approach Reinhart with a significant long-term contract offer and sell him on the vision to turn around the franchise. If Reinhart passes, you have no choice but to explore a trade.
@johnnyb1211: Is Victor Olofsson an under-the-radar player that could be moved this summer?
Lysowski: In my opinion, no. Olofsson has a reasonable $3.05 million cap hit in 2021-22 and he's a restricted free agent with arbitration rights next summer. Olofsson is still only 25 and has 33 goals over the past two seasons. He's the kind of player you build around.
Is Olofsson better suited for a role on the third line? Absolutely. But you need effective players in the bottom six. Plus, Olofsson is an important weapon on the power play. He's a depth player whom I'm keeping around.  
Thanks as always for the questions, which can be submitted via Twitter to @LLysowski or to my email: llysowski@buffnews.com.