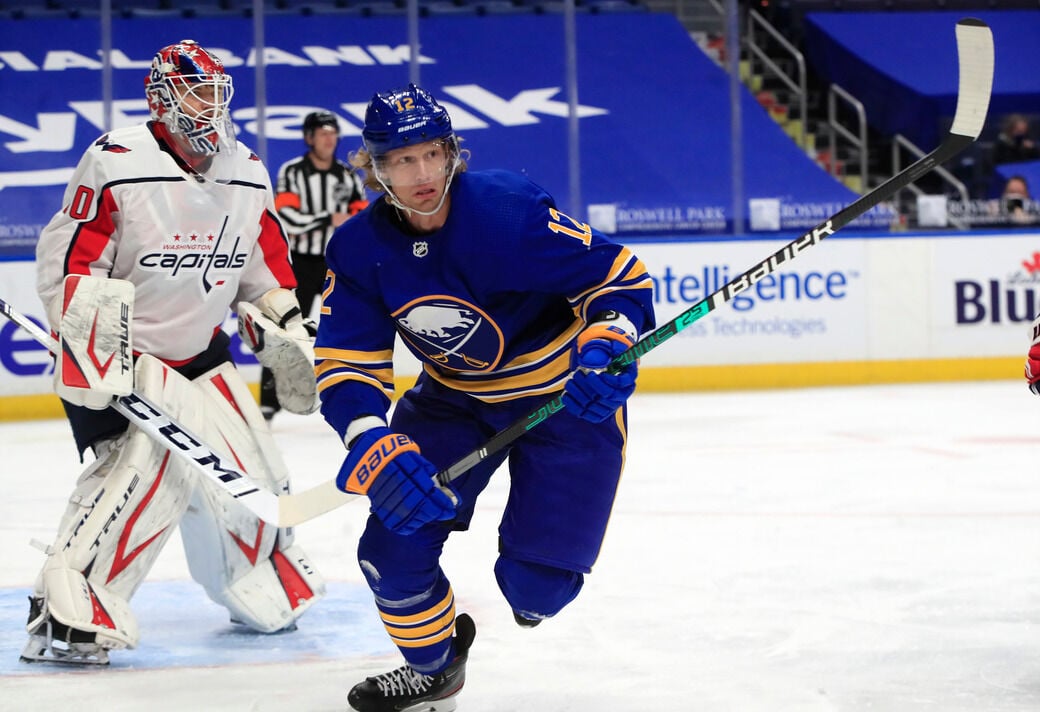 Both in the wake of last season and going into this one, Buffalo Sabres coach Ralph Krueger made it one of his key talking points.
The Sabres were a Jekyll-and-Hyde outfit last season, going 20-11-4 at home but ruining their hopes with a 10-20-4 road record that ranked 28th out of the 31 teams in points away from home.
They have to be better away from KeyBank Center or they go nowhere. Period.
Krueger says his club's better depth at forward should lead to better matchups on the road, where the home team's last change allows it to maneuver more freely. He's got tough lab tests for that theory to run this week.
The Sabres play Monday and Tuesday nights at Philadelphia, which opened the season with two impressive wins over Pittsburgh and is the pick by many to win the East Division. Then, they play Friday and Sunday at Washington, which just took the opening two games in Buffalo. Since 2014, the Sabres are 0-6-1 in their last seven games in Philadelphia and 0-6-2 in their last eight in D.C. They've been outscored 63-22 in the 15 games.
The Sabres' top draft pick in 2019 averaged 12 1/2 minutes over the first two games against Washington, playing with Tobias Rieder and Cody Eakin.
"The biggest thing is simplicity, and the ability to stick with your game, regardless of what's going on around you," Sabres center Eric Staal said Sunday. "I think it's obviously different now with no fans and no energy and momentum that way. But there's still momentum shifts and gains. And I think on the road, the ability to stick within your structure and your game and believe in doing the simple things consistently, you'll find results."
Over the last four seasons, the Sabres have the NHL's fewest road wins (49), and their 49-86-22 record leaves them with a .382 points percentage that's ahead of only Ottawa (.379) and Detroit (.376). The Sabres have a goal differential of minus-132 in that span.
They ended last year with five straight losses on the road, including four in a row on a Western trip that snuffed their playoff hopes.
"I really think with our depth, we will be able to shake (tough) matchups easier," Krueger said. "And there will be times where you'll see an 11-forward rotation, even if we have 12 forwards on the bench, just to make it more difficult for the opposition to to get what they want.
"And the defensive trust we have in all four lines right now is quite big. We kept Washington down to 10 scoring chances in the last game (Friday's 2-1 loss). That was a really good defensive performance. That was what was different last year on the road. I think our our strong 5-on-5 game at home was not equal on the road."
Rieder is an anchor on the Sabres' energy line, pairing with center Cody Eakin and rookie Dylan Cozens, all of whom are in their first year.
Road records of NHL teams since 2016-17
Tampa Bay – 95-49-15 – .645
Washington – 93-52-17 – .627
Nashville – 82-56-19 – .583
Calgary – 85-60-15 – .578
Five Worst – W-L-O – Pct.
New Jersey – 59-83-16 – .424
Vancouver – 57-88-15 – .403
Buffalo – 49-86-22 – .382
Detroit – 50-89-18 – .376
When the Flyers are rolling, Wells Fargo Center in Philly is notorious for being one of the NHL's more hostile environments for a visiting team. When the Sabres were last in the playoffs in 2011, they could barely hear themselves think in the building in a series that saw them win twice on the road, but lose Game 7 there.
"There's no crowd to deal with or anything like that, but in saying that it's all about momentum and preparation," center Curtis Lazar said. "It's crazy. All these divisional games. They're four-point games, so you can't afford to get behind the 8-ball on the road or at home."
In six periods over two games, Skinner's play has gotten progressively better and what he showed Friday night against Washington has to give Ralph Krueger lots of food for thought.
The Sabres have to bring taxi squad players with them on the road, including third goalie Jonas Johansson. That's because they're not allowed to make outside recalls from Rochester as they normally can do during the regular season in the event of injury or, in the case of 2021, any incidence of Covid-19.
The Covid-19 rules will change the dynamic for teams quite a bit when they're out of town. Players and coaches are kept to their hotel and the arena or practice facility. They can't go out to restaurants or bars or shopping centers. Food has to be ordered in or catered.
"It definitely is going to be a lot different," Staal said. "They're trying to keep you pretty separated, which is difficult. Especially when you're a new guy, and you're a younger guy, you like to kind of be around the group. But it's the world we're living in now. And we'll deal with it. Every other team is doing the same thing."
"Important will be the discipline we have in and around the game," Krueger said. "As you all know, we're loaded with protocols and procedures, so it's a new world for us, for everybody. We have to be as good as anybody at dealing with that too when we travel."