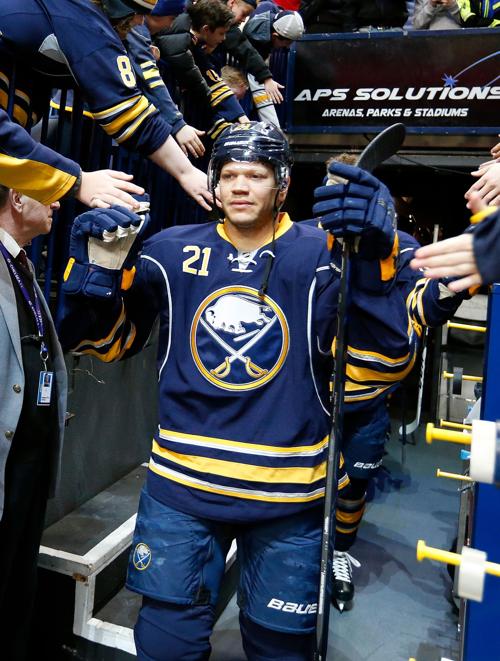 After Dan Bylsma admitted to being "very concerned" about Kyle Okposo's health, word came that the Buffalo Sabres forward is hospitalized and in intensive care.
Okposo is in the Neuro Surgical ICU at Buffalo General Medical Center, Paul Hamilton of WGR-AM 550 reported Wednesday. The Buffalo News has confirmed the story.
Okposo has been sick since March 28. The 28-year-old has visited doctors, but Bylsma had no diagnosis to announce Wednesday.
"It's a difficult thing for him to be dealing with now in this situation," Bylsma said in KeyBank Center. "Very, as a coach and a person, concerned for him and his situation.
"He's seeing our doctors and done some tests."
According to the website for the UCLA Neurosurgery Department, the neuro ICU cares for patients with all types of neurosurgical and neurological injuries, including stroke, brain hemorrhage, trauma and tumors.
"Kyle continues to be under the care of our doctors as he deals with symptoms from an illness," the Sabres said in a statement issued Wednesday night. "Out of respect to Kyle and his family, we will have no further comment at this time."
Messages left with Okposo's agent were not immediately returned.
"He's sick and ill," Bylsma said before the report when asked for further information on Okposo's condition. "Very concerned."