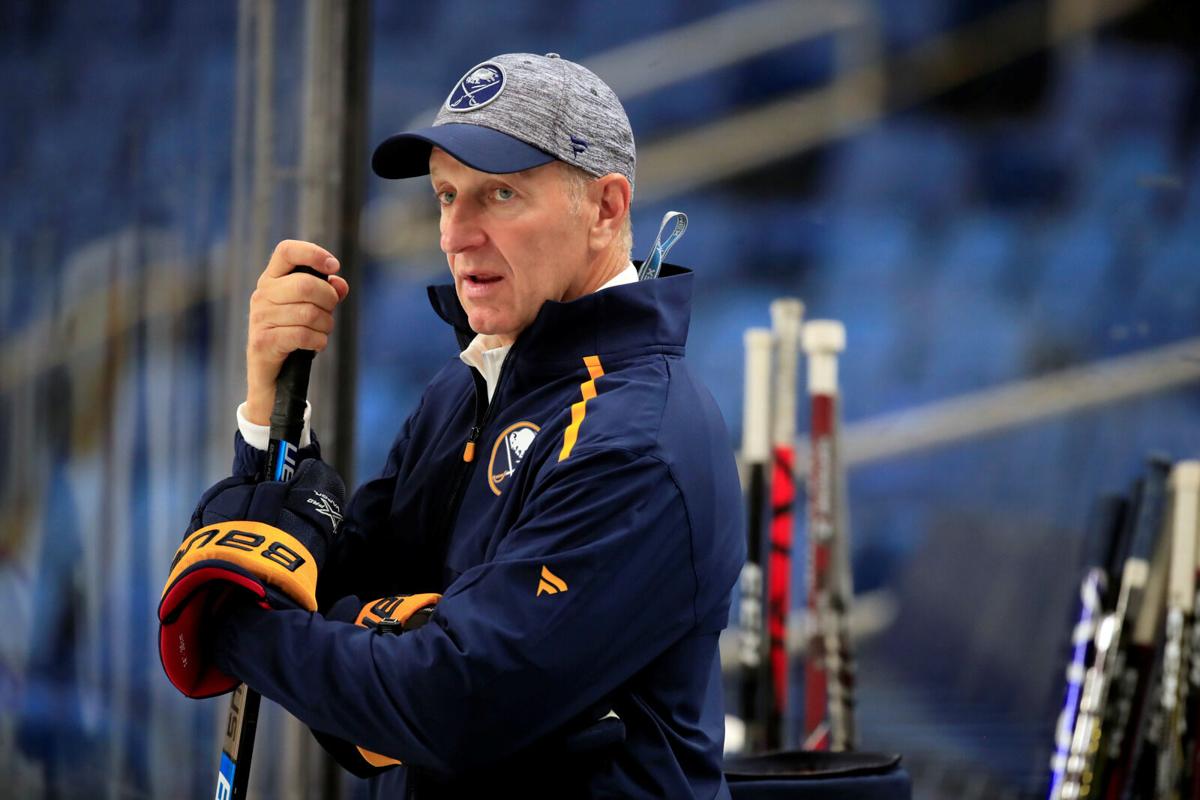 Travis Yost has been involved in the world of hockey analytics for a decade and is part of TSN's Hockey Analytics team. Prior to joining TSN, Yost was a contributor at the Ottawa Citizen, the Sporting News and NHL Numbers, and he has been a consultant for an NHL franchise. He will be contributing breakdowns on the Buffalo Sabres for The Buffalo News this season. Follow Yost on Twitter: @travisyost.
When it comes to stability on the blue line – well, it is a work in progress in Buffalo.
We expected significant turnover pertaining to the defensive corps for the Sabres. The front office recognized the blue line as an obvious weak point last season and made a concerted effort to ensure that there would be plenty of depth on the back end for new coach Ralph Krueger. Absent second-year player (and otherwise known commodity) Rasmus Dahlin, the Sabres figured to tinker with combinations for a period of time until they fell into something that worked.
And boy has Krueger tinkered.
In Tuesday night's game against Ottawa, Krueger again tried to work in seven defensemen. Lawrence Pilut was pushed back into the lineup playing alongside Rasmus Ristolainen, and Dahlin played with Brandon Montour as the other top-four pair. That left three depth defenders – Jake McCabe, Henrik Jokiharju and Colin Miller – to rotate in and out of the lineup, mostly in depth minutes against weak competition. (It goes without saying that dressing seven defensemen for a game is rare, though the Sabres have done it often this season.)
Dahlin and Montour have played together for more than 200 minutes and have started to settle in as a preferred pairing of sorts for Krueger. The rest of the pairings tried Tuesday, not so much. It's a common theme for Krueger and the Sabres, in which the team appears to perpetually rotate through pairings, either unhappy with the quality of play or unwilling to maintain a degree of patience with a grouping still trying to figure it out.
Heading into Tuesday night's game, Buffalo had tried 28 pairings. I will use "tried" as having played at least 10 minutes of even strength hockey together, which is at least a couple of games. And if we put more definition around that and only looked at regular pairings (say, having played at least 50 minutes of even strength hockey together), Buffalo has 16 pairings and counting.
If those numbers seem high, it is because they are. The league average is about 22 and 11, respectively – and only the Detroit Red Wings have tried more with their makeshift blue line than Buffalo this season.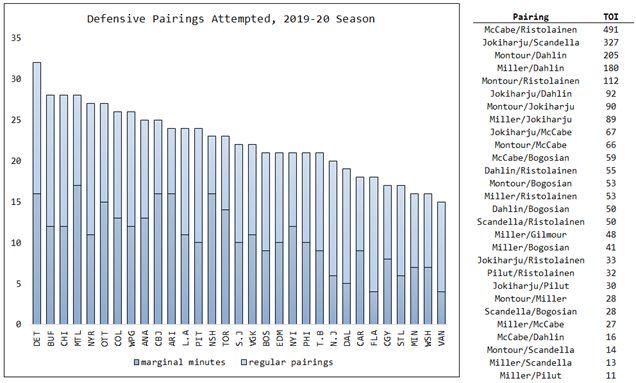 In one sense, you can understand why a first-year bench boss like Krueger – managing a roster that's experiencing significant turnover while carrying real pressure to contend for a playoff spot – would continue mixing and matching. But that's a gift and a curse. How can a coach realistically get an understanding for what pairings work and what pairings don't in such limited viewings?
What makes matters even more remarkable is that just one pairing – one out of 28, mind you – has posted favorable 5-on-5 results in their respective minutes. The Henri Jokiharju and Marco Scandella pairing, the team's second most common grouping this season, posted the following splits before Scandella was traded to Montreal:
Goal%: 61%
Corsi%: 54%
xGoal%: 55%
At a minimum, it is something worth thinking about when postmorteming this Sabres season – a Sabres season that increasingly appears lost, unless your rooting interest has once again returned to hoping for losses and escalating their chances in the draft lottery. Consistency is something that front offices, coaches and players talk about all of the time. And when it comes to the blue line, Buffalo has had anything but that.