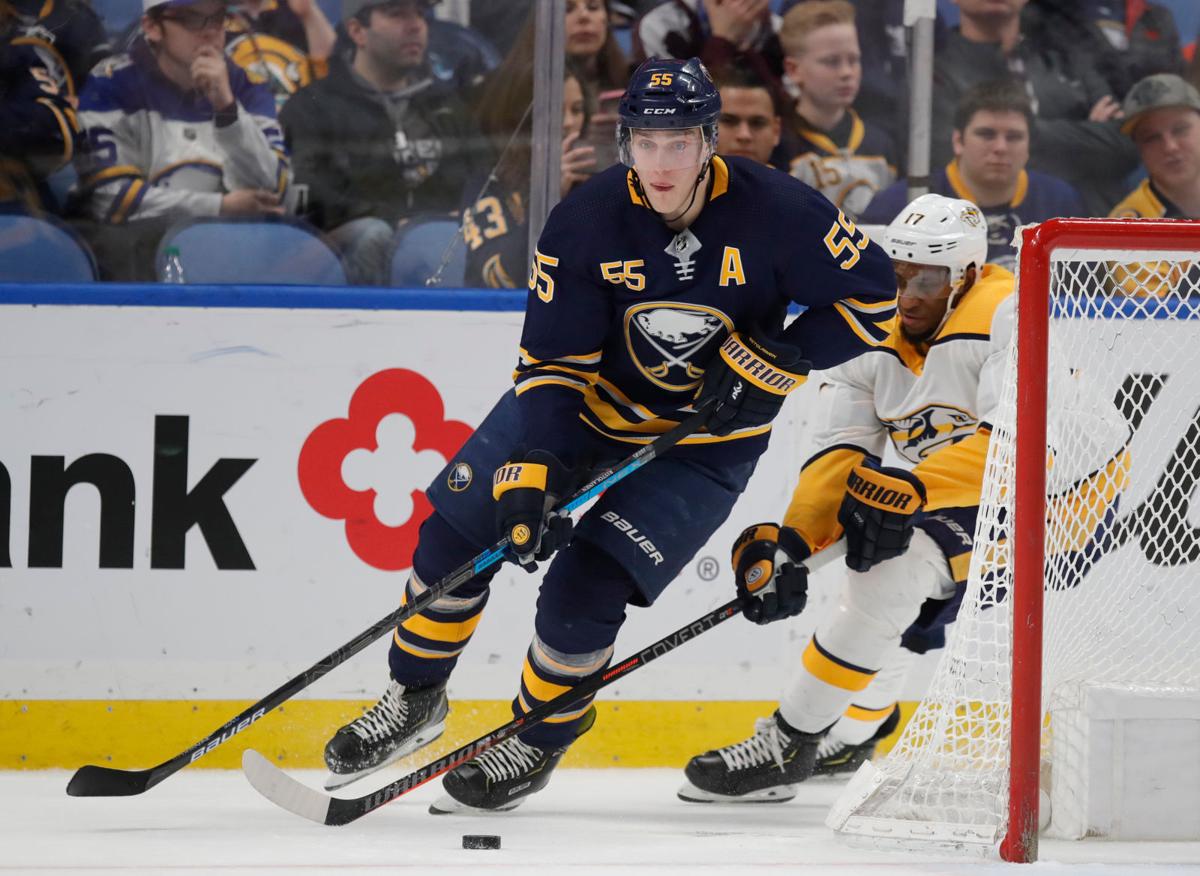 No matter what Rasmus Ristolainen may have said last week in Finland, the party line from the Buffalo Sabres is they're currently planning to have the veteran defenseman on their team for the start of training camp next month.
Speaking last week to Finnish outlet MTV Sports, Ristolainen implied it might be better for him to get traded by the Sabres rather than to stay in Buffalo for a seventh season.
"I was not surprised, not disappointed," General Manager Jason Botterill said Saturday in KeyBank Center following the team's Fan Fest that kicked off its 50th anniversary season. "Look, there's always stories coming out when players go back, and Finland's had an amazing year with (gold medals in the) World Juniors and World Championships.
"But you just look in the past week or two, there's stories from other organizations and stuff too, coming out of Finland. So those are something we can't control. What we can control is our interaction with our player, with our group here."
Like he did after development camp, Botterill said he was keeping any conversation he's had with Ristolainen private. But the GM said he's continued to interact with the team's longest-tenured blueliner.
"We're continuing to try to set this team up where we're putting 'Risto' in positions to have success," Botterill said. "Yeah, he wants to win. We also want to put him in a situation where he plays very well, and that's what we've tried to do with some of the acquisitions, add depth to our defense, add competition to our defense."
While the Sabres are currently more than $1 million over the salary cap, they have options to use long-term injured reserve for players who don't figure to be ready to start the season like Zach Bogosian and Lawrence Pilut. They also could use it on a player like Matt Hunwick dealing with injury issues that may prevent him from playing entirely.
Ristolainen has three years left on his deal at $5.4 million per season but the team's use of LTIR means it doesn't automatically have to deal him for cap reasons. A far bigger issue is the club's overload at right defense, which now includes the acquisitions of Colin Miller and Henri Jokiharju, and its need for more help at forward.
"I said it at the end of the regular season, I talked a lot about forwards, having four lines that could score," Botterill said. "But it's the same thing from the defense standpoint. That's why we've tried to add to our group, to ease some of the responsibility from certain players."
Ristolainen is coming off a 43-point season that saw him post an NHL-worst rating of minus-41 while leading the team in ice time at more than 24 1/2 minutes per game.
New coach Ralph Krueger has made it clear he'll lead whatever roster Botterill gives him, but said Ristolainen remains in his current plans.
"I always value most the contacts I have direct with the players," said Krueger. "I've spoken to all the players and I had a very long call with 'Risto' early on in the middle of May. All the indications there was to be behind what we're doing here as a coaching staff and that's my mandate: Take the players under contract here right now and get the best of them. I'm excited to work with him."
Still, Krueger admitted he has not spoken to Ristolainen since his initial conversation.
"I'm not going to jump up on every single situation," Krueger said. "I think the players are in their private spaces right now and they should stay there. I saw Jeff [Skinner] and Casey [Mittelstadt] today and that was an excellent opportunity to speak with them. Otherwise, it's only a few weeks now and we'll all be in the same room. We as coaches are excited to be coaching Rasmus right now."