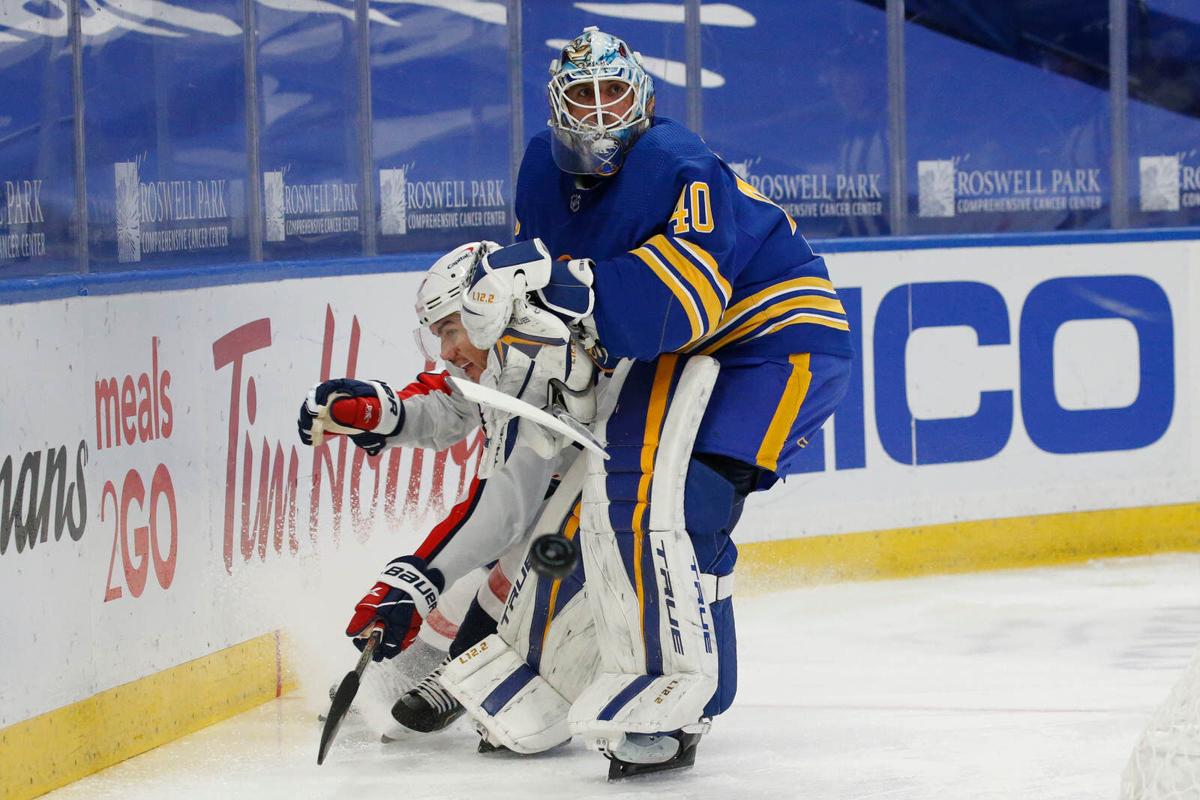 A Buffalo Sabres season beset by a Covid-19 outbreak and injuries to prominent players may only increase in difficulty over the final week.
Interim coach Don Granato told reporters following the Sabres' morning skate Tuesday that goalies Ukko-Pekka Luukkonen, Dustin Tokarski and Carter Hutton are done for the season.
Linus Ullmark, the Sabres' top goaltender, has resumed practicing, but he is not physically ready to return to game action and will be evaluated by the team daily to see if he is an option to play by the regular-season finale Saturday in Pittsburgh.
Michael Houser is the only game-ready goaltender on a National Hockey League contract, although the Sabres were allowed to add Rochester's Stefanos Lekkas on a professional tryout to back up. 
The Sabres have two games remaining beyond Tuesday, both road matchups in Pittsburgh. 
"Linus skated again this morning and he was improved again," Granato said. "What that means, it means he's closer. But again, as I said (Monday), it's going to be really close. So that decision won't be made until that game day. ... He's not at full range, so the hope is he will be at full range."
Tokarski, 31, emerged as a reliable option in goal for Buffalo following Ullmark's latest lower-body injury on April 13, but Tokarski won't return this season because he returned home for what Granato called a "family emergency."
Tokarski, who is under contract through next season, went 2-8-2 with a .904 save percentage in 13 appearances with Buffalo. He was named First Star of the Week by the NHL after compiling a .934 save percentage and 2-1-1 record from April 13-18, including victories over Washington and Pittsburgh. 
An accomplished goalie in the American Hockey League, Tokarski had not won an NHL game since Dec. 12, 2015. 
Hutton, meanwhile, experienced a setback in his recovery from a lower-body injury suffered March 22 in New York's Madison Square Garden. The 35-year-old is a pending unrestricted free agent after posting a .902 save percentage in 94 games across three seasons in Buffalo. 
Hutton went 1-10-1 with an .886 save percentage in 13 games this season. The Sabres' 1.69 goals per game with Hutton in net was the least support received by any goalie in the NHL this season.
Luukkonen, a 22-year-old top prospect, showed he may be closer to NHL-ready than initially expected. A second-round draft choice in 2017, Luukkonen won his NHL debut by making 36 saves in a 5-4 win over the Boston Bruins. He had a .906 save percentage in four games before suffering an ankle injury in the final moments of the second period Saturday in Boston.
It's unclear if Luukkonen will be able to rejoin the Rochester Americans before their season is scheduled to end on May 16. 
The Sabres' No. 3 goalie to begin the season, Jonas Johansson, was traded to Colorado in March for a sixth-round draft pick. Johansson, 25, has a .910 save percentage and 2.27 goals-against average since joining the Avalanche.