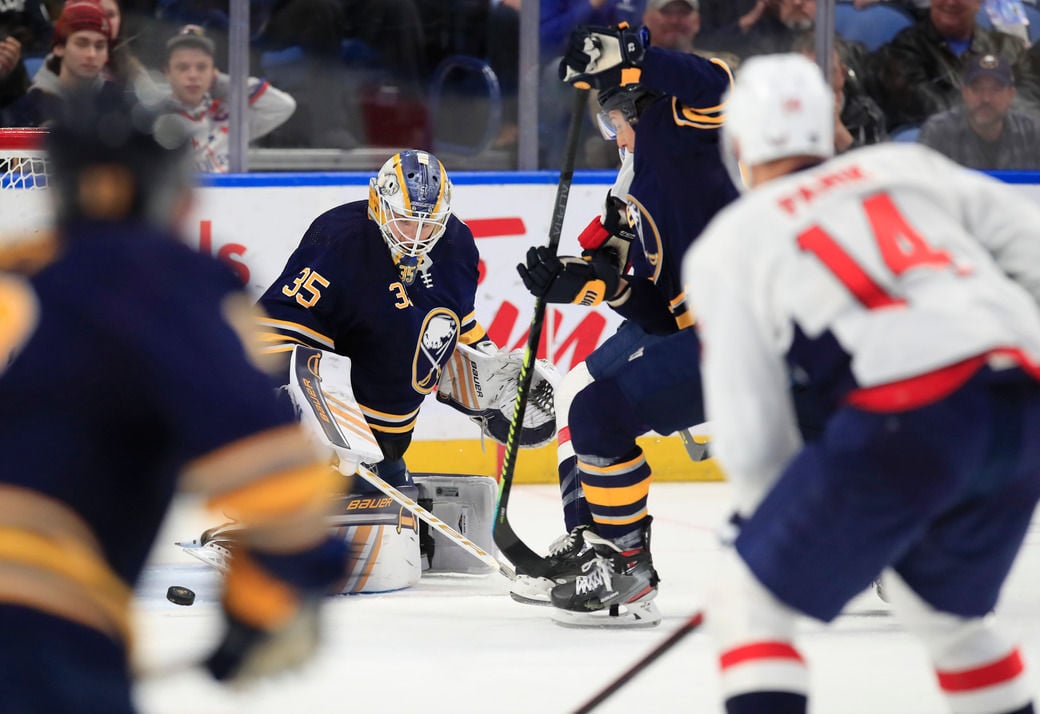 An independent arbitrator will need to close the significant gap between Linus Ullmark's salary request and how the Buffalo Sabres valued the 27-year-old goalie following his second full season in the NHL.
According to Sportsnet's Elliotte Friedman, Ullmark and the Sabres submitted arbitration figures of $4.1 million and $1.8 million, respectively, ahead of their hearing Monday. An arbitrator typically splits the difference, which would result in Ullmark receiving a salary of around $3 million for the 2020-21 season.
The Sabres and Ullmark also have the option to finalize a contract prior to the hearing. The team avoided arbitration with Sam Reinhart on Sunday by signing the right wing to a one-year contract worth $5.2 million.
Ullmark, a restricted free agent, appeared in 34 games with the Sabres last season, compiling a .915 save percentage and 2.69 goals-against average. Among goalies to appear in at least 30 games last season, Ullmark's .930 save percentage at 5 on 5 ranked fifth in the NHL.
Ullmark emerged as the Sabres' starting goaltender after beginning the season as the backup behind Carter Hutton and was on pace to set a new career-high in games played prior to suffering a lower-body injury on Jan. 28. Ullmark returned in time to play one final game – an impressive 33-save performance in a win over the Washington Capitals – before the coronavirus pandemic halted the season.
Ullmark signed a one-year, $1.325 million contract in August 2019 after appearing in 37 games for the Sabres. That was after the sides were almost $2 million apart in advance of a scheduled hearing. The goalie submitted he should be paid $2.65 million – $100,000 less than Hutton – while the Sabres offered a salary of $800,000.
According to CapFriendly.com, the Sabres currently have $13.645 million in salary cap space.
Be the first to know
Get local news delivered to your inbox!