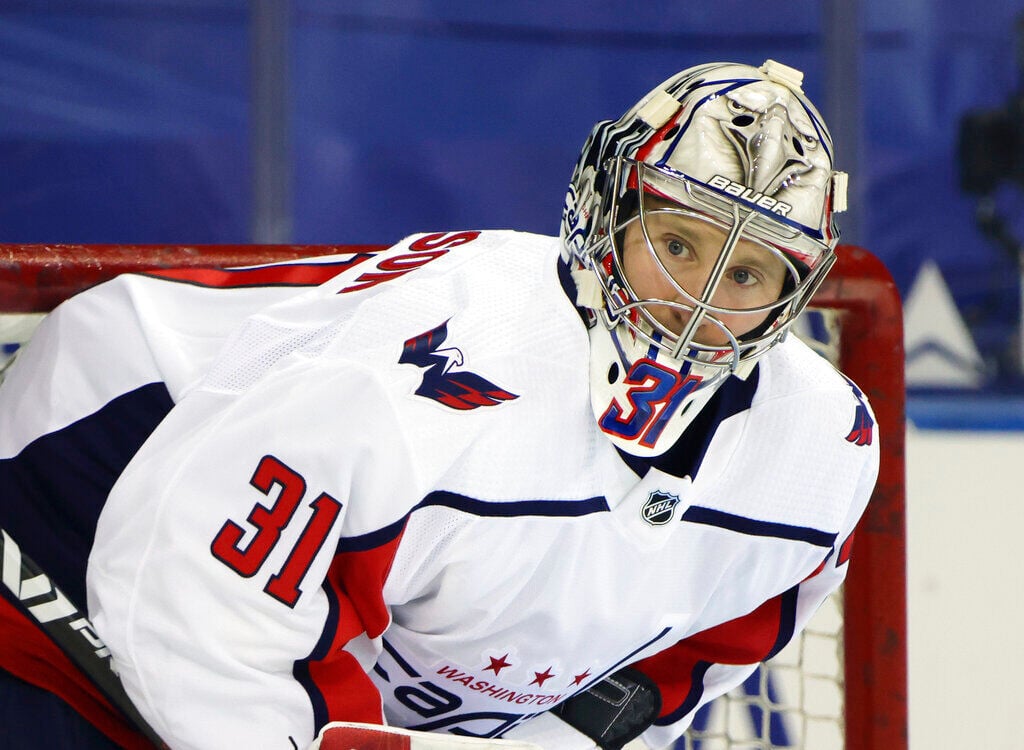 There is no longer a question about whether Craig Anderson belongs.
He scaled the ladder in the National Hockey League, enduring a brutal start to his career and, later, getting placed on waivers three times in 16 days, to almost reach the summit by outplaying each opposing goalie during the Ottawa Senators' run to Game 7 of the Eastern Conference finals in 2017.
Until a Jack Eichel trade is consummated, it's impossible to predict the Sabres' roster for the season opener against Montreal in KeyBank Center on Oct. 14. However, we know the young core will play a prominent role under coach Don Granato.
Anderson has experienced almost every situation and emotion imaginable for a goaltender – triumph, tribulation, heartbreak and joy. Yet, even in the twilight of his career, Anderson doesn't pretend to have mastered his craft.
There's always a technique to learn or improve, an advancement in equipment to embrace. As the game of hockey changes, so does Anderson.
"The game is always evolving," longtime NHL goalie coach Pierre Groulx, who worked with Anderson in Florida and Ottawa, told The Buffalo News. "You have to evolve as a goaltender. He has always adjusted his game to the new style of play and, as a goalie, you need to adapt every year. If you don't, you won't last long."
When the time came for Hinostroza to weigh his options, a 40-minute phone call with one of his former assistant coaches in Chicago, Don Granato, swayed him to sign a one-year, $1.05 million contract with the Buffalo Sabres.
An unwavering determination to be the best has kept Anderson in the NHL for 17 years, a career that has spanned 654 regular-season games – second-most among active U.S.-born goaltenders and sixth all-time – and six teams. At 40 years old, Anderson is the fourth-oldest player in the league, and he's not done.
Anderson joined the Buffalo Sabres on a one-year, $750,000 contract during the final hours of Day 1 of free agency July 28. He'll be a prominent figure in a young dressing room and a calming presence when in net. And while the Sabres will count on Anderson to deliver wins during Year 1 of another rebuild, perhaps his most important job is to be a mentor, most notably to top goalie prospect Ukko-Pekka Luukkonen.
"I had to go through some hurdles of playing poorly, going back to the minors, just being happy to be in the league, which sent me back down to the minors," Anderson explained during a conference call with reporters. "So, there's lots of stepping stones in my career that I don't want to see these other guys make the same mistake. I think that's the main thing – these are my experiences, this is what I've gone through."
Anderson's ascent began with an unprecedented run of futility. He was winless in each of his first 15 career appearances with the Blackhawks, and he had only one win through 20 games. A third-round draft choice of Chicago in 2001, Anderson bounced between the minors and NHL until he was claimed off waivers by the Boston Bruins on January 6, 2006. He never appeared in a game with the club and was waived again two weeks later. The St. Louis Blues claimed Anderson and immediately tried to pass him through waivers again, only to lose him to the Blackhawks.
Anderson returned to Chicago and delivered some impressive performances on a struggling team before his trade to the Florida Panthers in June 2006. He spent most of the following season with the American Hockey League's Rochester Americans and received an NHL opportunity when injury struck the Panthers' goaltending depth chart. Anderson hasn't returned to the minors since.
In a matter of six days this month, general manager Kevyn Adams spearheaded a facelift of the Buffalo Sabres' defense.
Even though Anderson endured difficult times in previous NHL games, he quickly showed the Panthers that he was up to the task. Across 53 games – 40 of them starts – from March 2007 through the 2008-09 season in Florida, Anderson recorded a .928 save percentage and 2.52 goals-against average while serving as the primary backup to Tomas Vokoun. Anderson moved on to Colorado, where he was given a two-year contract to start for the Avalanche. He finished fourth in voting for the Vezina Trophy after appearing in 71 games and leading Colorado to the playoffs in the 2009-10 season. But he struggled to start the following season and eventually lost the starting job before his trade to Ottawa.
"He had a quiet confidence about himself and relishes challenges that can be brought, and I think once he was allowed that challenge to play more games in Florida and ended up going to Colorado as a number one, he was up to the task," Groulx said. "Craig has always been a guy who can deliver when it's needed."
It was in Ottawa that Anderson developed into one of the most consistent goalies in the league. He seized the starting job and never relinquished it, holding off top prospect Robin Lehner and helping the Senators reach the playoffs in four of six seasons from 2012-17. All the while, Anderson studied how he needed to respond to the faster, more wide-open NHL. 
Anderson came from an era of goalies that used more of a stand-up style, rather than the butterfly that's become common in hockey. Equipment was smaller and opponents used different strategies to create offense. When teams started to move the puck below the goal line to try to set up jam plays or create opportunities on the power play, Anderson worked with Groulx to perfect his post play.
When coaches recommended one knee up on the post, Anderson adapted. When it was recommended that he instead guard the post with his skate, Anderson made the change. He doesn't adopt every new technique, as some movements aren't suitable for his skill set. But the foundation of his success is an uncanny ability to read the game.
Clark, a 6-foot-6, 202-pound goaltender and alumnus of the Buffalo Jr. Sabres, was drafted in the sixth round, No. 183 overall, by the Washington Capitals.
"I think the biggest thing for him is he's probably one of the best readers of the game as far as a goaltender," Groulx said. "He can read plays that develop quickly and he reads the player's hands very well, where they're going to shoot. So, to me, that's what has allowed him to play as long as he has. Knowing what guys are going to do just facilitates his play in the net. Oftentimes, you'll see him make saves standing up. That's just because his read on the shot is that the shot is coming high. His ability to read the game is second to none."
Then came the most difficult blow. In October, 2016, Nicholle Anderson, Craig's wife, was told she had nasopharyngeal carcinoma, a rare form of cancer that affects the nose and throat. He stepped away from hockey for parts of the 2016-17 season, and the Senators acquired Mike Condon to handle the starting job.
Anderson was away from the team for about two months while Nicholle underwent radiation and chemotherapy treatments. He returned in early February, in time to lead the Senators to Game 7 of the Eastern Conference finals, where they lost to the eventual Stanley Cup champion Pittsburgh Penguins. During the playoff run, Nicholle was deemed cancer free.
Through all the challenges away from the rink, Anderson still made time to pass on wisdom to Condon, who was 26 years old and had only one season of NHL experience, albeit in a starting role with Montreal. It was Anderson who explained to Condon that working yourself to exhaustion isn't a solution.
"Craig's a guy who's been around and was like, 'No, do what you need to make you feel good and feel prepared for the game, and then just go out there and compete and kind of shut the brain off,' " said Condon, who's now the volunteer goalie coach at Northeastern University. "And that's really tutelage you can only really get from someone who's been in there as long as he has. Those mistakes that only other professionals and goalies have known. ... It's important that when you're on the ice, you're at the rink, you get your routine down, you execute it, you keep pushing, but when that's that, knowing what's enough and how to conserve that energy and being fresh every night when you have to perform."
Michael Houser is returning to the Buffalo Sabres organization following an unprecedented ru…
That's one of many lessons Anderson can pass on to Luukkonen and the Sabres' other goalies under contract: Aaron Dell and Dustin Tokarski. 
After 10 years in Ottawa, Anderson joined the Capitals on a professional tryout and spent most of 2020-21 on the taxi squad. He mentored the team's young goalies, Vitek Vanecek and Ilya Samsonov, but Anderson also performed at a high level when called upon. Though he received only four games in the regular season, Anderson was needed in the playoffs, winning his first postseason game since 2017 with 21 saves in relief during Game 1 of a first-round series against Boston. Anderson then lost in overtime the following game before Vanecek returned and the Capitals dropped the series in five games.
Sabres general manager Kevyn Adams told reporters following the first days of free agency that he expects a four-man competition in net during training camp, but Anderson's presence could set the stage for Luukkonen to seize the starting job sooner than expected.
Luukkonen, 22, appeared in four NHL games last season, totaling a .906 save percentage before suffering an ankle injury. He has only 52 games of pro experience in North America and is less than three years removed from winning gold with Finland at the IIHF World Junior Championship. Ideally, the Sabres would be able to ease him into NHL action, but Adams doesn't want to hold the second-round draft choice back if he shows he's ready.
Anderson is the ideal mentor for Luukkonen. Neither adheres to a strict butterfly style. Luukkonen has one glaring weakness that Anderson can help address: tracking the puck behind the net. There's also the mental grind of an 82-game season and how to navigate the obsessive routines necessary to prepare. It also helps that Buffalo has goalie coach Mike Bales, whose guidance helped the Penguins' goalies win back-to-back Stanley Cups in 2016 and 2017.
"I think there's a good opportunity there to kind of share some wisdom with the group that's there," Anderson said. "I feel like I can still kind of give back to the game, give back to the organization, the guys there – share my knowledge and still compete."