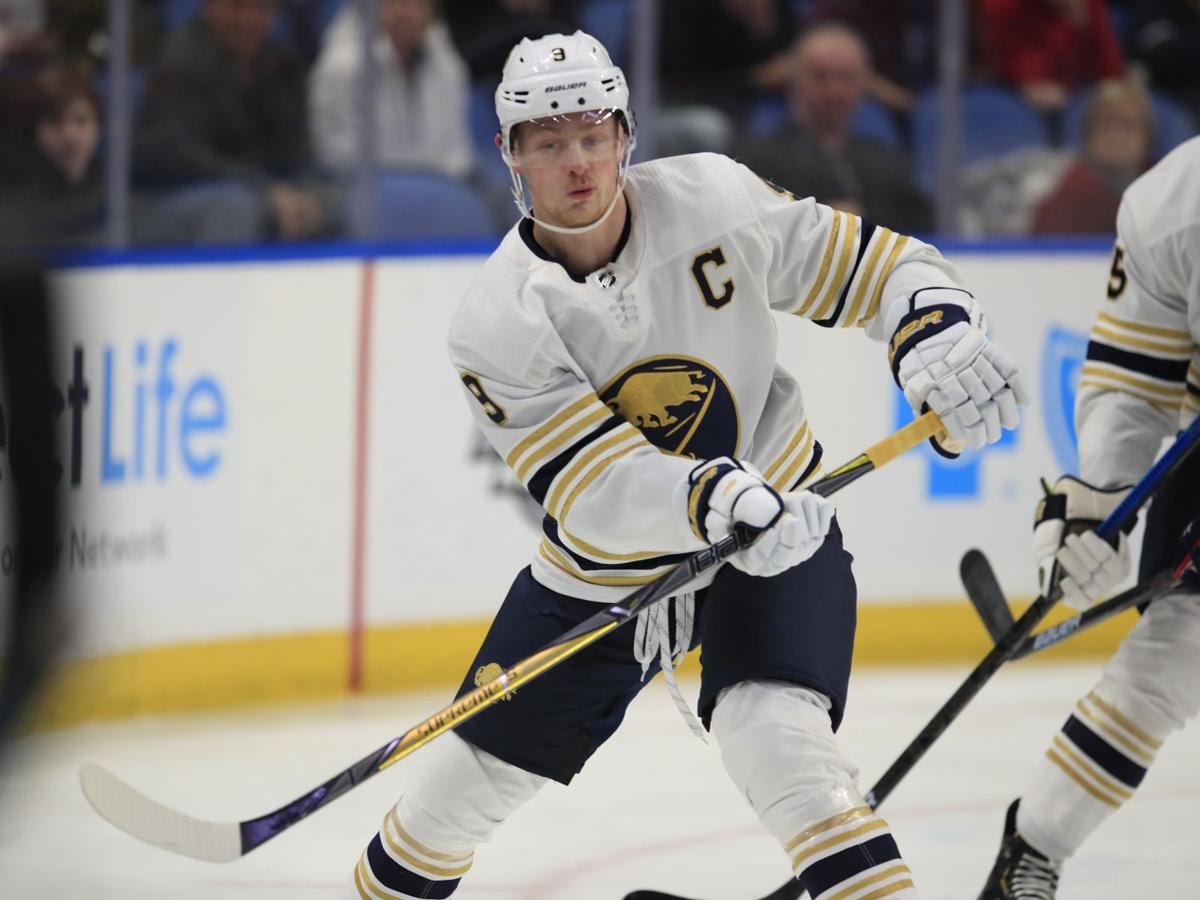 Kevyn Adams is listening to any team that calls to inquire about one of his players, but the Buffalo Sabres general manager made it clear Tuesday that he's not planning to deal Jack Eichel, who has been the subject of trade rumors since he expressed frustration to reporters following another losing season.
"Here's the thing: People call and make phone calls and ask about players every day," Adams said during a previously scheduled interview with The Instigators on WGR Radio. "My job is to listen. ... We have no intention and we're not looking to do anything with Jack."
Another Eichel trade rumor surfaced Monday with TSN's Bob McKenzie reporting the New York Rangers are among a group of teams that called Adams to inquire about Eichel's availability. Eichel's agent, Peter Fish, told McKenzie that, while the 23-year-old center is frustrated, he has not requested a trade and plans to return to the city soon to prepare for training camp.
Social media has been ripe with speculation since Eichel, who scored a career-high 36 goals during the Sabres' ninth consecutive nonplayoff season in 2019-20, told reporters in May that he's "fed up" with losing after five "tough" years in Buffalo.
Eichel is under contract for six more years with an average annual value of $10 million and his no-movement clause does not begin until 2022-23. The two-year captain willed the Sabres to a 30-31-8 record with 78 points during the coronavirus-shortened season, earning him an eighth-place finish in voting for the Hart Trophy, which is awarded annually to the NHL's most valuable player.
Since Eichel was drafted second overall in 2015, the Sabres rank 30th in points (only Vegas, which began play in 2017-18, has fewer), 27th in goals and 29th in goals against. He has worked under three head coaches and three general managers.
Two of his former teammates and close friends, Zach Bogosian and Ryan O'Reilly, won the Stanley Cup in consecutive seasons after leaving the Sabres.
During his fifth season in Buffalo, Eichel totaled a 17-game point streak – tied for the second longest in franchise history and it only ended because an upper-body injury made him a late scratch Dec. 19 in Philadelphia – and he became the first Sabre with 30 goals and 40 assists in a season since Jason Pominville in 2011-12.
When the NHL halted regular season play March 12, Eichel was on pace for the most goals and points by a Sabre since 2006-07. He had 20 multipoint and seven multigoal games, and he was three points shy of becoming the ninth player in franchise history to record back-to-back 80-point seasons at least once.
"It's definitely not an easy pill to swallow right now," said Eichel when the Sabres' season officially ended in May. "It's been a tough couple of months. It's been a tough five years with where things have went. I'm a competitor. I want to win every time I'm on the ice. I want to win the Stanley Cup every time I start a season.
"I'm not getting frustrated where things are going. I think we took a step this year. … But yeah, I'm definitely not in the greatest place where the last little bit went. It's definitely worn on me."
The National Hockey League formally announced the complete order for the NHL draft, which will be held virtually on Oct. 6-7.
The Sabres own the following picks: first round, eighth overall; second round, 38th overall; fourth round, 100th overall; fifth round, 131st overall; seventh round, 193rd round; seventh round 216th overall. Buffalo dealt its third- and sixth-round selections to the Carolina Hurricanes as part of the Jeff Skinner trade in August 2018.
Sabres prospect Ryan Johnson and Clarence native Casey McCarthy, who was drafted by the New Jersey Devils last June, were among the 39 players invited to attend the USA Hockey National Junior Team evaluation camp from Oct. 8-13 in Plymouth, Mich.
Johnson, a 19-year-old defenseman whom the Sabres drafted with the No. 31 pick in 2019, totaled zero goals and eight assists in 37 games as a freshman at the University of Minnesota last season.
McCarthy, also a 19-year-old defenseman, had two goals with 10 assists in 32 games as a freshman at Boston University. He was drafted in the fourth round, 119th overall, by New Jersey.