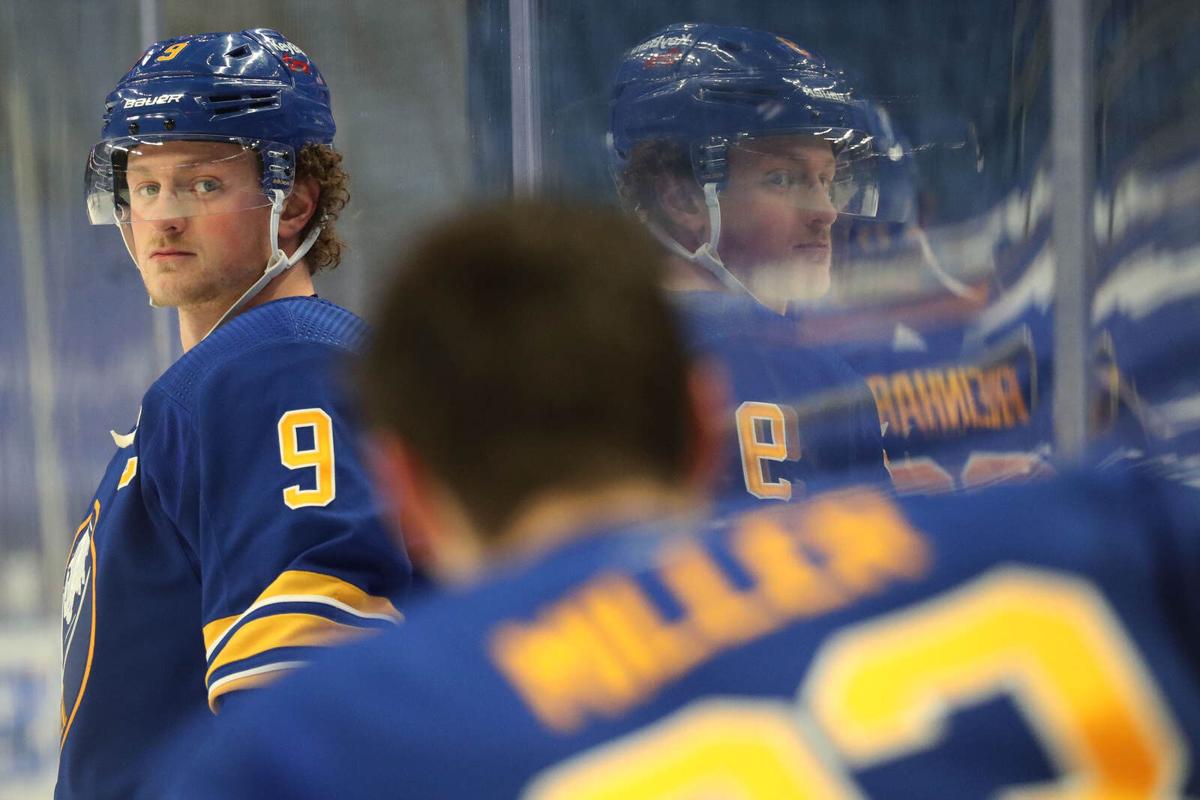 Jack Eichel stepped in front of a camera Monday in KeyBank Center and proclaimed to the media that a disconnect with the Sabres has him questioning his future in Buffalo.
Eichel wasn't done there.
The 24-year-old captain and face of the franchise revealed that the disagreement stemmed from his desire to undergo surgery on the herniated disk in his neck that limited him to only 21 games. Eichel's bombshell in which he stated, "Listen, my number one interest and my number one goal is Jack Eichel," fueled trade speculation and raised questions about the Sabres' handling of the matter.
Kevyn Adams' rebuttal Wednesday provided some answers. During an opening statement to kick-start a 45-minute end-of-season media availability, Adams said that Eichel wants to undergo a procedure that's never been done on a player in the National Hockey League.
The Sabres' doctors, and a medical expert sought out by Eichel for a second opinion, agreed on a "conservative rehab approach" for 12 weeks before imaging would determine next steps.
"Now it's been speculated and discussed from Jack's camp about potentially having a surgery that's never been done on a National Hockey League player before," said Adams. "Our doctors aren't comfortable with that. But I think we all are in a position where we want the same thing and hope that when we re-image this in the timeline I laid out, Jack will have made steps and strides to be in a position where we're in a better spot."
Sportsnet's Elliotte Friedman reported Tuesday night that Eichel is exploring an artificial disk replacement, a surgery that has been performed on only one notable high-performance athlete: mixed martial artist Chris Weidman, who declared it a success. The Sabres' doctors, meanwhile, suggest there's a "high probability" that Eichel will recover through a rest and physical rehabilitation, said Adams.
There wasn't a contentious tone to the news conference, which began with Adams saying: "We all want the same thing when it comes to Jack Eichel. We want Jack Eichel to be healthy, to be able to play at the top of his game, to be one of the best players in the world, like he's proven he is. So, we want all the same thing here."
Adams clarified that there has been constant communication, formal and informal, between both sides. The 12-week period of rest will conclude at the end of this month. He also downplayed the "disconnect" with Eichel, stating that the bigger issue on his mind is the fractured relationship with a fanbase that's suffered through 10 consecutive seasons outside the Stanley Cup Playoffs.
The Sabres finished at the bottom of the National Hockey League for the fourth time in eight years. Drafted second overall by Buffalo in 2015, Eichel has yet to experience team success despite scoring at least 20 goals in each of his first five seasons, including a career-high 36 in 2019-20.
"You're talking about a young, professional athlete that wants to be healthy and wants to play and wants to win," said Adams. "I don't want to put words in Jack's mouth on why he reacted the way he did on Monday, or why there was emotion there. But I'll flip it around on a positive note to say, we want players and people in this organization that are passionate, that want to win, that want to be here, and are excited to put this jersey on and make this city proud."
It's unclear, though, if Eichel wants to be part of the Sabres' future. He has five years remaining on a contract that carries a $10 million annual cap hit. His full no-movement clause begins July 1, 2022, which would allow him to nix any trade. Teams around the NHL will line up to try to acquire a player who many consider talented enough to someday win the Hart Trophy.
And although Eichel stated he remains captain of the Sabres and reaffirmed his commitment to winning here unless his status with the team changes, his comments Monday suggested a change of scenery may be on his mind.
"It's been tough at times," Eichel said. "Right now, I think for me the most important thing is just trying to get healthy and figure out a way to be available to play hockey next year wherever that might be."
Eichel was limited to only two goals after missing the start of training camp with a broken rib suffered during a preseason on-ice shooting drill at LECOM Harborcenter. He also missed two games with a sprained ankle and played through an abdominal injury that's bothered him since the 2019-20 season.
Motivated by a lost season, Eichel stated he's determined to show that he only "scratched the surface" by scoring a career-high 36 goals last year and wants to position himself for a healthy offseason. 
"If it was anyone in any job, or certainly a professional athlete, there's going to be hesitation if there's not data to support something like that and a comfort level," said Adams. "Our doctors, like I said, they're not there."
Here are three additional takeaways from Adams' news conference:
1. Adams would not use the term "rebuild," but he is prepared to make significant changes. He confirmed that exit interviews with older players on this team included one prominent question: "Do you want to be here?"
Defenseman Rasmus Ristolainen told reporters Monday that he's indifferent. Neither Eichel nor Sam Reinhart were committal when asked if they want to stay. Adams' focus has turned to surrounding the youth on this roster – Dylan Cozens, Rasmus Dahlin and Casey Mittelstadt, among others – with the right players and leaders to continue their respective development.
Those three names appear to have become a few of the core players for this franchise, and their exit interviews with reporters Tuesday left Adams "energized, excited."
Among the primary goals for Adams and associate general manager Jason Karmanos is to build the Sabres with players who want to be in Buffalo.
"It's more about, 'Are you part of the solution, and do you want to be here?'" added Adams. "'And do you want to be part of something great? And do you want to make this fanbase proud or don't you?' And if the answer is no, then we'll make those decisions."
2. An inability to gel as a team is one of Adams' concerns entering the offseason. He made two significant moves to bolster the Sabres in the fall, adding Stanley Cup winner Eric Staal and former Hart Trophy winner Taylor Hall.
Yet, the Sabres still faltered under Ralph Krueger. Talent isn't the problem, according to Adams. He views his current roster, when healthy, as capable of competing. But Adams stated that players have failed to come together as a team. He then called the young Sabres the "bright light," a source of hope that brightened the outlook for this franchise in the season's final weeks.
"We have, as I've probably characterized before, a lot of good hockey players that maybe haven't meshed well together and formed what's critically important, is buying into something bigger than themselves, which is critical for team success," said Adams. "That's what we have to find. That's the magic. So, we're going to work hard to do that."
3. Adams acknowledged there is uncertainty with relying on young players. Development can be volatile and varies by position. Insulating them is important. The next coach must have a strong background in helping prospects inch closer to their potential.
Adams, though, expressed confidence that the young players who thrived under interim coach Don Granato will succeed next season.
"I'm comfortable and confident we have a core of young players that are just scratching the surface of kind of who they are," said Adams. "They've been in the league a little bit, so they're starting to identify what it takes to succeed."