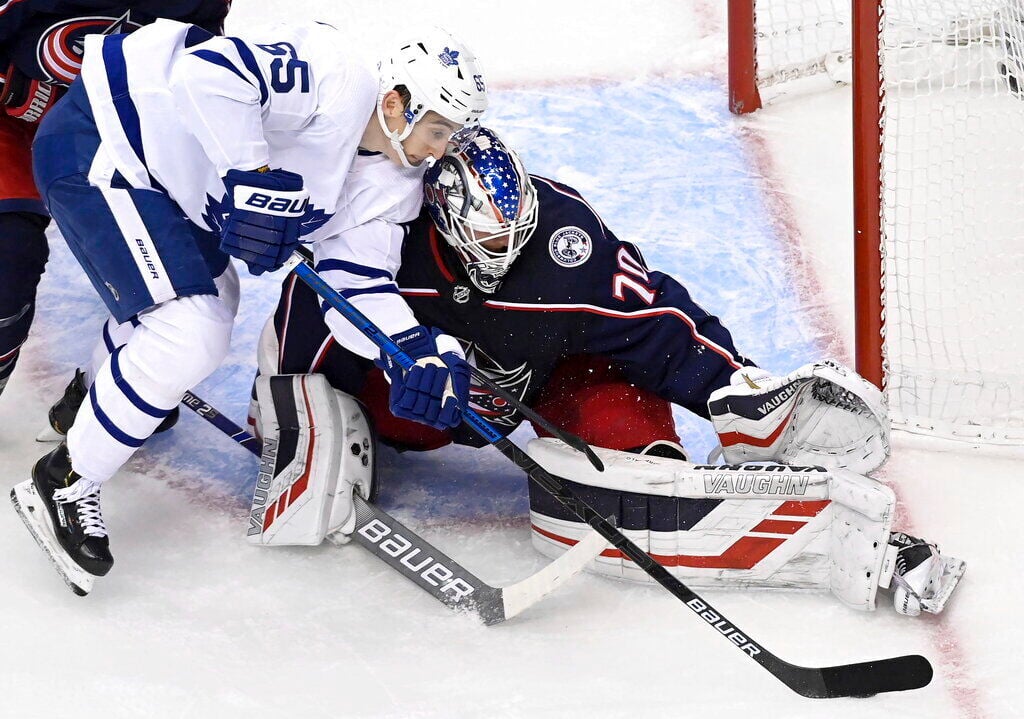 Kevyn Adams needed three months to make his mark on the Buffalo Sabres' roster.
The new general manager is just getting started, though.
Adams, who addressed the Sabres' void at second-line center by acquiring former teammate Eric Staal from Minnesota, will make his first batch of draft picks next week and has a number of holes to fill on the roster.
The typical challenges encountered by all first-time GMs might be exacerbated by the fact that Adams took over amid a pandemic that has prevented the Sabres from collecting any meaningful revenue since March. Though the NHL instituted a $81.5 million salary cap for next season, there's speculation that many clubs, including Buffalo, won't spend the full amount.
Adams, though, told reporters after the Staal trade that owners Terry and Kim Pegula remain resolute in their pursuit for a Stanley Cup.
"With the discussions that I've had with Terry and Kim over these last few months has been we want to do everything we can to win the Stanley Cup here in Buffalo, and they've proven over the years that they're willing to do that in terms of not just your salary expense, but in terms of the resources in sports performance, locker room," Adams said. "So, all that hasn't changed."
This is an offseason unlike any in NHL history. It's uncertain how the pandemic will impact free-agent salaries, and the Seattle expansion draft is looming. There's also the question of whether the Sabres can attract big-name free agents.
With that in mind, I'm going to offer up the realistic roster moves I would make given the Sabres' possible financial constraints and Ralph Krueger's preferences.
The truncated offseason unofficially began Friday with the start of the first player buy-out period, which will end Oct. 8 at 5 p.m. Former General Manager Jason Botterill was opposed to spreading a player's cap hit over multiple seasons, but we have yet to hear Adams' opinion on the subject.
Goalie Carter Hutton is the only realistic candidate on the roster, but there is a better deal to be made that won't affect the Sabres' cap space for 2021-22 (more on that later).
According to CapFriendly.com, the Sabres have approximately $33.658 million in salary-cap space for 2020-21, not counting their $1.275 million overage from last season. For the purpose of this exercise, I'm choosing to deduct the full amount now because – spoiler alert! – I'm not planning to spend much in free agency.
This brings us to the Sabres' restricted free agents, all of whom can be retained with a qualifying offer by Oct. 7 at 5 p.m. I'm retaining the rights to each of the following players, though one or more will be traded: Sam Reinhart, Victor Olofsson, Dominik Kahun, Casey Mittelstadt, Tage Thompson, Brandon Montour, Linus Ullmark, Jonas Johansson, Andrew Oglevie and Brandon Hickey. Aside from Reinhart and Ullmark, I signed each player using their respective projected qualifying offer, according to CapFriendly.com.
Next up are unrestricted free agents, who will be free to sign elsewhere beginning Oct. 9 at noon: Johan Larsson, Zemgus Girgensons, Wayne Simmonds, Vladimir Sobotka, Jimmy Vesey, Michael Frolik and Matt Hunwick.
While Simmonds checks a few boxes, his lack of foot speed doesn't fit with how Krueger wants to play.
We're also saying goodbye to Vesey, Frolik and Hunwick, the latter of whom did not appear in a game last season because of a neck injury. Allowing these players to walk will give us flexibility to add salary elsewhere and we have some intriguing young forwards who will have an opportunity to win roster spots in training camp.
Girgensons, along with Larsson and Kyle Okposo, formed one of the top defensive lines in the NHL last season. The former first-round draft pick also scored 12 goals, his highest total since his All-Star season in 2014-15. Though Evolving-Hockey.com projects Girgensons to receive less than $2 million per season, we're going to let him pursue a fresh start elsewhere and I plan to sign someone to replace him on that line.
I'm not letting Larsson walk in free agency after he proved he can play up in the lineup and provides the toughness the Sabres need. Among all NHL forwards to log at least 775 minutes at 5-on-5 last season, Larsson ranked second in limiting an opponent's shot quality, according to Evolving-Hockey.com. Given his relationship with Krueger and potential for a greater role, I'm bringing Larsson back on a three-year contract with a $3 million cap hit – almost double his 2019-20 salary. While other teams would be interested in Larsson, I don't see them beating this offer, given the economic situation.
Reinhart, 24, will likely file for arbitration and I'm projecting a $4.25 million reward based on his play in 2020-21, though I'm going to leave some cap space available in the event it's higher than expected. He'll bet on another big season playing on Jack Eichel's wing and both sides can revisit negotiations once revenues rebound.
The same can be said for Rasmus Dahlin, who will become a restricted free agent next offseason. The 20-year-old's agents will likely want nothing to do with an extension right now. In addition to the economic situation, Dahlin stands to make even more money if he's given a more prominent role on the ice in the coming season.
Ideally, we would spend big on a proven forward because Dahlin's entry-level contract gives us flexibility we won't have in future seasons, but a big-splash acquisition such as Winnipeg's Patrik Laine isn't realistic because the Sabres don't have the assets. And Rasmus Ristolainen is remaining on this hypothetical roster given Krueger's fondness for the 25-year-old defenseman, although I'm pushing for Dahlin to have the bigger role on defense.
My first significant post-Staal move is to trade Montour's rights to the Carolina Hurricanes in exchange for winger Nino Neiderreiter, a player whom Krueger knows well from Switzerland. Neiderreiter, 28, is under contract for two more seasons with an average cap hit of $5.25 million – we don't need to protect him from the expansion draft – and his defensive play would complement Staal or Dylan Cozens, who I'm penciling in as my third-line center.
Though Neiderreiter fell out of favor in Carolina and totaled only 11 goals last season, he had success playing on a line with Staal in Minnesota and he's a four-time 20-goal scorer, including 23 in 2018-19. Neiderreiter ranked fourth among all Hurricanes in limiting shot quality at 5-on-5 last season. He and Staal could help Jeff Skinner produce more at 5-on-5, or Krueger can have Niederreiter provide some stability on Cozens' right wing.
Montour never fit Krueger's system and the roster already have four right-shot defensemen: Ristolainen, Colin Miller, Henri Jokiharju and Will Borgen.
It's time to upgrade the goaltending. It's likely we're facing a truncated season because the coronavirus might prevent the NHL from beginning play until January, which would prevent Krueger from giving the bulk of starts to one goalie.
This sets the stage for a blockbuster in which I trade a 2020 second-round draft pick, a 2021 fourth-round draft pick, forward Rasmus Asplund and Johansson to the Columbus Blue Jackets for goalie Joonas Korpisalo, a 26-year-old who is under contract for two more years with a $2.8 million average annual value.
The Blue Jackets want to recoup picks and can turn to Elvis Merzlikins in goal. They can then sign Johansson to a two-year contract, therefore allowing them to expose him to the expansion draft and add a proven veteran to back up Merzlikins. We can also recoup draft picks later by trading either Korpisalo or Ullmark.
Korpisalo was selected to the All-Star Game this season while compiling a .911 save percentage in 37 regular-season games. He was also outstanding in the playoffs with a .941 save percentage. This provides us with a true No. 1 goalie to pair with Ullmark, and this is insurance in case Ukko-Pekka Luukkonen has a longer timeline to reach the NHL.
My final two roster moves aren't as consequential, but it's time to add veterans to the dressing room. We're signing winger Matt Nieto, formerly of the Colorado Avalanche, to a one-year contract worth $3.25 million.
Nieto, 27, has never scored more than 15 goals in a season and had only eight with the Avalanche in 2019-20, but he uses his speed to effectively forecheck in the offensive zone. He's the perfect replacement for Girgensons on the fourth line with Larsson and Okposo. It's a short-term overpay, but Nieto brings playoff experience and toughness. He's also strong on the penalty kill. This will give the Sabres a reliable group of forwards to defend against an opponent's top line.
Finally, we're signing left-shot defenseman Mark Borowiecki to a one-year contract worth $2 million. Borowiecki, 31, totaled a career-high 18 points last season and might prefer to join a Stanley Cup contender, but we're going to overpay a bit here to land an outstanding penalty-killer who will pair well with Jokiharju.
This roster provides Krueger with options to move players up and down the lineup and should address two of the Sabres' weaknesses last season: penalty-killing and production away from KeyBank Center.
I'm slightly concerned about the lack of toughness in the bottom-six, but we have Lazar as the No. 13 forward and there were significant challenges in building this team, given the three young players who need to be evaluated: Kahun, Thompson and Mittelstadt.
I was close to trading Mittelstadt a few times, but his value is too low right now. My plan is to continue his development in Rochester and draft center Anton Lundell with the eighth overall pick. It was also important to have at least one strong defensive forward on each line because of Krueger's preferences.
"My favorite team metaphor is an orchestra playing some really deep multi-level classical music and the imagination you need to have is each hockey player being one of those instruments," Krueger said. "The first violinist will be much more present than the kettle drummer and it's also getting guys to be proud of the instrument they're playing on our team and understanding the one will have the bigger presence than the other. Explaining to them the role they have and why they have the role of making each and every moment for the instrument you play important. That's something that I thought the guys really understood and bought into and took a lot of pride in."
Such a strategy is more difficult because most young players on this team aren't strong defensively. But we added a recent 20-goal scorer, a starting goaltender, one veteran defenseman and an intriguing bottom-six piece. In total, we spent approximately $74 million in cap space on this roster, which fits within potential budget constraints, gives us flexibility to add at the trade deadline and provides Krueger with the following mock lines that could be altered during training camp:
Victor Olofsson – Jack Eichel – Sam Reinhart
Jeff Skinner – Eric Staal – Dominik Kahun
Tage Thompson – Dylan Cozens – Nino Neiderreiter
Matt Nieto – Johan Larsson – Kyle Okposo
Rasmus Dahlin – Colin Miller
Jake McCabe – Rasmus Ristolainen
Mark Borowiecki – Henri Jokiharju
Extras/candidates: Curtis Lazar, Arttu Ruotsalainen, C.J. Smith, Casey Mittelstadt, Will Borgen, Jacob Bryson