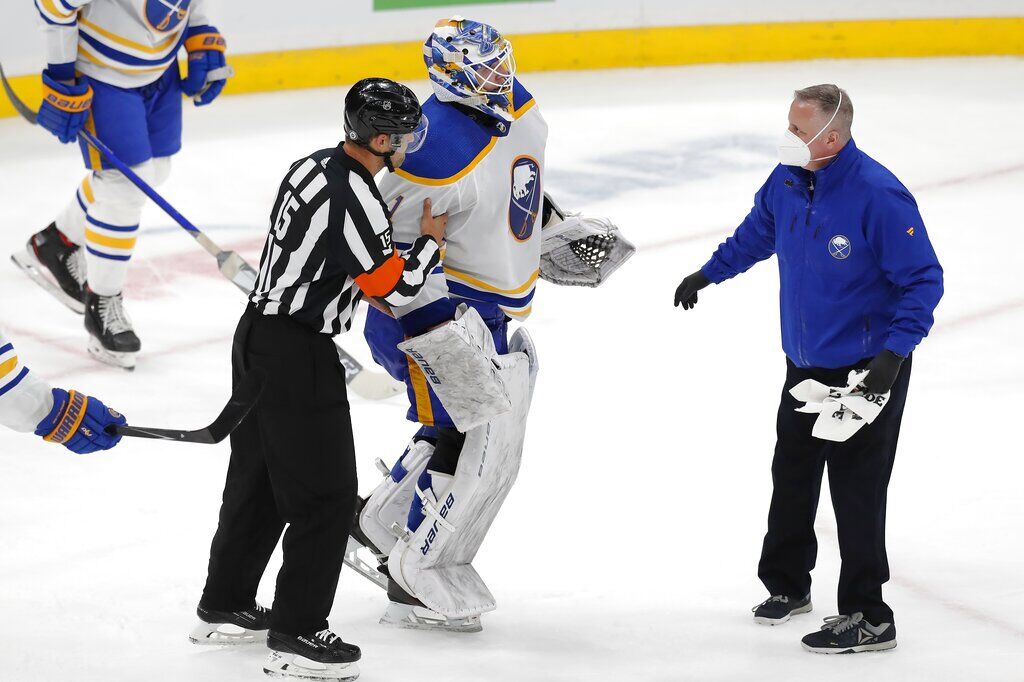 The goalie carousel continues to turn for the Buffalo Sabres, causing Don Granato to use an unlikely starter Monday night in KeyBank Center.
Michael Houser, a 28-year-old with zero games of NHL experience, will receive his first career start against the New York Islanders. He has not appeared in more than six American Hockey League games in any season since 2014-15.
Much of Houser's professional career has been spent in the ECHL, where he was the league's goaltender of the year while playing for the Cincinnati Cyclones in 2018-19.
"In situations like this you certainly hope and expect the players to rally around and fight a little harder net-front and to clean things up and to get him more of a look at shots, more shots to the outside, all of those things," Granato said. "Manage the puck better. So, those will be points to be made this evening and points of emphasis for us."
Dustin Tokarski is not available. The Sabres are monitoring Tokarski's status after he was hit hard on a collision with Boston Bruins winger David Pastrnak on Saturday. Tokarski replaced rookie Ukko-Pekka Luukkonen, who had started each of the past three games.
Luukkonen, 22, suffered a lower-body injury late in the second period of the 6-2 loss to the Bruins. The Sabres are awaiting word on the severity of the injury, as Luukkonen was evaluated by a doctor Monday.
Linus Ullmark rejoined the team Monday morning after being out with a lower-body injury since April 13. The 27-year-old is not ready to appear in a game and it's unclear if he'll be able to return before the season finale Saturday in Pittsburgh. Granato told reporters the Sabres will evaluate Ullmark following the skate.
"We come back, he had a couple skates on his own and wanted to jump in, felt comfortable enough on the medical side with him to jump into the skate today," Granato said of Ullmark. "So, we're gathering more information on that to see how he responded and felt with regard to the skate today to see if there's more reason to be optimistic on him in the next few days. 
Houser has not appeared in a game since March 7, 2020, when he earned his second consecutive shutout with 24 saves for the Cyclones. He had a .902 save percentage in 26 games with Cincinnati last season.
This is the first time since 2013-14 the Sabres will use six different goalies in a season.
Lineup: Cody Eakin, a healthy scratch in each of the past seven games, is expected to draw into the lineup and will center a line alongside Riley Sheahan and Drake Caggiula.
Granato also reunited Tage Thompson with Casey Mittelstadt and Rasmus Asplund at the morning skate, while Arttu Routsalainen took line rushes with Dylan Cozens and Anders Bjork.
Here's how the Sabres lined up:
Sabres' lines/pairings at the morning skate:Skinner-Reinhart-OlofssonAsplund-Mittelstadt-ThompsonBjork-Cozens-RuotsalainenSheahan-Eakin-CaggiulaSamuelsson-RistolainenDahlin-JokiharjuBryson-BorgenRieder, Miller among the extras.Houser and Ullmark are the goalies.

— Lance Lysowski (@LLysowski) May 3, 2021
Looking ahead: The Islanders enter Monday third in the East Division, only four points behind the first-place Pittsburgh Penguins. New York is 4-2-1 in its last seven games and has won each of its six games against Buffalo this season, outscoring the Sabres, 24-9.
The Sabres have lost seven of their last nine games.