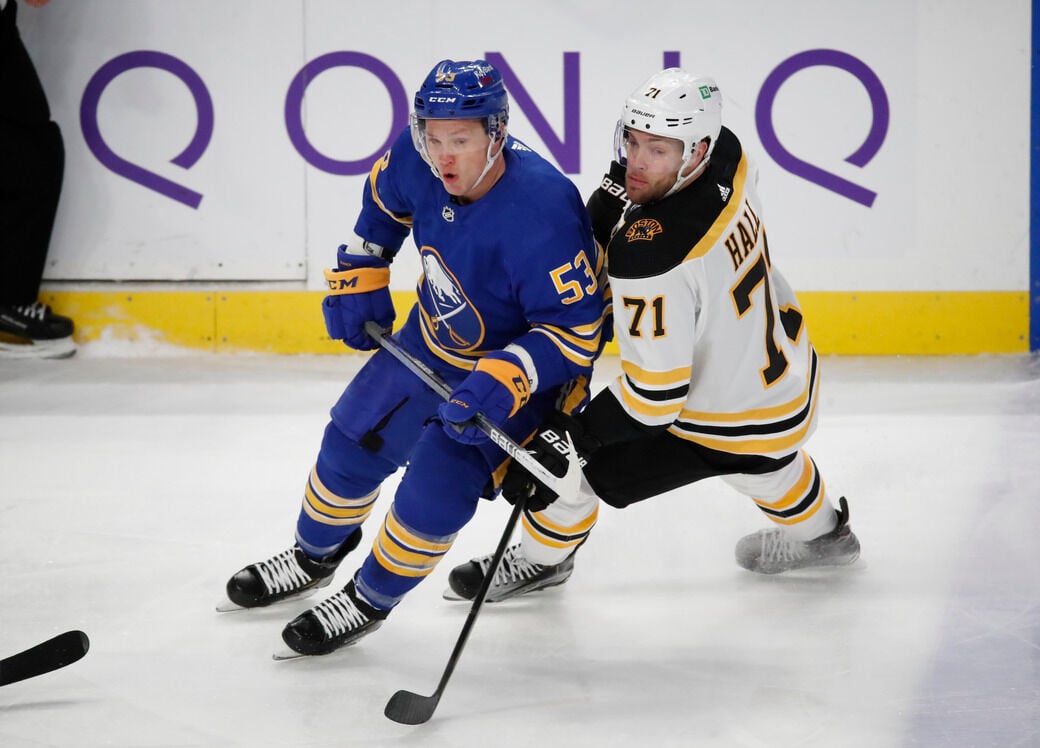 The UPL Watch will extend for another day. The Power Play Watch continues tonight.
Ukko-Pekka Luukkonen, the most heralded Sabres goalie prospect since Ryan Miller, won't get the call tonight against the Boston Bruins in KeyBank Center. Instead, reigning NHL First Star of the Week Dustin Tokarski (2-6-3, 3.05/.918) will get his fifth straight start. Luukonen's debut will come Friday night.
Luukkonen's long-awaited NHL debut will occur Friday night against the Boston Bruins.
"I think it's better for 'UPL' to see one more night," interim coach Don Granato said after today's optional morning skate. "It was going to be a split anyway, so we felt give him another night from the bench. I think that's good."
With Luukkonen not playing tonight, the biggest subplot as the Sabres try to break their nine-game winless streak against Boston will be whether they can get their power play moving again.
The man-advantage unit was 0 for 6 in Tuesday's 2-0 loss here, including a complete failure on a 6-on-3 chance in the final minutes. The Sabres are just 1 for 13 on the season against Boston and Tuesday's showing came on the heels of scoring in both games over the weekend against Pittsburgh.
The Sabres are last in the NHL on the power play since Feb. 27 at 7.9% (5 for 63). They were first in the league over their first 17 games at 34.5% (19 for 55). A lot of that obviously stems from the absence of Jack Eichel but there are other factors like sloppy entries and overpassing in the offensive zone.
"The best power plays think shoot, shot mentality," Granato said. "Even the way they posture the puck on their stick shows a shot threat. We got away from that and we've gotten away from that and gone more to a pass mentality or let's set up a play. And when you do that, you know subconsciously the penalty killer, his reaction is be ready to cover any pass option."
Winger Victor Olofsson, who leads the Sabres with 13 power-play points and has six goals, agreed with that notion. 
"We kind of were looking for that perfect opportunity or  cross-ice pass for one timers," Olofsson said. "Just kind of keep it more simple, take shots and retrieve the puck.
"Sometimes when you shoot it and you retrieve it, that's when the D plays out of position and then you can find ways to make that seam pass or a little bit of a prettier play. But I think we're just gonna from the start keep it more simple and shoot the puck."
The former fourth-round draft choice has rejoined the Sabres with a plan to show he's ready for a full-time job in the NHL.
Lineup news: The Sabres will make no changes at forward, but Will Borgen will be back on defense after missing the last 32 games with a fractured forearm. He'll pair with Jacob Bryson as Colin Miller will sit.
As noted by CapFriendly.com today, the Sabres' average age on defense tonight will be 22.7 years.
Samuelsson (21)-Ristolainen (26)
Dahlin (21)-Jokiharju (21)
Bruins report: Promising rookie Jeremy Swayman (4-1-0, 1.78/.938) will oppose Tokarski in goal. The Bruins are 5-0 since the trade deadline acquisitions of Taylor Hall and Curtis Lazar from Buffalo and Mike Reilly from Ottawa. They have outscored opponents, 18-6, in the five games as Hall has two goals and Lazar has one.
"Solving the Bruins must be high on Granato's to-do list if he's to remain as head coach beyond May 8," writes Lance Lysowski.
Numbers games: The Sabres have lost nine straight to Boston overall (0-7-2) and five straight at home (0-4-1). Buffalo's last win was Dec. 16, 2018 in Boston (4-2) and the last home win was Feb. 25, 2018 (4-1). ... Buffalo is 6-4-2 since its 18-game winless streak ended. When that franchise-record run was stopped on March 31, the Sabres were just 6-23-5. ... The Bruins are 12-1-0 in their last 13 games in Buffalo. ... The Sabres are 3-19-2 against the East's top four teams – including 1-11-0 at home – but 9-8-5 against the East's other three nonplayoff teams. ... You better get a lead on the Bruins, as they're 15-0-2 when leading after one period and 17-0-2 when leading after two.