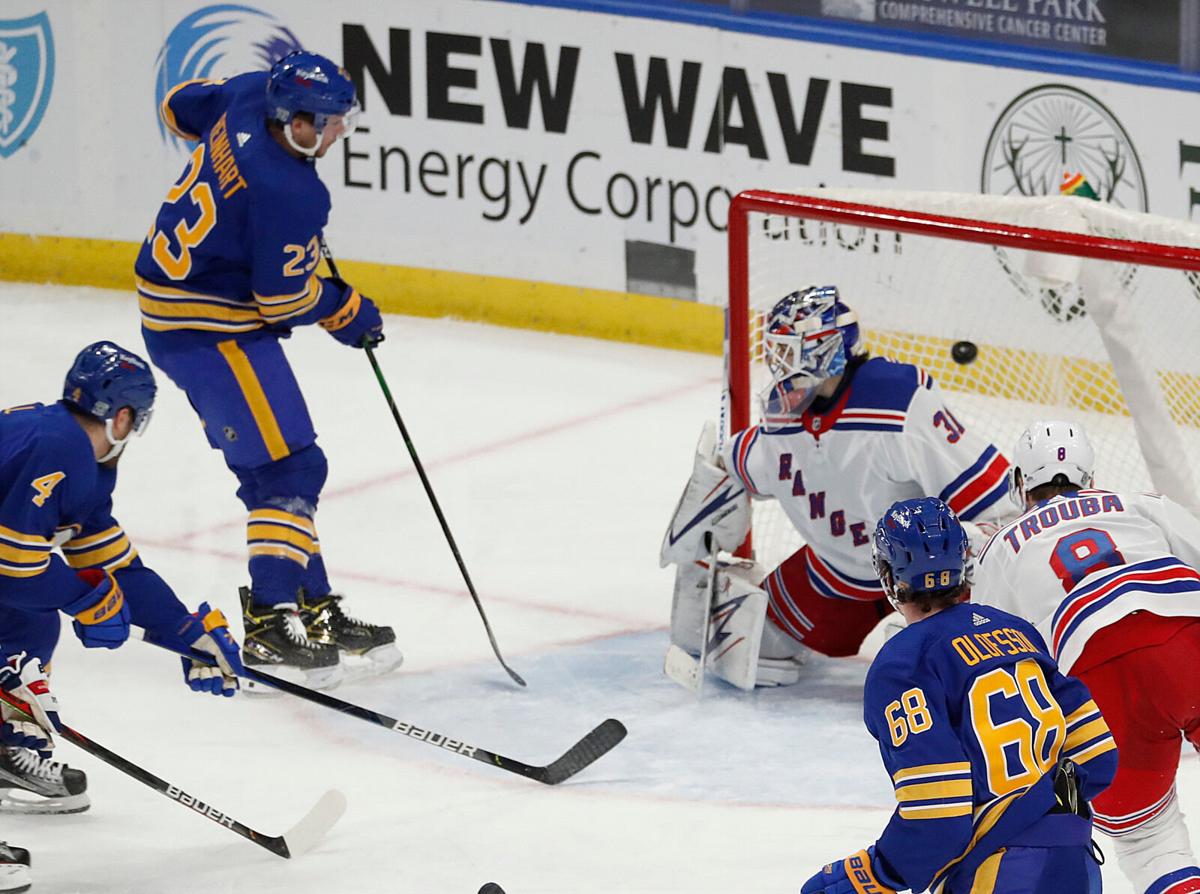 Where: Madison Square Garden
The Sabres got some unscheduled time off with Saturday's Covid-related postponement against Boston and have since practiced twice under interim coach Don Granato. We'll see what kind of difference it makes tonight as Buffalo tries to avoid some dubious franchise history.
The Sabres are winless in their last 13 games (0-11-2) and that's one game shy of the franchise mark of 14 set by the 2015 tank team, which rang up all regulation losses in that stretch. It would also tie the NHL mark for longest run in the shootout era since 2005, also held by Carolina in 2009-10 and the New York Islanders in 2010-11.
Granato has a clear vision for his first opportunity leading an NHL bench. He wants the Sabres to use their speed to create scoring chances in 5-on-5 situations.
"Clearly they're engaged and searching for something different. They're searching for something more," Granato said after practice Sunday in KeyBank Center. "We've spoken enough about the obvious disappointment to where we are. You collectively and individually want to take responsibility but it's not good enough to take responsibility if you don't change action.
"Clearly, we've seen players change action. I'm very pleased with the initiative that's being taken ... through the first couple of practices."
Still, this is another tough week for the Sabres with a four-game road trip. They play Wednesday and Thursday nights in Pittsburgh and Saturday afternoon in Boston.
At least the Sabres don't have to fret yet about closing in on any NHL records. The longest winless streak in league history is 30, set by the 1980-81 Winnipeg Jets.
The lineup: With the trade of Jonas Johansson to Colorado, Carter Hutton (1-10-1, 3.48/.885) will be in goal tonight. The veteran is 0-9-1 in his last 10 decisions and stopped 19 of 22 shots in Buffalo's 3-2 loss in the Garden on March 2. 
During his pregame briefing 90 minutes prior to faceoff, Granato announced that winger Kyle Okposo is not on the trip. The team said Okposo has an upper-body injury but could conceivably rejoin the club later in the trip he's medically cleared. Okposo never left the ice during practice on Sunday but it's believed the injury took place during that workout.
"He is nursing an injury we need to find out more about," Granato said. "We hope it's short-term and we think it will be. .. He's a guy that gives us great leadership. He practices as hard as he plays, he prepares for practice as hard as he prepares for games and he's a great teammate. He's very frustrated because he's such a competitive guy."
Okposo scored his first goal of the season and first in more than a year in Thursday's 4-1 loss to Boston. He missed the first five games of the season with a leg injury suffered during a training camp scrimmage. 
Center Dylan Cozens, who missed four games with an upper-body injury after a hit March 11 against Pittsburgh, was slated to return Saturday so will be ready to go tonight. He's been centering Taylor Hall and Sam Reinhart in the last two practices. Here's how the team lined up Sunday:
No changes to the Sabres' lines/pairings:Hall-Cozens-ReinhartOlofsson-Staal (Eakin)-ThompsonSkinner-Lazar-MittelstadtAsplund-Sheahan-OkposoRieder, taxi squad guys also rotated in.Dahlin-MillerBryson-RistolainenJokiharju-MontourIrwin-Davidson

— Lance Lysowski (@LLysowski) March 21, 2021
Futility files: There are lots of numbers that put the Sabres' current streak in perspective. It's the sixth time in franchise history they've gone winless for at least 10 straight games.
GP     Dates                Record (W-L-O-T)
14 ... 12/29/14 to 1/30/15    0-14-0
13 ... 2/25/21  to  3/18/21    0-11-2
12 ... 11/23/91 to 12/20/91  0-7-1-4
12 ... 10/25/02 to 11/19/02  0-9-1-2
10 ... 11/7/71 to 12/1/71      0-8-0-2
10 ... 12/26/07 to 1/16/08    0-5-5
• The Sabres have been outscored, 54-20, during the streak, averaging just 1.54 goals for and allowing 4.15. Only four of the 13 losses have been one-goal games, and nine of them have been decided by three goals or more.
• The Sabres have gone 30 straight games in March without a regulation win (3-24-3), dating to a victory in Nashville on March 31, 2018. They are 0-9-1 in the month this year and their previous win was in last year's season finale, a 3-2 shootout victory over Washington on March 9, 2020.
• Since Jan. 26, the Sabres' only wins have come against New Jersey (3-2-1). Against everyone else in the East Division in that span, they are 0-14-2.
• Buffalo is 2-15-2 since returning from its two-week Covid pause on Feb. 15. The Sabres were 4-4-2 when their season was shut down.
Girardi, who was elevated to interim assistant coach upon Krueger's firing, will make his NHL coaching debut when the Rangers host the Sabres on Monday.
Behind the benches: It will be Granato's second game as Buffalo's interim coach following the firing of Ralph Krueger. He lost his opener to Boston, 4-1, on Thursday night. Dan Girardi has cleared intake quarantine and will debut on the bench tonight as an interim assistant coach – in the building where he was a standout from 2006-2017 and was a key member of the Rangers' 2014 Stanley Cup finalists and 2012 Eastern Conference finalists.
Meanwhile, the Rangers will again be without head coach David Quinn and his assistants as they are all sidelined by Covid protocol. AHL coach Kris Knoblauch has come up from Hartford and gone 2-1 in Quinn's absence, splitting two games in Washington after Wednesday's stunning 9-0 blowout of Philadelphia. Assistant GM and former Sabres captain Chris Drury is one of the assistants helping Knoblauch, who was Connor McDavid's coach with the OHL's Erie Otters.
Rangers report: New York has scored 21 goals over its last five games in going 3-1-1. Pavel Buchnevich leads the Rangers in scoring with 28 points while Chris Kreider is the leader in goals with 14. Winger Artemi Panarin, who sat out nine games for personal issues related to controversy in his Russian homeland and did not play in the Sabres' last visit, has scored in three of his last four games.
With Igor Shesterkin (groin) still out, No. 3 man Keith Kinkaid will start tonight in goal and he's been excellent to date (2-1-1, 2.07/.918). He made 28 saves in Saturday's 3-1 win at Washington and had a road shutout streak snapped at 160:59, fourth in franchise history.
No. 1 overall pick Alexis Lafreniere has four goals, eight points and a team-worst minus-7 rating. Two of Lafreniere's goals are against the Sabres, including his overtime winner Jan. 28 in KeyBank Center.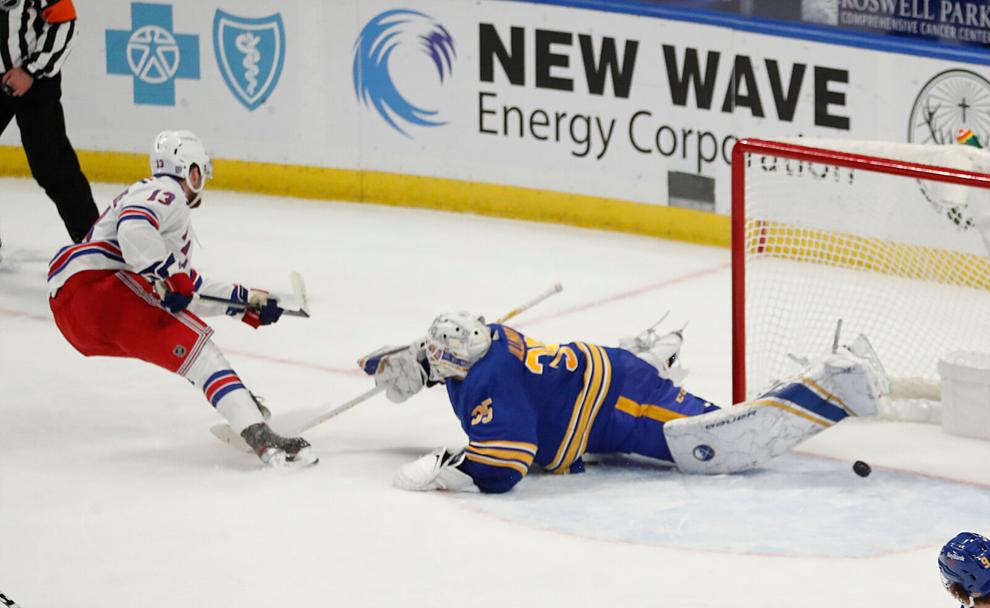 Special teams battle: The Rangers are third in the NHL on the penalty kill at 86.6% and are 15 for 17 over the last five games. The Buffalo power play has slipped to eighth in the league – and is 0 for 19 over the last 12 games. The last power-play goal was Sam Reinhart's third-period tally in the Feb. 25 overtime loss to New Jersey that opened the winless streak.
It's a 40-minute game: The Sabres are 0-17-1 this season when trailing after two periods and the Rangers are 0-9-0. They are two of the eight NHL teams without a win in that spot, and it should be no surprise that Buffalo's record is the worst in the league.
Lots of minuses: Analytic folk are mostly correct about the dubious nature of plus-minus, except in the case of the Sabres. When the same team has the bottom six players in the stat in the entire league, it shows how futile the club's 5-on-5 production has been this season. The Sabres are minus-35 at even strength this season with an NHL-low 36 goals – just 1.24 per game.
Rasmus Dahlin carries by far the league's worst rating at minus-28. Sam Reinhart is next at minus-20, followed by Taylor Hall and Eric Staal (minus-18), Victor Olofsson (minus-17) and Colin Miller (minus-16). Two Anaheim players, Jakob Silfverberg and Jacob Larsson, are tied with Miller and are the first non-Buffalo players on the list.