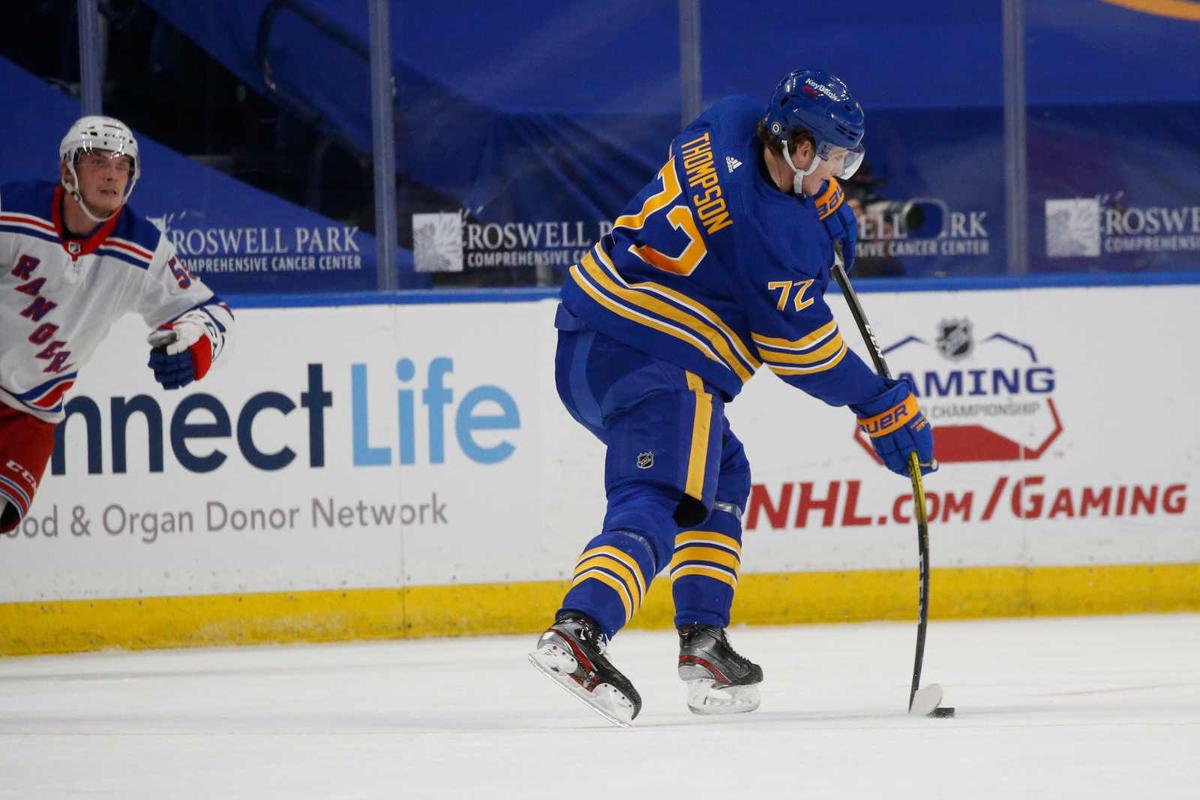 Where: Prudential Center, Newark, N.J.
It will be Thompson vs. Thompson tonight as New Jersey winger Tyce Thompson – the brother of Sabres winger Tage Thompson – is going to make his NHL debut for the Devils. He signed a two-year, entry-level deal with the Devils on March 24, opting to skip his senior season at Providence.
Tyce Thompson was the Devils' fourth-round pick in 2019 and has played three years at Providence, where he was a teammate of Buffalo defenseman Jacob Bryson on the Friars' 2019 Frozen Four team that played in KeyBank Center.
"It's the best way you could draw up a debut," Tyce Thompson said today. "I'm speechless."
"It's awesome. Obviously I'm very excited for him, something he's worked very hard for," said Tage Thompson. "I remember my first game and the excitement, so I'm excited I get to share this opportunity and this moment with him."
Tyce Thompson had 11 goals and 25 points for the Friars in 25 games this season after posting career-best numbers (19-25-44) last year, when he finished third in the NCAA in scoring.
Sabres interim coach Don Granato saw both brothers play at USA Hockey festivals and coached Tage on the U.S. National Developmental Team.
"That is really exciting. I got to see both Tage and Tyce at a very young age and when I first saw both of them play, it was really easy for me to see the potential was there," Granato said. "Knowing the family and having coached Tage at the amateur level, this is pretty neat to be a part of it."
There are four games left before the NHL trade deadline on Monday. 
Lineup news: Granato announced that the team is holding Taylor Hall out of the lineup tonight in advance of a potential trade, just like the Devils are doing for the second-straight game with veteran winger Kyle Palmieri. Kyle Okposo, who didn't practice Monday due to maintenance, will play. With no Hall in the lineup, there's a good chance Arttu Ruotsalainen will make his NHL debut.
Streaks/season series: The Sabres are 2-0-2 in their last four games and going for their second five-game point streak of the season. The Devils are 0-1-2 in their last three games and 1-3-2 in the last six. Buffalo is 3-2-1 against New Jersey this season and the series wraps up Thursday in KeyBank Center.
With a shootout victory against the New York Rangers on Saturday, Ullmark improved to 33 of 38 in his career, and his .868 save percentage took over first place all-time in the NHL for goalies with at least 10 shootouts.
In the nets: It will be Linus Ullmark (7-5-3, 2.44/.921) in goal for the Sabres against former Buffalo prospect Scott Wedgewood (3-5-3, 2.72/.914). Ullmark is 3-0, 1.76/.949 vs. the Devils this season. The Sabres beat Wedgewood in a shootout Jan. 30 in Buffalo, 4-3, in his lone appearance against them this season.
Special teams battle: The Sabres are 7 for 18 on the power play against New Jersey this season, their most power-play goals against any opponent. But overall, the Buffalo power play is in an awful slump – going just 1 for 36 over the last 20 games. Once first in the NHL, the Sabres have slumped to 12th at 22%. The Devils, meanwhile, are 0 for 16 on the power play in the last five games and 28th in the NHL at 12.4%. They're 30th on the penalty kill at 73.1%.