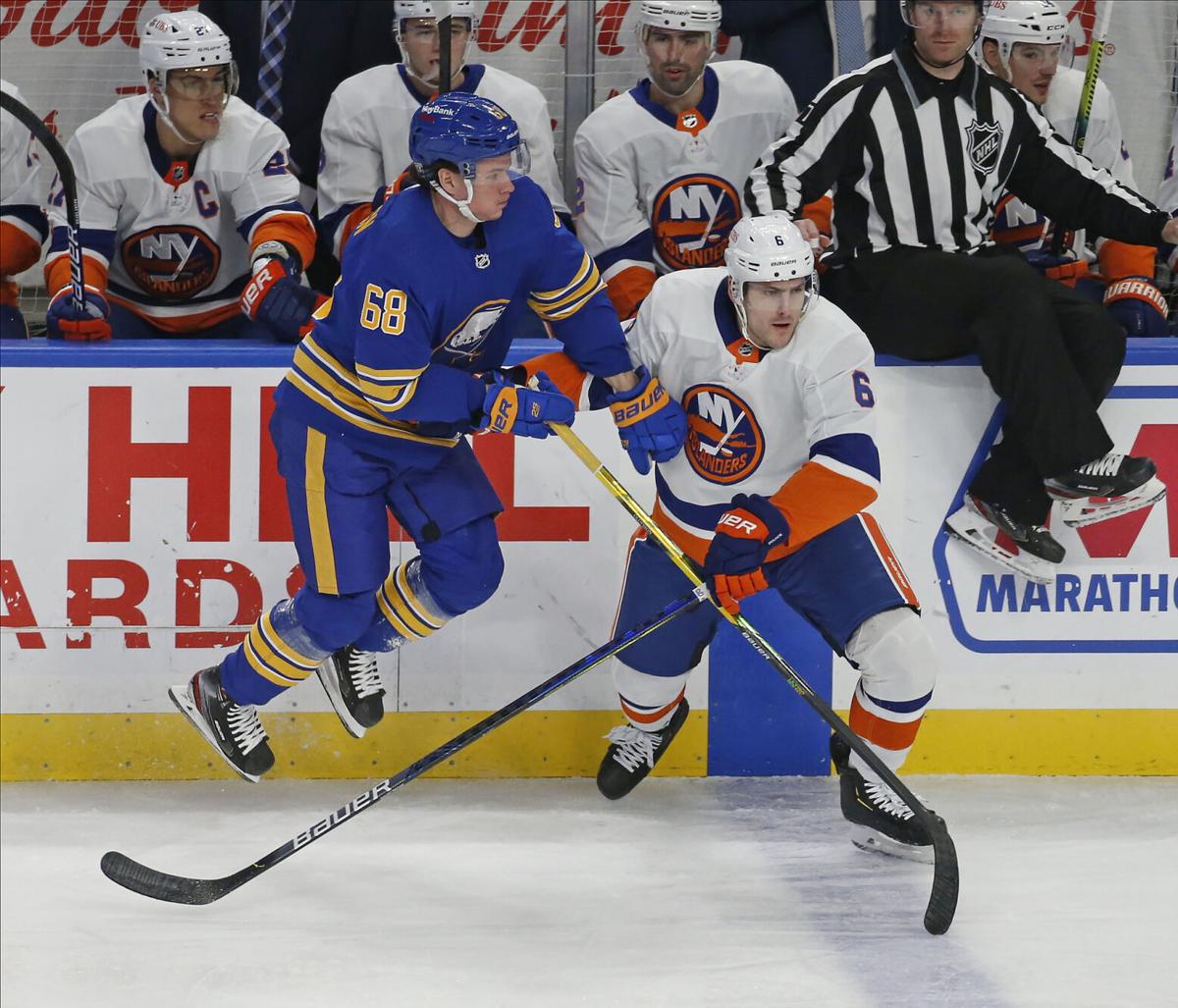 UNIONDALE – Maybe Monday night, the Sabres can mix in a goal or two against the New York Islanders.
The Sabres and Isles met twice last week in KeyBank Center and Buffalo scored just once, on a Victor Olofsson power-play goal. That's an easy formula to lose two straight games.
Coach Ralph Krueger is treating each series with the seven East Division opponents as a separate series, so his scorecard shows the Sabres, down, 2-0, heading into tonight.
"We need to get back into that series," Krueger said after practice Sunday in New Jersey. "We're down a couple there. And we need to chip away at that."
The Jeff Skinner crisis got more juicy here Sunday as the Buffalo Sabres took line rushes early in their practice in Prudential Center.
Lineup news: The Sabres did not skate Monday and Krueger will not talk to the media until 5:30 p.m. But they line up in games usually how they line up the day before in practice. That means that goalless Jeff Skinner is likely going to be a healthy scratch tonight for the first time and Will Borgen (hand) is probably going to sit this one out. Jake McCabe also will be out with the knee injury he suffered Saturday that the club expects to be long-term.
Schedule quirks: Monday night's game marks the first of four meetings in Nassau Coliseum over the next two weeks. The Sabres play a three-game series here March 4, 6 and 7.
Buffalo is 0-3-2 in its last five on the road against the Isles, last posting a 4-3 overtime win on April 9, 2016. Brian Gionta scored the winning goal in a game played at Barclays Center in Brooklyn. The Sabres haven't won at the Coliseum since Oct. 15, 2013.
This is the Islanders' final season in their longtime home. They're moving next year to UBS Arena, under construction a few miles away next to famed Belmont Park.
Overall, the Sabres are 0-4-1 in their last five games against the Islanders and 2-8-2 in the last 12.
Home cooking: At 4-0-1, the Islanders join Carolina (6-0-1) as the only teams in the NHL without a regulation loss at home. New York is just 4-6-2 on the road, but two of those wins came last week in Buffalo. The Islanders then went to Pittsburgh and scored only three goals while dropping two straight.
The Islanders are looking to take advantage of a very favorable schedule, as they're opening a stretch of four straight games at home and nine of the next 10.
"The way things are set up this year, the road trips are longer," Islanders captain Anders Lee said today. "It's nice to have a little bit of a stand here and get back at home on our ice."
In the nets: No. 1 goalie Semyon Varlamov (7-4-2, 2.07/.925) tonight. It stands to reason the Sabres would come back with Linus Ullmark (4-3-2, 2.61/.909) after he won Saturday in New Jersey, and then use Carter Hutton on the second half of the back-to-back Tuesday night when the Sabres go back to Jersey to meet the Devils again.
Slumping Sabres: Skinner is far from the only Buffalo forward having trouble putting the puck in the net. While playing all 14 games thus far, Cody Eakin joins Skinner with no goals. Riley Sheahan and Taylor Hall have one apiece and Jack Eichel has just two. Kyle Okposo has no goals while playing nine games after missing the first five with a lower-body injury.
Special teams report: The Sabres have the NHL's best power play on the road at 41.2% (7-17), while the Isles have the best penalty killing at home (7-7, 100%). Buffalo is fourth overall on the power play (32.6%) and has scored at least one PPG in eight of their last nine games, going 12 for 29 (41.1%).
Ten years later: It was Feb. 22, 2011, when new owner Terry Pegula held his memorable introductory press conference upon taking over the Sabres. The numbers are not kind. Since that day, the Sabres have the worst record in the NHL. The ugly rundown of the Pegula era: 
#Sabres among 30 NHL clubs under Pegula (excludes VGK)--Wins 281 (30th)--Losses 354 (30)--Pts 656 (30)--Pts Pct .450 (30)--Goals 2.41 (30)--GA 2.99 (28)--PP 18.2% (20)--PK 79.4% (30)--Shots 29.2 (29)--Shots against 32.8 (T-29)One whale of a losing culture.

— Mike Harrington (@ByMHarrington) February 22, 2021