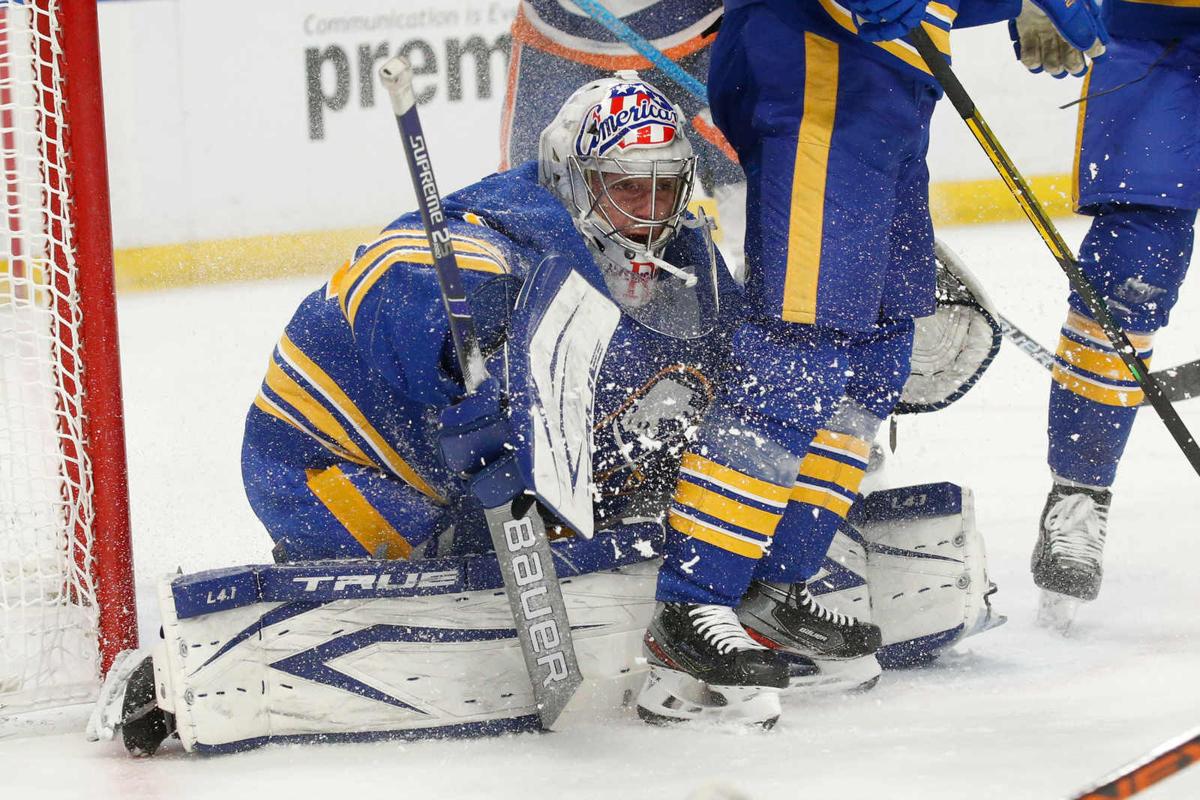 Michael Houser's National Hockey League story isn't over.
Houser, a 28-year-old who had spent eight years between the ECHL and American Hockey League, will start for the Sabres on Tuesday night against the New York Islanders. He won his memorable debut Monday, delivering 34 saves in a 4-2 come-from-behind win that ended with each Buffalo player leaving the bench to congratulate him.
Houser stopped each of the 15 shots he faced while the Sabres scored three goals in the third period, including a save through a screen with 1:07 remaining in regulation. It was his first game at any level since March 7, 2020, but he'll be asked to start for a second time in as many days because Linus Ullmark is not ready to return from a lower-body injury.
"We seem to have a better games – maybe younger legs – in back-to-backs," said interim coach Don Granato. "I hope that's the case tonight, where our energy level is still good and high. Specifically with the goaltending, I mean, you could worry about lots of different things, but at the end of the day, you don't. You play. You embrace the situation, you get excited for it. You embrace the challenge of it. Hey, if you are tired, hey, you fight through it. I think Michael is one of those personalities, so he will fight through. He may not even notice that he's tired until after the game is what I suspect, because of the competitive adrenaline he has and many others have."
Undrafted in the NHL, Houser had appeared in only two games above the ECHL since the 2015-16 season. He was thrust in this situation because of injuries to Ullmark, Ukko-Pekka Luukkonen and Carter Hutton. Dustin Tokarski has left the team for what Granato called a "family emergency."
The Islanders have gone 2-3-1 in their last six games and sit fourth in the East Division after clinching a playoff spot. The Sabres helped Houser on Monday by blocking 15 shots and allowing two high-danger scoring chances at 5-on-5 during the third period, according to NaturalStatTrick.com.
Lineup: Defenseman Will Borgen will sit for what Granato called "maintenance," and will be replaced in the lineup by Colin Miller. Borgen had five hits and a plus-1 rating in 16:43 of ice time Monday.
It's unclear what the Sabres' lines will look like after Granato threw them in a blender for the third period. Anders Bjork was elevated to the top unit to skate alongside Sam Reinhart and Victor Olofsson, while Dylan Cozens played with Riley Sheahan and Arttu Ruotsalainen.
Another dip: Sabres winger Jeff Skinner received only 12:20 of ice time Monday, including just two shifts spanning 1:36 in the third period. Skinner was moved to the fourth line with Cody Eakin and Drake Caggiula before the trio sat for much of the third period.
"It was the fact that we went down to nine forwards," Granato said when asked about Skinner's ice time. "I switched lines up because I thought certain guys were going and more in the moment last night and it was a situation where we felt we could come back in the game because of the energy on the bench. So, when I popped Anders Bjork up there, the chemistry was real good and instant. And then late in the game, you get down to 10, 11 minutes, 13 minutes even, I wanted three lines. It's easier to get three lines of guys and nine guys into a rhythm."
Home finale: This is the Sabres' final home game of the shortened season, as they enter tonight with a 4-16-3 record in KeyBank Center. Buffalo had a winning record at home in each of the previous two seasons, including 20-11-4 in 2019-20.
Bounce back: Reunited with his former linemates, Tage Thompson delivered one of his best all-around performances of the season Monday night. The 23-year-old had a team-high seven shots on goal and two points, including a power-play goal in the second period. Thompson's seven goals in 35 games match a previous career high set in 2018-19, when he did so in 65 games.
"He had great jump and great energy but played with a lot more intent, intent to finish plays, stronger on pucks, he drove straight north harder," Granato said of Thompson. "Sometimes when he's short of those areas he's more east-west. He's going, looking left right and tonight he was dominant forward. Not to say he didn't look left right by any means, but he dominated a straightforward hard-nosed game and when you combine that with his skill set and his size and reach, it's very impressive."
Comeback kids: The Sabres delivered the Islanders their first regulation loss when leading at the second intermission this season. Additionally, New York was previously 22-1-3 when scoring first and 19-1-2 when leading at the first intermission.
The Islanders have also allowed the fewest third-period goals in the NHL, making this an impressive feat for a Sabres team that was never able to mount comebacks in Ralph Krueger's final weeks as coach. It was Buffalo's first win over the Islanders this season.
"Guys have stepped up and young guys are getting more opportunities," said Sheahan. "They're learning the game and playing in some good situations, so everyone is learning and just kind of forgetting about what happened earlier in the season. Just trying to stay competitive. It builds character going through something like that. Going through adversity like that builds a lot of character, especially when you can come back and stay competitive when you know you're not in a playoff spot."