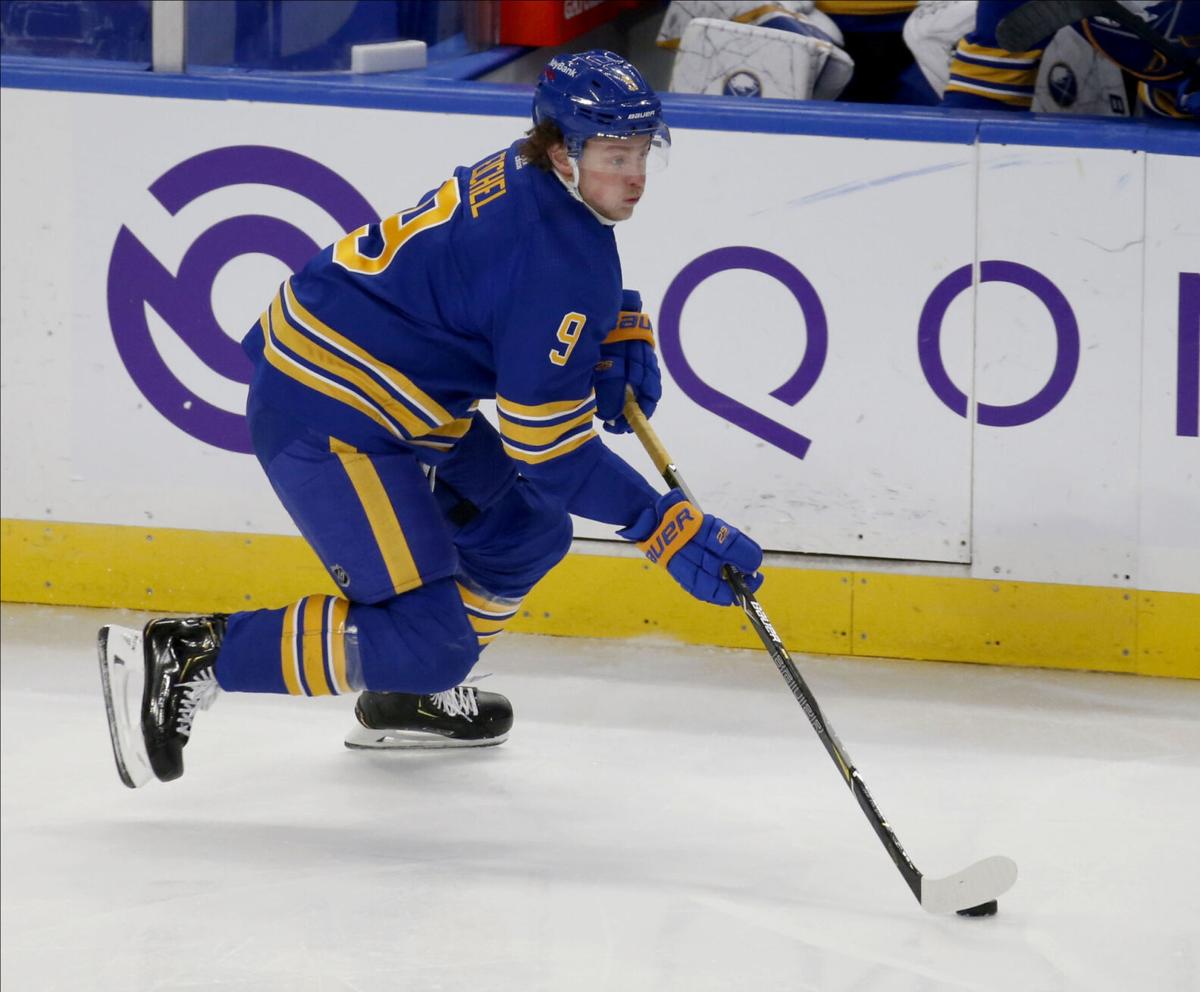 Jack Eichel was in discomfort on the bench Tuesday night after a collision with the New Jersey Devils' Nico Hischier.
Eichel, the Sabres' 24-year-old captain, then sat out the morning skate Thursday in preparation for another game against the Devils. Coach Ralph Krueger told the media afterwards, though, that Eichel will be in the lineup for the first game of the homestand.
"Yes, the way this season is and the way the games are coming at us, we're monitoring each individual in a different way and we just felt for the game tonight it was best for him to pass on the pregame skate today," said Krueger. "You all need to be ready for all kinds of situations where we break routine for what we feel is more like a playoff pace coming at us now. Finding different ways to gather energy, especially on the high-minute guys. That could be quite regular moving forward right now."
Eichel did not miss a shift following the collision, but he played a season-low 17:31 during the second game of a back-to-back. He is expected to center the top line, skating alongside Victor Olofsson and Sam Reinhart.
Though Eichel has an assist in three of his last four games, he has gone eight consecutive games without a goal and only has two in 16 games this season. He struggled with turnovers Monday night against the New York Islanders before delivering a promising performance against the Devils in Prudential Center on Tuesday.
"As long as the team's successful like we were in the last game, he's fine," said Krueger. "It's more walking off the ice after a game if you'd hit the post three or four times and the crossbar and the team doesn't have enough goals, that leads to frustration for everybody.
" ... I like what happened in his mind following the game and where he is right now, so I'm optimistic he's about to explode, really quite honestly, and that he's dealt with the reentry, which was so difficult off the injury he had just prior to training camp, late training camp and trying to get into and up to the level that he expects from himself and that we're all used to while we're playing games has not been an easy task."
Lineup: Krueger declined to reveal his lineup for the game against the Devils. Jeff Skinner will be a healthy scratch for a third consecutive game. Winger Tobias Rieder (upper body) and defenseman Rasmus Ristolainen (Covid-19) skated Thursday morning but neither is ready for game action.
Rieder was a placeholder on the top line with Eichel absent. The defense pairs may change, as we saw during line rushes during the skate:
Sabres' lines/pairings with Eichel and Skinner absent:Olofsson-Rieder (placeholder for Eichel)-ReinhartHall-Staal-CozensAsplund-Eakin-OkposoMittelstadt-Lazar-SheahanDahlin-MontourIrwin-MillerBryson-Jokiharju

— Lance Lysowski (@LLysowski) February 25, 2021
Recent surge: Reinhart has been outstanding since returning from the Covid-19 pause, totaling three goals with four assists in six games while averaging 20:11 ice time during that span. Reinhart has at least two shots on goal in all but one of those games and he's currently on a four-game point streak.
Good mix: Krueger has found an effective second forward line of Taylor Hall, Eric Staal and Dylan Cozens. Among all Sabres lines to play at least 50 minutes at 5-on-5 this season, Hall-Staal-Cozens ranks first in generating shot quality, according to Evolving-Hockey.com.
"I thought we really had trouble with our timing, our legs early in the reentry and we do take courage out of the consistency of the 5-on-5 game," Krueger said of the Sabres' improved play recently. "Our power play has continued to fire and we've had great goaltending. … The group feels confident today. They have a good air about them, a good energy and we believe there is still a lot of upside space for this group. We're leaning toward a similar lineup due to that productivity, especially the last two games."
Bright spot: Since returning to the lineup Feb. 20, Cozens ranks third among all forwards in on-ice shot quality at 5-on-5. The 20-year-old rookie has three goals with one assist for four points and a plus-3 rating in 12 games this season.
Penalty-kill woes: The Sabres' penalty kill has struggled with Ristolainen and Jake McCabe out of the lineup, allowing one goal in three of the past four games. Rieder also did not play Tuesday in New Jersey and was replaced in the lineup by Rasmus Asplund, who scored his second career NHL goal in the 4-1 win.
Power-play savant: Entering Wednesday, Olofsson was tied for second in the NHL with six-power play goals this season. The 25-year-old has at least one point in all but four games this season. Olofsson is tied with Eichel for the team lead in points (14) and ranks second in shots on goal (45).
Series notes: The Sabres are 5-1 in their last six games against New Jersey, outscoring the Devils, 28-14. The home team had won six straight games between the two teams before the road team won the three most recent games, including Buffalo's win Tuesday night at Prudential Center. … The teams combined for 79 shots on goal, tying as the highest total in a Sabres game this season. It was the third-most shots ever recorded in the 163 regular-season games between the Sabres and Devils, and the most since the teams totaled 82 shots on Jan. 15, 1992.
Goalies: Linus Ullmark is expected to start in goal for the fifth consecutive game. Across his last three starts, Ullmark has stopped 86 of 92 shots for a .935 save percentage. He came within 28 seconds of a shutout Tuesday night, stopping 40 of 41 shots in a 4-1 win over the Devils.
MacKenzie Blackwood, 24, may be in net for the Devils. The former second-round draft pick has a .935 save percentage in seven games this season.