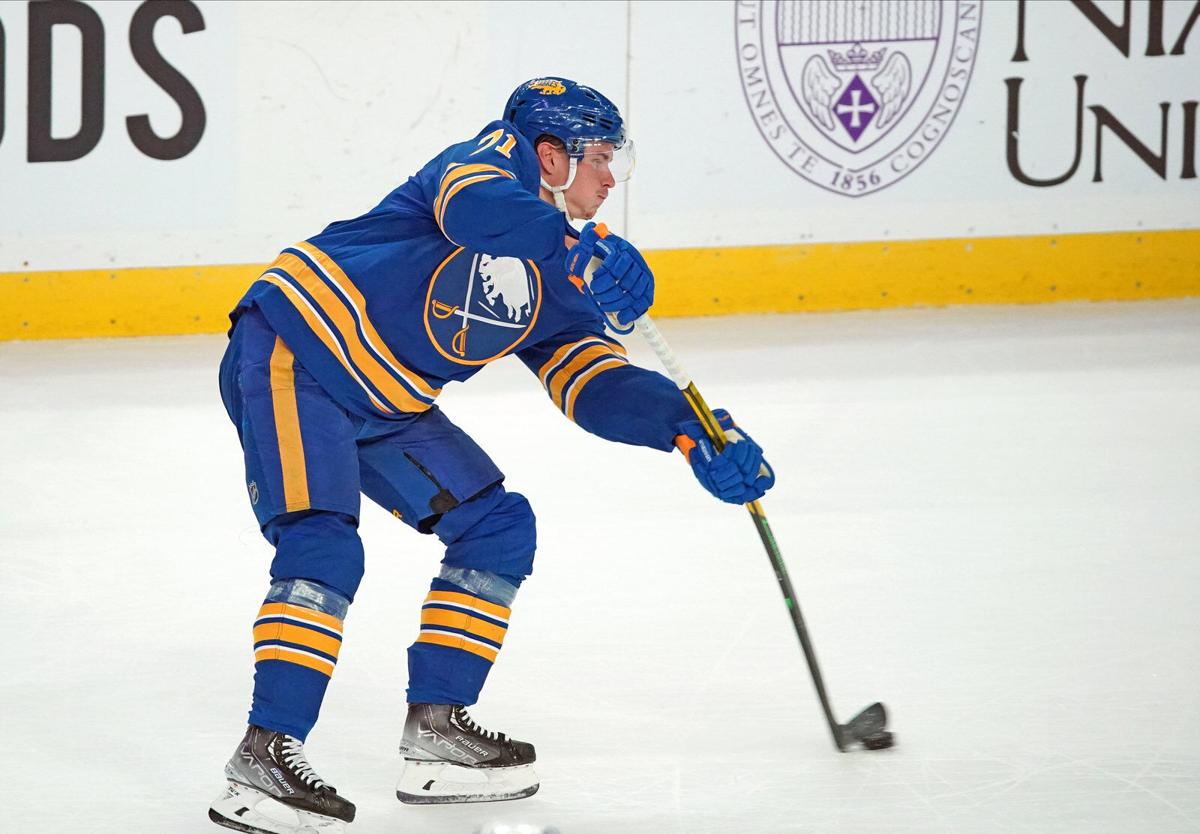 TV: ESPN Plus/Hulu exclusive (no MSG)
SAN JOSE, Calif. – It felt like the first part of 2021 around the SAP Center on Tuesday morning.
Even though they are all fully vaccinated, the San Jose Sharks are enduring a Covid-19 outbreak that will leave them heavily short-handed for their game against the Buffalo Sabres.
Winger Timo Meier, the Sharks' leader in goals (5) and points (11), was the latest player added to the NHL's Covid protocol list Tuesday morning and is one of seven players who will miss the game. Coach Bob Boughner, the former Buffalo defenseman, is also sidelined and will be replaced for the second straight game by assistant John MacLean.
How much are teams willing to give up for Jack Eichel? GM Kevyn Adams is driving a hard bargain.
The list of missing players includes defensemen Erik Karlsson, Marc-Edouard Vlasic, Radim Simek and Jake Middleton, and forwards Matt Nieto and Kevin Labanc. The Sharks got help up front as Andrew Cogliano came out of the protocol on Monday and Jonathan Dahlen emerged from it on Tuesday.
The team held an optional morning skate with coaches and training staff masked, and Dahlen answered reporters' questions on a video call while also wearing a mask. He said he got a text telling him of a positive test Saturday and thus had to miss the Sharks' 2-1 overtime win over Winnipeg. He learned Tuesday that he had negative tests Sunday and Monday and could thus play.
The Sharks are not releasing which players, if any, are symptomatic or could be dealing with false positives. All players are vaccinated.
"I was pretty shocked. These last couple of days have been pretty weird waiting for a negative test," Dahlen said. "I'm happy to be out, no symptoms. ... It's obviously a weird situation that none of us are that used to. But we have to focus on the game tonight. It's obviously tough having guys on Covid protocol. But the vibe is focused on the game for the guys available to play. We're taking precautions in the locker room."
Both Sabres coach Don Granato and MacLean said they were unaware of any talks with the NHL of postponing the game.
"And I don't know if we would hear that until it actually happens. I think that's the medical teams," Granato said. "I'm thinking about last year now and we were almost the last ones to know. And I think that's a good thing because you've just got to keep preparing. You don't want to play the what-if game. You want to be fully prepared."
"We're wearing masks and doing everything we can," MacLean said. "It seems like we're dealing day to day with it. We're trying to keep on top of everything the best we can."
The lineup: Sabres winger Victor Olofsson, who suffered a "soft-tissue" injury here in practice on Monday, did not take the morning skate and that usually means he will miss the game. That would leave both teams without their leading scorers. Granato did not, however, immediately rule him out after the skate.
"We held him out this morning because he had an injury or an aggravation that in a spot where we just don't want to aggravate it," Granato said. "So we're doing a little bit more on it. I can't say he's definitively out. But we just need a little bit more information before we decide on that."
Cody Eakin will return to the lineup for the first time since he was injured in practice Oct. 20.
"He was great yesterday in practice. He brings a lot of energy to our team," said linemate Zemgus Girgensons. "And he had a such a great start, it was just sad to see him go down. It's definitely exciting,  gives a little boost to our team to have him back."
So minus Olofsson and with Eakin back, #Sabres look like this in the AM in San Jose:Skinner-Cozens-HinostrozaAsplund-Thompson-CaggiulaGirgensons-Eakin-OkposoBjork-Ruotsalainen-Hayden (Murray extra)---Dahlin-ButcherBryson-MillerHagg-PysykWolanin extra

— Mike Harrington (@ByMHarrington) November 2, 2021
Craig Anderson (4-1-0, 1.98/.939) is expected to be in goal for the Sabres and is seeking his 296th career win, which would tie longtime former Philadelphia goalie Ron Hextall for 39th on the all-time list. Anderson is en route to becoming the 39th NHLer to reach 300.
The Sharks will be going with red-hot James Reimer in goal. He's 2-1, 1.13/.964 and leads all NHL goaltenders with more than one game played in both GAA and save percentage. 
The series: Buffalo has won the last three meetings between these clubs and is looking for its fourth consecutive win against San Jose for the first time since the Sabres' eight-game win streak against the Sharks from Feb. 13, 2010 to Nov. 18, 2014. The Sabres are also seeking their third win streak of four games or more against the Sharks all-time; the first came in the first four meetings between the teams (Oct. 25, 1991 to Oct. 23, 1992)
The Sabres are 27-10-6 against the Sharks all time, with an 8-8-5 mark here – and a stunning 19-2-1 record in KeyBank Center.
By the numbers:  ... Through eight games, the Sabres have already gotten points from 18 different players, and  13 different players have scored at least one goal. ... The Sabres were 3-0-1 when leading after two periods until Sunday's game in Los Angeles, when a 2-1 lead through 40 minutes turned into a 3-2 loss. ... The Buffalo special teams remain excellent, with the power play fifth in the NHL at 27.3% and the penalty kill seventh at 87%. ... Tonight is the 25th anniversary of a Hall of Fame game in goal as Dominik Hasek (32 saves) and Patrick Roy (20) led the way as the Sabres and defending Stanley Cup champion Avalanche battled to a scoreless tie in Denver.