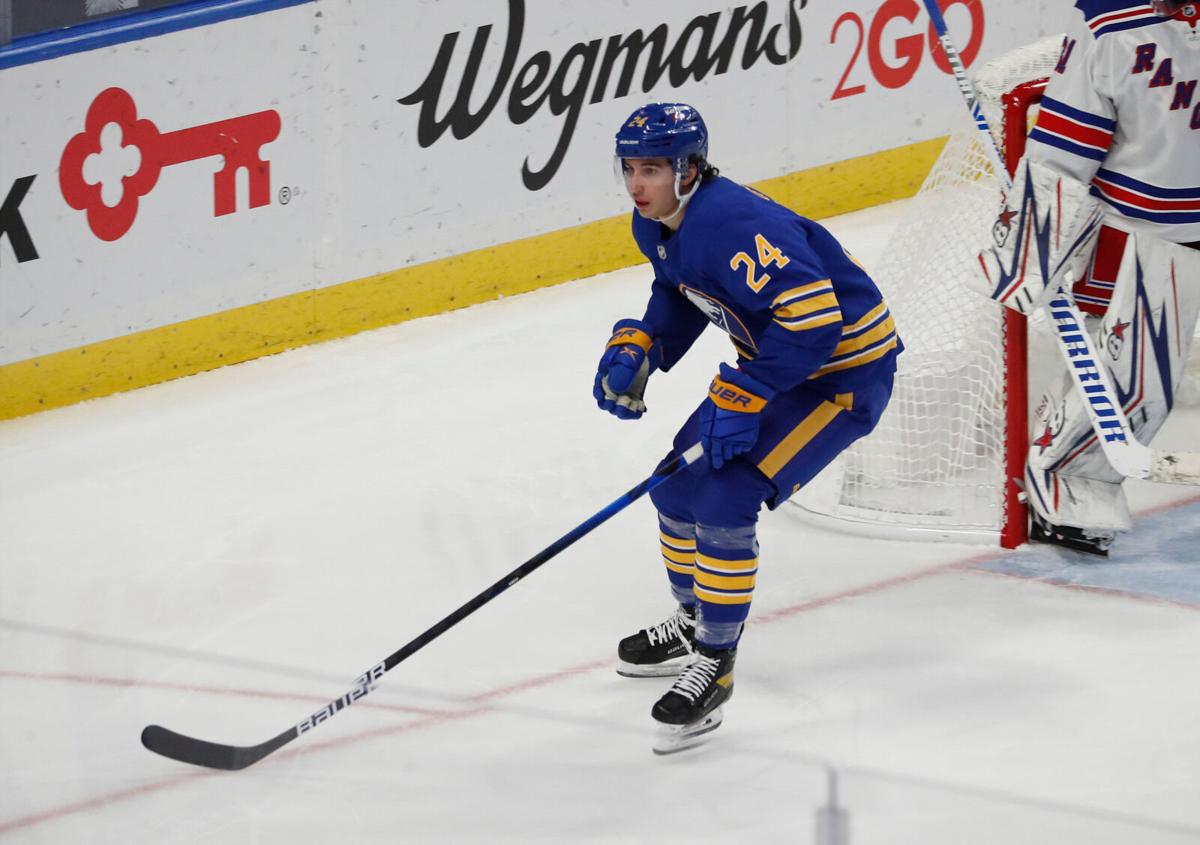 Where: Madison Square Garden
NEW YORK – Dead last in the NHL. That's where the Buffalo Sabres start today after Ottawa's win Monday night over Calgary.
Now, we'll have to provide the caveat that while the Sabres' 15 points are the fewest in the NHL, they have lots of games in hand on teams above them. Buffalo, for instance, has played 19 games while the trio of Anaheim, Ottawa and Detroit are all at 17 points – but have all played at least 22 games.
And a win by the Sabres tonight in MSG combined with a New Jersey regulation loss to the New York Islanders would move Buffalo from eighth to sixth in the East Division in one fell swoop. Hey, we're trying to come up with some shred of light here.
"It feels as if there's no way Ralph Krueger can be the coach of the Buffalo Sabres next year," writes Mike Harrington.
But the first issue is easy: You can't win if you can't score. The Sabres have been shut out two games in a row, by Philadelphia over the weekend. As they open a 17-game March schedule with a five-game road trip, their shutout streak is at 125 minutes, 47 seconds. It's at 174:49 at 5-on-5, where they continue to be the NHL's worst team at even strength.
"We feel a focused energy today, a refreshed energy also just being in Manhattan and coming into MSG, knowing there's going to be some fans in the building tonight," said coach Ralph Krueger. "All of those things add some bonus strength, but we need to get to the fundamentals we need to execute within our framework."
Krueger cited the need for a better forecheck to help his team drive more possession as one key facet of the game he's watching.
"But above all this calls for character today, this calls for grit," Krueger said. "That's the kind of situation we're in and we need to bring it."
"I think a day like yesterday, a day off away from the rink where you're traveling with the guys you're not really focused on too much," said Sam Reinhart, who has six goals this season. "You just take a minute to regroup and you come back on a pregame skate and just enjoy the process this morning and have some fun with it.
"Guys were executing, putting the puck in the back of the net and having fun out there. So I think that's the most important thing to transfer into the game tonight."
The offensive slumbers: The Sabres continue to be dead last in the league at 5-on-5 scoring with a paltry 21 goals in 19 games. They're also second-last in first-period scoring with just eight goals (Dallas has six) and have led after 20 minutes just four times. That's tied for 29th in the league (Arizona and Nashville have led just three times through 20 minutes).
Our seemingly daily recap of goal droughts reads like this:
• Jeff Skinner and Kyle Okposo have now gone more than a year without a goal. Each has one point this season, Skinner in 16 games and Okposo in 14.
• Taylor Hall has one goal in 19 games and, remember, it was the first goal in the season opener vs. Washington on Jan. 14.
• Jack Eichel has two goals in 17 games and is on a career-long nine-game streak without one.
• Cody Eakin has one goal in 19 games and it was a buzzer-beating empty netter Feb. 23 in New Jersey.
• Eric Staal has no goals in his last 10 games.
• Tobias Rieder has no goals in his last eight games.
Lineup news: After a one-game break, Dylan Cozens will return tonight and skate with Tobias Rieder and Cody Eakin in the spot where Casey Mittelstadt played Sunday. Jacob Bryson and Colin Miller are back on defense, likely for Brandon Davidson and Matt Irwin. The media was not admitted to the morning skate due to MSG Covid policies.
"At 20 years of age we just felt it was a good game for him to take a step back," Krueger said of Cozens. "And I think he can be a difference maker tonight in this game, where the spaces are different than they were against Philadelphia, where the opportunities are different strategically, too. I really see Dylan as an important piece of our potential success here."
"I try and take advantage of those days as much as I can," Cozens said. "Whether it's just taking care of my body, letting my body rest a little bit. Watching the games from up top, you can learn a lot. I think it definitely helps going into the next game."
Top special teams matchup: The Sabres' power play leads the NHL on the road at a glossy 40.9% (9 for 22) while the Rangers' penalty kill is second at home (37 of 41, 90.2%). Overall, Buffalo is third on the PP (31.1%) and New York is sixth on the PK (85.3%).
In the net: Carter Hutton (1-5-1, 3.20/.896) is expected to get the call for the Sabres and is looking to break a personal 0-4-1 skid. Igor Shesterkin (4-7-1, 2.44/.917) starts for the Rangers. 
Hutton is 5-2, 2.16/.932 in his career against New York. A win tonight would tie his six wins against San Jose as his highest total against any team.
The Buffalo Sabres will play a game in front of fans for the first time in nearly a year Tuesday when they meet the New York Rangers at Madison Square Garden.
In 'The World's Most Famous Arena': The Sabres' last visit to MSG was a 3-2 win on Feb. 7, 2020, and it stopped a four-game losing streak here. With a victory tonight, they would have wins in consecutive road games against the Rangers for the first time since April 2, 2016, and Jan. 3, 2017.
As per New York State regulations, the Rangers can have 1,800 fans in the seats tonight. It will be the first game this season the Sabres are playing in front of more than just cardboard cutouts.
"We're excited about it," Reinhart said. "No better place than Madison Square Garden to get your first taste of fans for the year. So hopefully it gives us a little bit of a jump,  too."
"It's gonna be pretty cool to finally play in front of some fans," Cozens added. "Obviously, it's not too many but still, it's something that's progress. We're excited to go out and play in front of some people again."