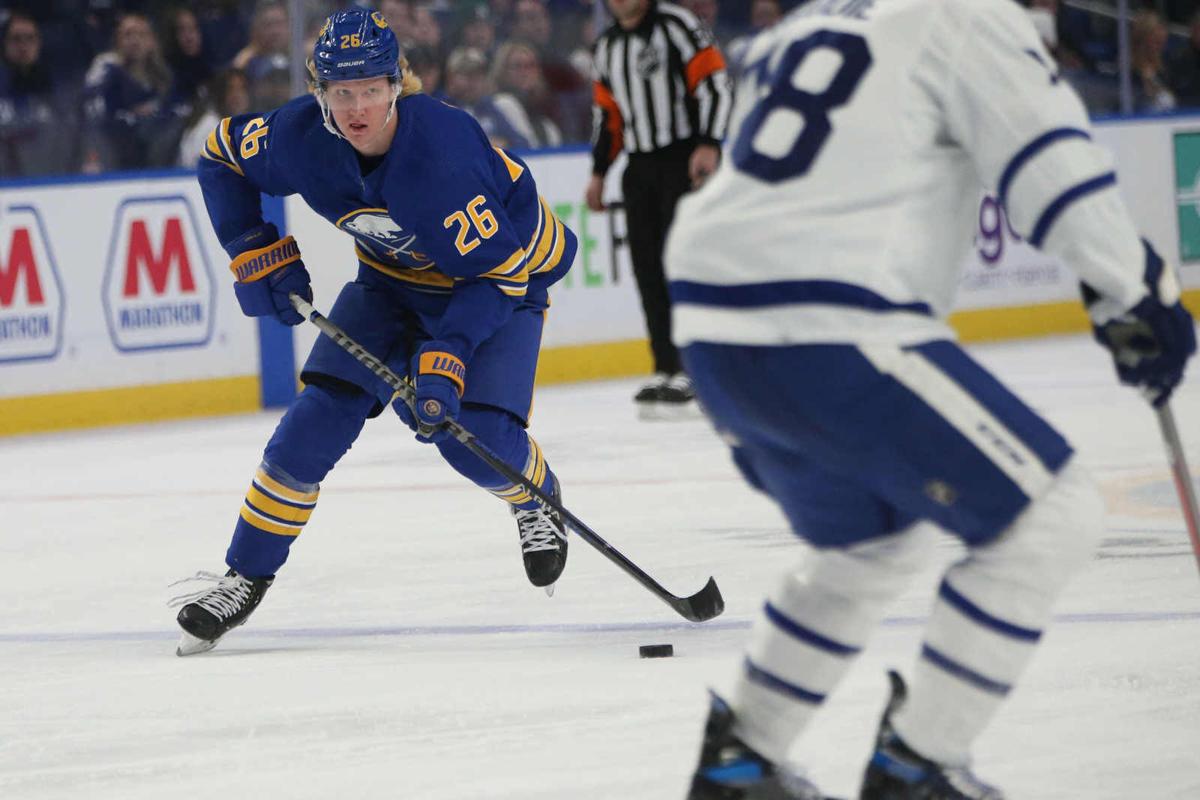 TV: MSG in Western New York
Don Granato didn't necessarily want Dylan Cozens on the ice against Connor McDavid and Auston Matthews.
Granato didn't think there was much of a choice, though. After all, Cozens will have to face those difficult matchups whenever the Buffalo Sabres are on the road. Opposing coaches will use second change to put their top line out there against Cozens, a 20-year-old center amid his second season in the NHL.
For Granato, it's all about putting his young players in a spot where they can learn valuable lessons. His goal remains the same: do whatever possible to improve the Sabres.
"For me, I know our team is evolving," said Granato. "We all know that. As far as matchups go, we don't have a matchup line right now. ... I think we need to look at it and say, 'How can we keep becoming a better team?' Make certain that we're better in one month than we are today. I stay focused on that, but yeah, you do think about matchups. It's more about progress."
It's unclear if Cozens will be the one on the ice against Calgary's top line of Johnny Gaudreau, Elias Lindholm and Matthew Tkachuk. It won't be a new experience if Cozens is thrown in the deep end.
Lineup: Granato isn't expected to make any lineup changes for the Sabres, who sent extra forward Brett Murray to Rochester on Wednesday. Defenseman Christian Wolanin will be a healthy scratch, while the club is still without Victor Olofsson, Casey Mittelstadt, Henri Jokiharju and Craig Anderson.
Here's a look at how the Sabres lined up during the morning skate:
No changes to Sabres' lines/pairings at the morning skate:Skinner-Thompson-AsplundCaggiula-Cozens-HinostrozaGirgensons-Eakin-OkposoBjork-Ruotsalainen-HaydenDahlin-PysykBryson-MillerButcher-HaggWolanin the extra.

— Lance Lysowski (@LLysowski) November 18, 2021
Goalie matchup: The Sabres are again expected to turn to Dustin Tokarski, who made a career-high 45 saves in the 2-1 win over Pittsburgh on Tuesday. He has allowed only three goals in his last 81 shots faced. For the season, Tokarski owns a .920 save percentage in eight appearances.
Calgary, meanwhile, is expected to start Jacob Markstrom, who owns a 1.78 goals-against average and .938 save percentage. He's one of the reasons why the Flames rank second in the league in goals against per game (2.13). Markstrom has a league-best four shutouts this season.
Special teams: The Sabres need to fix their power play. It's 2 for 20 in Olofsson's absence and had fewer shots on goal than the Penguins had shorthanded Tuesday night. Buffalo went 0 for 5 on the man advantage. Personnel isn't the issue. Most of Buffalo's mistakes are self-inflicted, the product of forcing passes and trying to enter the zone with not enough speed.
"That game is over and I really think that something good is going to happen today," said defenseman Rasmus Dahlin.
Calgary is 10th on the power play, seventh on the road, and its penalty kill is sixth-best in the NHL.
Good at the start: The Flames have scored first in 12 of their 16 games, compiling an 8-1-3 record when getting the first goal.
Standings watch: Calgary sits second in the Pacific Division with 21 points, only two behind first-place Anaheim. The Flames are winless in six of their last eight, but they've had four overtime or shootout losses during that span. They've scored two or fewer goals in four of their last five games. Calgary is 8-1-2 against Eastern Conference opponents.
Buffalo's 16 points are tied with Boston for fifth in the Atlantic Division, nine behind first-place Florida. The Sabres didn't get to 16 points until their 24th game last season.
Late woes: While the Sabres have only been outscored 17-14 in the third period of games this season, they've been outshot, 174-133. Buffalo had only three shots over the final 20 minutes in Pittsburgh.
Player to watch: Gaudreau has six goals and 12 points in 11 career games against the Sabres. Gaudreau has four goals and 16 points in 16 games this season. He had a career-high 10 shots on goal during Calgary's overtime loss to Philadelphia on Tuesday.