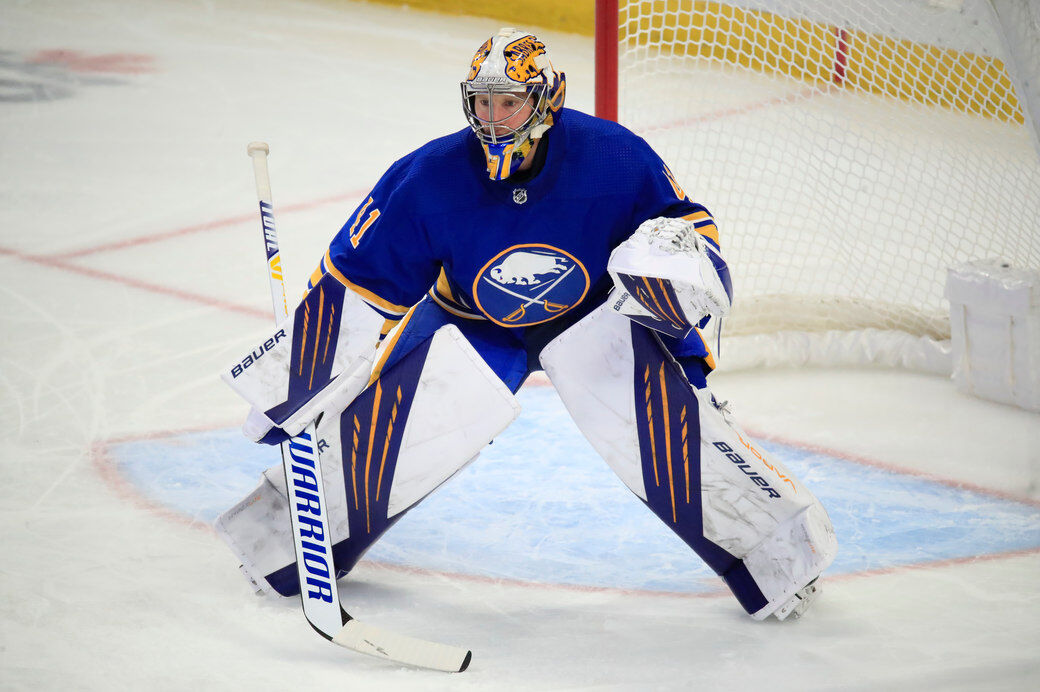 TV: MSG in Western New York
When the Buffalo Sabres' young core takes center stage Thursday night in KeyBank Center, they'll be playing in front of a 40-year-old goaltender with 17 years of experience in the National Hockey League.
Craig Anderson, who signed a one-year, $750,000 contract with the club in July, will start in goal for the Sabres on opening night against the Montreal Canadiens, coach Don Granato confirmed. Anderson received the nod over Dustin Tokarski, who earned a roster spot over Ukko-Pekka Luukkonen and Aaron Dell.
"He's had a solid camp," Granato said of Anderson. "Obviously an experienced guy. He's been through this many years, so he's the guy."
Carter Hutton, now a member of the Arizona Coyotes, started the Sabres' three previous season openers.
Anderson will provide a calm presence for a young team finding its way under Granato. Entering the game, Anderson ranks sixth on the NHL's active wins list (291), fourth in saves (18,251) and tied for sixth in shutouts (42). During Anderson's 10 years in Ottawa from 2010-20, he recorded a .914 save percentage and 2.84 goals-against average.
However, Anderson appeared in only six games for the Washington Capitals last season, including two in the playoffs. He excelled in limited action, delivering a .929 save percentage in the postseason. Anderson was brought in by the Capitals to mentor the young goalies and players on the roster, particularly Vitek Vanecek and Ilya Samsonov. 
With the Sabres, Anderson has an opportunity and appetite to establish himself as a reliable starting goalie. It was only four years ago that he led the Ottawa Senators to the Eastern Conference finals, and he played 34 games for a struggling Ottawa team in 2019-20. He started 47 games for the team in 2018-19.
"I'm very impressed with Craig," said Granato. "I wouldn't know his age. He's competing like a young guy and to stay in this league, you have to have that kind of rookie mentality every year. That's what keeps you alive and going. He came in here probably unsatisfied with last season. He was probably hungrier for more and that's what I see in him. … He's still a hungry guy and still wants to do and accomplish more."
Lineup: There were no surprises during the morning skate, as Granato will deploy the same lines he has used during recent practices:
Sabres' lines/pairings at the morning skate:Skinner-Mittelstadt-HinostrozaBjork-Cozens-CaggiulaAsplund-Thompson-OlofssonGirgensons-Eakin-OkposoDahlin-JokiharjuBryson-MillerHagg-PysykButcher, Ruotsalainen, Hayden rotated in.

— Lance Lysowski (@LLysowski) October 14, 2021
Forwards John Hayden and Arttu Ruotsalainen, and defenseman Will Butcher are expected to be healthy scratches. Dustin Tokarski will be the backup goalie.
Personnel: Special teams will be a key to early-season success because it's going to take time for the Sabres to establish an identity at 5-on-5. Granato had some outstanding power-play units as an assistant coach on Ralph Krueger's staff. Jack Eichel and Sam Reinhart were the engine. Casey Mittelstadt will need to be the difference-maker on the top unit this season.
Mittelstadt is playing along the left wall with Rasmus Dahlin up top, Victor Olofsson in the right circle, Tage Thompson working net-front and Jeff Skinner in the middle. The second unit is, in the same order, Colin Miller, Jacob Bryson, Kyle Okposo, Rasmus Asplund and Dylan Cozens.
"It's a lot of maintenance and it is a work in progress," said Granato. "But when you look at the league and you look at the best power plays, you can also look at what power plays are doing when they're the best. Like, if you take the best power plays in the league, they have stretches of games when they're not executing and not scoring. They're not doing what needs to be done on a power play when you score. ...
"What are power plays doing when they're scoring? And we need to just focus on that. That's getting outnumbered situations at the net front, getting pucks to the net, retrieving pucks. All those little subtleties that will add up to more production are what our focus will be as we move along."
Early back-to-back: The Canadiens opened their season Wednesday night with a 2-1 loss to the Toronto Maple Leafs. Jonathan Drouin scored for Montreal and goalie Jake Allen stopped 28 of 30 shots. Backup Sam Montembeault is expected to start in net tonight against the Sabres.
The Canadiens will play without defensemen Shea Weber and Joel Edmundson, goalie Carey Price and forwards Paul Byron and Mike Hoffman.
Notes: This is the first matchup between the Sabres and Canadiens since Jan. 30, 2020, the longest time between games since they first played in 1970. … Skinner has recorded 20 points (14 goals, six assists) in 21 games against Montreal since the beginning of the 2013-14 season, including eight points (five goals, three assists) in six games against the Canadiens since joining the Sabres in 2018-19. … Dahlin has recorded six assists in six career games against the Canadiens.