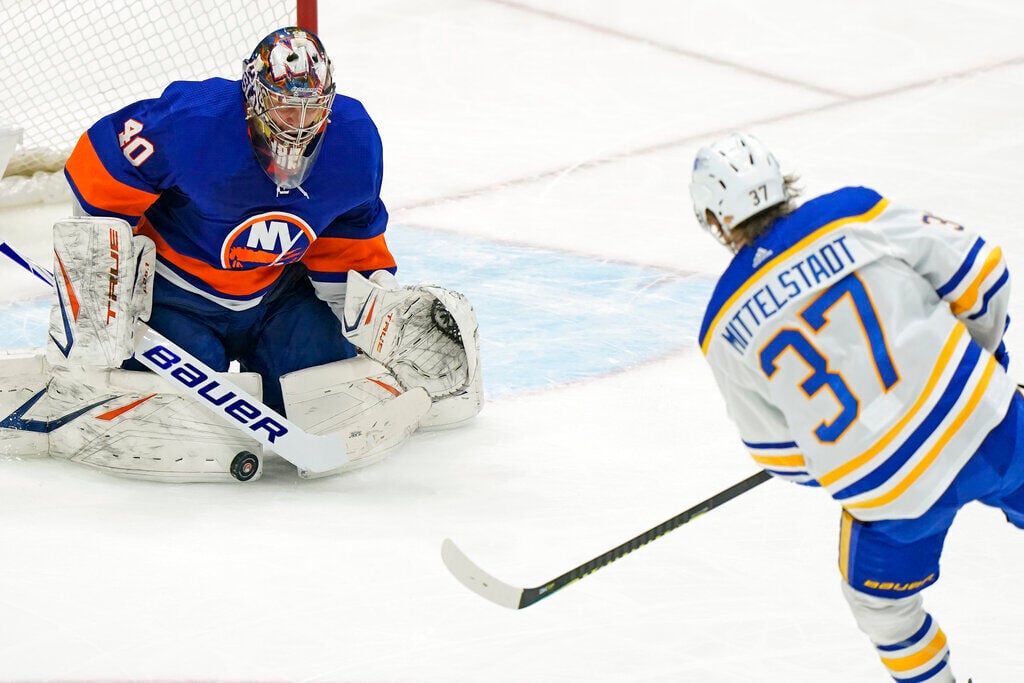 UNIONDALE – Ralph Krueger can shuffle his forwards any way he wants, but the Buffalo Sabres simply don't score enough. 
On the road against a strong opponent, the Sabres put a strong effort on the ice Monday, but it didn't matter. They lost to the New York Islanders 3-2 on Jean-Gabriel Pageau's power-play goal with 4:52 left.
The Sabres dominated the shots on goal count at 36-23 – and the Islanders only had five in the game's first 34 minutes. The shots attempted were 59-48, also in Buffalo's favor. Quite a departure from last week's two losses to the Islanders at home. Same result.
"It's extremely painful. We need 'Ws' right now, so good games don't count," Krueger said. "This is going to be a tough one to swallow. ... It was not enough offense. When you look at that game, even if they score three, we could have had five or more.
"This is probably the most painful loss of the season for the way we were able to actually neutralize them, create opportunities, but we come out on the short end of the stick again and we have to be responsible for that."
Jean-Gabriel Pageau's power-play goal with 4:52 left snapped a tie and the New York Islanders frustrated the Buffalo Sabres for the third time in a week with a 3-2 win Monday.
The Sabres got lots of offense throughout the lineup in a game most known in the hours leading to faceoff for Krueger's decision to make Jeff Skinner a healthy scratch. Skinner, of course, has no goals this season and none in nearly a year. He has just one point in 14 games.
"We don't measure players only on statistics. It's part of the mix. It just is a bit of a gut feel," Krueger said. "The best lineup for tonight was with Casey Mittelstadt in that spot. It's less against Jeff than it is for what we think this group needs today and what we need in a game for our team today."
Skinner's scratch might have lasted only one game anyway, but that's almost certain to be the case now because left winger Tobias Rieder left for good late in the first period with what looked to be a shoulder injury after a hit from Isles defenseman Ryan Pulock. Skinner could easily slide into that spot Tuesday night in New Jersey.
"There will be underlying messages, of course, anytime somebody doesn't play," Krueger admitted. "But in the end, the decisions are for the team, for the group and for the chances to win. I just think it's good for Jeff to take a look once from the outside. We've got coaches active with him working together to have him come back and be an even stronger player for us."
Here are some other observations on Monday's loss:
The Jeff Skinner crisis got more juicy here Sunday as the Buffalo Sabres took line rushes early in their practice in Prudential Center.
1. What's up with the captain? Jack Eichel was officially credited with only one giveaway, but he lost the puck three times in the first period alone and was sloppy for most of the night. He didn't do much offensively and was 4-for-12 on faceoffs.
It was the seventh straight game without a goal for the captain, who is stuck at two on the year. It is believed he suffered a shoulder injury shortly before training camp.
"No. He's not," Krueger said emphatically. "For me, it's a confidence factor and he needs to stick with it and persevere here. And look at Taylor Hall, too. Six shots on net (with no goals). They need to stick with it, believe and work through this and get our 5-on-5 game going on their backs."
2. Going to the net: The Sabres took the last 10 shots of the first period, holding the Islanders without one for the final 15 1/2 minutes to finish with a 12-3 advantage. They crashed the net all night, right to the final horn, but only scored on a Lazar deflection in the first period and an acrobatic, mid-air rebound by Reinhart in the third.
"Guys competed tonight and I think it showed," Reinhart said. "The difference is they came out on top of it. You're seeing a team that's a little more comfortable in those situations and that's what we need to strive to be. The ice gets a little tough at the end, and that team figures out a way to get one."
The veteran defenseman's season is over after he tore the ACL, MCL and meniscus in his right knee.
3. Casey on the wing: Mittelstadt jumped right into the lineup and assisted on Lazar's goal with good work in the corner. He played 12:38 and was probably worthy of more ice time than that. He had a breakaway in the third period down the left wing off a Noah Dobson turnover, but Semyon Varlamov made the save.
"I think last year I saw how quickly it can be taken away," Mittelstadt said, referring to spending the second half of the season in Rochester. "Maybe I took it for granted a little bit. I think when my chances come, you just have to go play, make sure when the game is over, I know that I left it out there."
4. Special teams battle: The Islanders came into the game as the only NHL team perfect on the penalty kill at home. They survived their first two penalties to get to 9 for 9 before Reinhart's goal snapped the streak. The Sabres missed Rieder on the late PK, however, and Ullmark couldn't corral the rebound on Oliver Wahlstrom's shot that Pageau banged home on the backhand.
5. Leading the 'D': With the No. 1 pair of Jake McCabe and Rasmus Ristolainen both sidelined, Rasmus Dahlin played a team-high 23:40. Matt Irwin (21:03) and Brandon Montour (20:40) also played heavy minutes. It was a tougher night for Colin Miller, who screened Ullmark on Matt Martin's goal early in the third, and Henri Jokiharju, who returned from a one-game scratch and was on the ice for Anders Lee's goal early in the second.