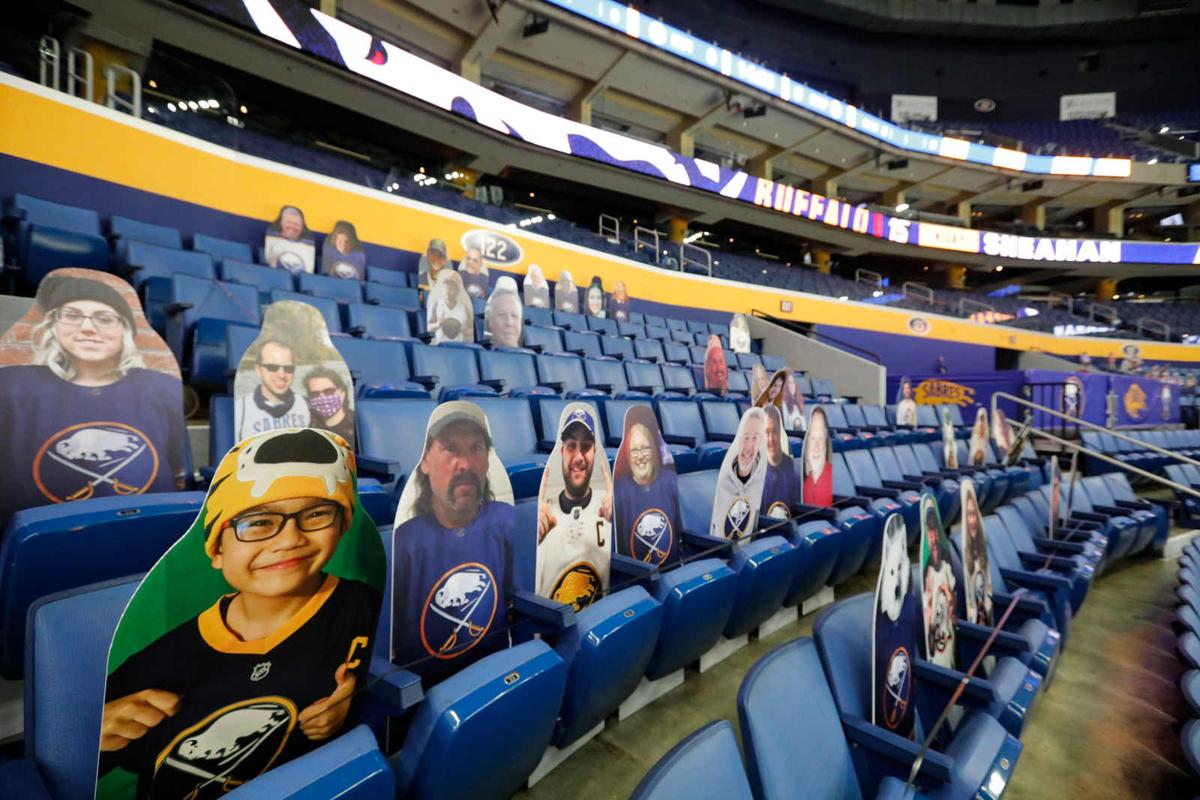 John Durbin is the senior vice president of marketing and business strategy for Pegula Sports and Entertainment, which makes it his job to sell the Buffalo Sabres.
A franchise that hasn't made the playoffs in 10 seasons, the longest postseason drought in the National Hockey League.
A franchise on its seventh head coach and fourth general manager in a decade. (And make it eight head coaches, if interim coach Don Granato isn't retained.)
A franchise that drew just 302 fans to its first game open to the general public this season, a 3-2 shootout victory against the New York Rangers on April 2 at KeyBank Center, one of just eight triumphs in 28 games on home ice. The Sabres had put nearly 1,400 tickets on sale, less than 10% of capacity.
"I was thinking, I hope there's more interest in the future games," Durbin said during an interview with The Buffalo News on Tuesday, before the Sabres' final home game of the season. "For that first game with the fans who came, I understand that there were some challenges in coming to a game. The testing, the fact that people were affected by Covid in different ways over the last year. But it was important to provide an opportunity for people to come back. That's really what was important to us.
Anders Bjork scored twice in regulation to tie the score and added the game-winner in the second round of a shootout as the Buffalo Sabres defeated the New York Islanders 4-3.
"However many showed up is a number that we couldn't get in there before, and it was just nice to have anybody back in the building, to get that excitement and energy back."
The Sabres initially provided free tickets to healthcare workers and "hometown heroes" for a game before opening their doors to the general public, in accordance with local and state authorities.
The first game that was scheduled to have paying fans in attendance, against Boston, was postponed when the Bruins had five players quarantine for Covid-19. But once paying customers entered the building for that victory against the Rangers – by which point Ralph Krueger had been fired as head coach – the crowds grew incrementally as more fans became vaccinated, even with the team on track to finish with the worst record in the league.
There were 434 fans at the Sabres' next game open to the general public, against Washington on April 9. Then 685 at the next, against Pittsburgh on April 17. Then a little more than a 1,000 against Boston on April 23, Durbin said, before the four-game endeavor came to an end.
Those who attended had to provide proof of being fully vaccinated or a negative Covid-19 test, an additional expense for many on top of the ticket price, parking and so on.
The Sabres have two games remaining beyond Tuesday, both road matchups in Pittsburgh against the Penguins. 
While there might have been some benefit to dodging an angry home crowd during the franchise's record 18-game winless streak, the empty seats throughout the season contributed to an emotional vacuum for a struggling team.
"You miss the energy and the adrenaline in the building," Granato said Tuesday. "We have piped-in noise, which helps, but you don't have the emotional swings that you have and the adrenaline surges that you have to the level that you would when you have a building full of Sabre fans and people going crazy. That was a big miss for everybody this year, but we all had the same playing field, so you just adapted immediately. You dealt with it and you felt the presence of the fanbase in other ways.
"Obviously, you're in the NHL and there's such a strong history, certainly with our team and our organization, that you do feel that day-to-day when you walk in the locker room and you prepare for a game, you put that jersey on and you look at the logo. There's a lot of meaning still to that. There's a powerful message there. But we did miss the fans and the energy and emotion in the building."
Buffalo center Riley Sheahan, who signed a one-year contract with the team in December, was raised in St. Catharines, Ontario, and attended Sabres games as a child.
"It was definitely special to play here, for sure," Sheahan said Tuesday. "Just coming to the rink every day and being in a familiar area was meaningful to me. Unfortunately, obviously the season wasn't normal (in terms of playing in front of a home crowd) and it would have been nice to experience that. But putting on a Sabres jersey for me at the first game of the year was really important and extra special, just because of the relationship I had with the city and being so close to home."
Playing in his first game at any level since March 7, 2020, Houser stopped all 15 shots he faced in the third period, standing tall to help the Sabres rally from a two-goal deficit to defeat the New York Islanders 4-2.
Fan interest remains relatively strong.
The Sabres have averaged about a 4.7 television rating this season, which has declined in each of the last three years, yet is still better than many prime-time broadcast network programs.
But the majority of revenue for NHL teams, unlike NFL franchises that benefit from lucrative TV deals, comes from ticket sales and getting fans in the stands. And attendance at Sabres games has been on the decline. The franchise averaged 17,167 fans in 35 dates last season, the lowest attendance figure since 2005-06.
Durbin declined to comment on whether ticket prices will remain the same, increase or decrease for the 2021-22 season.
Although Ullmark felt well enough to take shots from teammates and received medical clearance to rejoin the team, there's no guarantee he'll be able to play this week.
Is there a plan to win back fans beyond trying to win on the ice?
"The short answer is we're working through that right now," Durbin said. "There's a lot to be seen over the next few months how some of the different pieces play out. But I think what's important is remembering that this team is part of Buffalo and part of that Buffalo community.
In August, the franchise re-introduced popular uniforms featuring the familiar royal blue, gold, and white color scheme, reminiscent of its original uniforms.
The Sabres control and produce their own broadcast, "so we could still put on a broadcast on our terms and to the quality that we've come to expect," Durbin said.
The marketing team launched an interactive contest, "Predict the Sabres."
They launched a mobile app.
And, like many teams, they sold and installed cardboard cutouts in the stands.
"We had so many people submit images of pets, kids, friends, family," Durbin said. "It was just really cool to see all the fans in the stands in some way or another when they couldn't come out for a game.
"I think somebody submitted a goat, which I assume was their pet. I appreciated that they really went off the grid in choosing something outside the dog-and-cat norm."
Video chats with Sabres alumni fell flat.
"One of the things that we've learned over the last 10 or so months is there's a lot of fans who just aren't interested in video chat anymore," Durbin said. "They're on video chat all week for work or school. … There just wasn't that appetite.
"It's an ongoing process in figuring all this out."
Durbin said his staff's goals were to provide a safe, seamless and positive experience when fans were admitted into games, from recommending a Covid-19-testing company to trying to make the most of the tiny crowds.
"One of the nice things with the lower numbers," Durbin said, "is we were able to leave on all the seats a little gift bag with a handwritten note from our box office staff who works with a lot of our season ticketholders, to give that nice personal touch."
He acknowledged that it will take time and word-of-mouth before many fans begin to feel comfortable in a large, indoor crowd.
"One of the challenges is somebody has to go first," Durbin said. "It's not always that you get a large amount of people who are willing to say, 'Yes, I'll try this.' It's helpful for people to come out, try it, and then they can spread the word, 'Yeah, it was easy to get in. I felt safe. I really enjoyed being at the game.' That helps."
It's far easier to become swept up in excitement when the team is playing well.
But that's outside of his control. In the meantime, a major challenge remains.
"How can we connect with fans on something deeper than wins and losses?" Durbin said. "And how can we really have that one-to-one connection that we were able to start, in some ways, this year with those limited number of fans?"