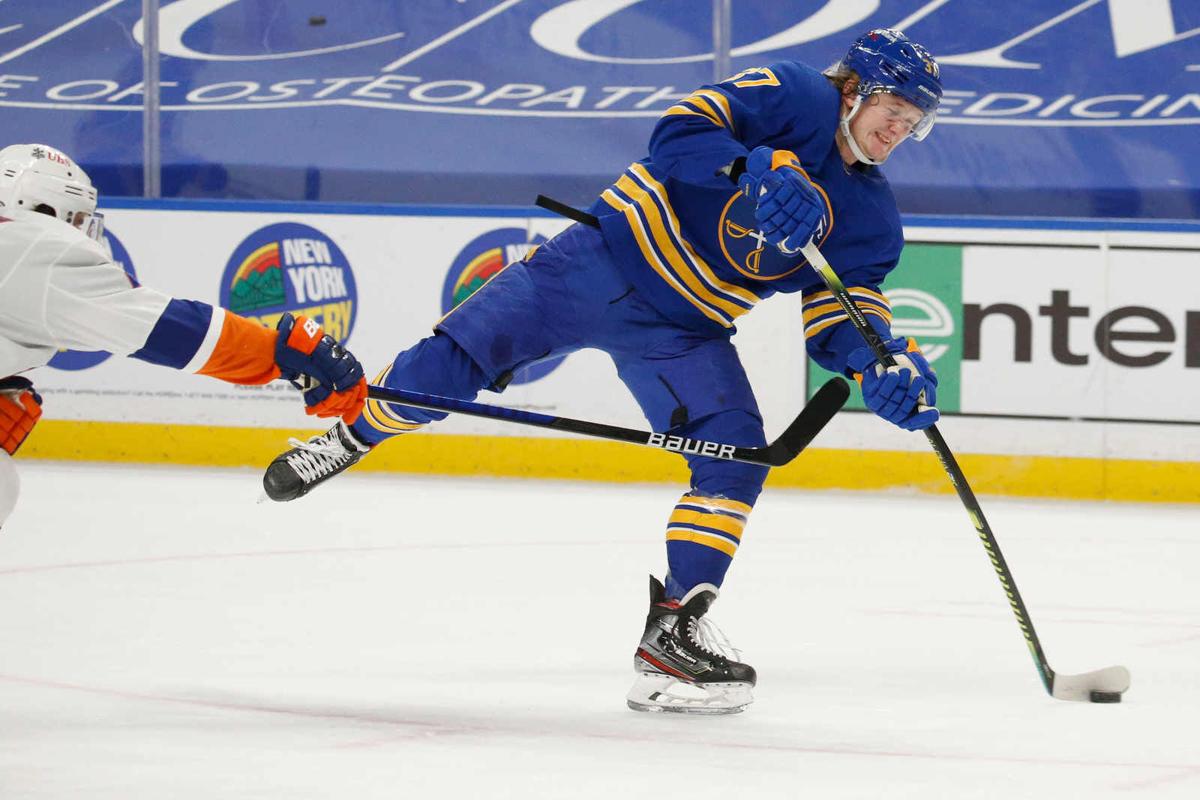 The Buffalo Sabres had twice the fun in reaching agreement with two of their three key remaining restricted free agents Thursday,  announcing they have signed forward Casey Mittelstadt and defenseman Henri Jokiharju to three-year, $7.5 million deals with cap hits of $2.5 million per season.
Both 22 years old, Mittelstadt and Jokiharju are signed through the 2023-24 season and will remain RFAs after that for two more years. They do not become unrestricted free agents until after the 2025-26 season.
Mittelstadt had 10 goals and 12 assists in 41 games last season but blossomed under interim coach Don Granato after Ralph Krueger was fired. Initially a taxi squad player last year under Krueger, Mittelstadt quickly became a player Granato trusted. He finished with career highs in ice time (15:53 per game), faceoff percentage (49.0) and faceoff victories (216).
"Whatever happens with them, it's out of my control," said Cozens, referring to Jack Eichel and Sam Reinhart, both of whom expressed their frustration Monday.
"I challenged Casey before last season to prove it, and to earn a spot, and to show what he's capable of doing," General Manager Kevyn Adams said in a statement. "And all he did was show up from Day One of training camp with a great attitude and put the work in. And then when he did get the opportunity, he kicked the door open."
"It's obviously a really good morning," Mittelstadt said Thursday from Minnesota during an appearance on "The Instigators" on MSG and WGR Radio. "I want to be in Buffalo and we want to figure this out. It's exciting for sure and I'm ready to get out there and get it going."
Mittelstadt said he signed his deal Wednesday night while at dinner with some of his former teammates from the University of Minnesota.
"I have high expectations for myself. I expect to go out and play well," he said. "That's the biggest thing. It was a good summer. I worked hard. Just go out and try to play my game and continue to develop."
With Jack Eichel and then Dylan Cozens sidelined by injuries, Granato opted to shift Mittelstadt back to center from the wing and the move paid off.
Mittelstadt had his best month as a Sabre in April, with eight goals and 13 points in 16 games. In the final 22 games overall, he had 17 points (nine goals, eight assists).
Mittelstadt was 12th in the NHL in goals for April and tied for second on the Sabres in goals and points during the month with Sam Reinhart.
"A lot of guys, including myself, owe Donnie quite a bit," Mittelstadt said of Granato following the season-ending loss in Pittsburgh. "He challenged me when he took over and pushed me to become a better player. I think it's that simple. I think a lot of the strides I've made are partly because of him pushing me or a lot to do with pushing me."
Okposo, 33, said he is fully healthy heading into his sixth season with the Sabres.
The contract represents a sizable commitment by the Sabres to the 22-year old. Mittelstadt got three years and nearly tripled his salary from the $874,125 figure he played at last season following his entry-level deal. Assuming Eichel is traded, Mittelstadt and second-year man Cozens are expected to be the team's top two centers unless a veteran center in acquired in return.
"Obviously it's a tough situation, but at the same time, we're all friends with Jack and it won't be weird for anyone to see him or anything like that," Mittelstadt said Thursday. "I'm excited to see him and say hi. We'll just have to channel it and block it out at times.
"I'm sure there will be a lot of questions about it at camp but we've got a really good young group and we're all really close. There's a few new guys we'll have to slide in there and I don't think that will be a problem. We'll learn to block it out and just go play hockey."
With Eichel expected to be traded before the start of the season, and Sam Reinhart a member of the Florida Panthers, the Sabres are thin at forward, particularly at center.
Drafted at No. 8 overall in 2017, Mittelstadt immediately came to the NHL after just one season at the University of Minnesota. After more than 100 games in Buffalo over parts of three seasons, the Sabres sent Mittelstadt to Rochester early in the 2019-20 season and he put up 25 points in 36 games for the Amerks while out of the NHL microscope.
"I think I just had some time to grow up," Mittelstadt said late last season. "I think that's more than anything. I don't know if it's so much on the ice as off the ice. Getting myself ready to play, taking care of my body away from the rink. I think that all leads to it. I think you get in what you put out and obviously trying to get better at that. It's just part of growing up."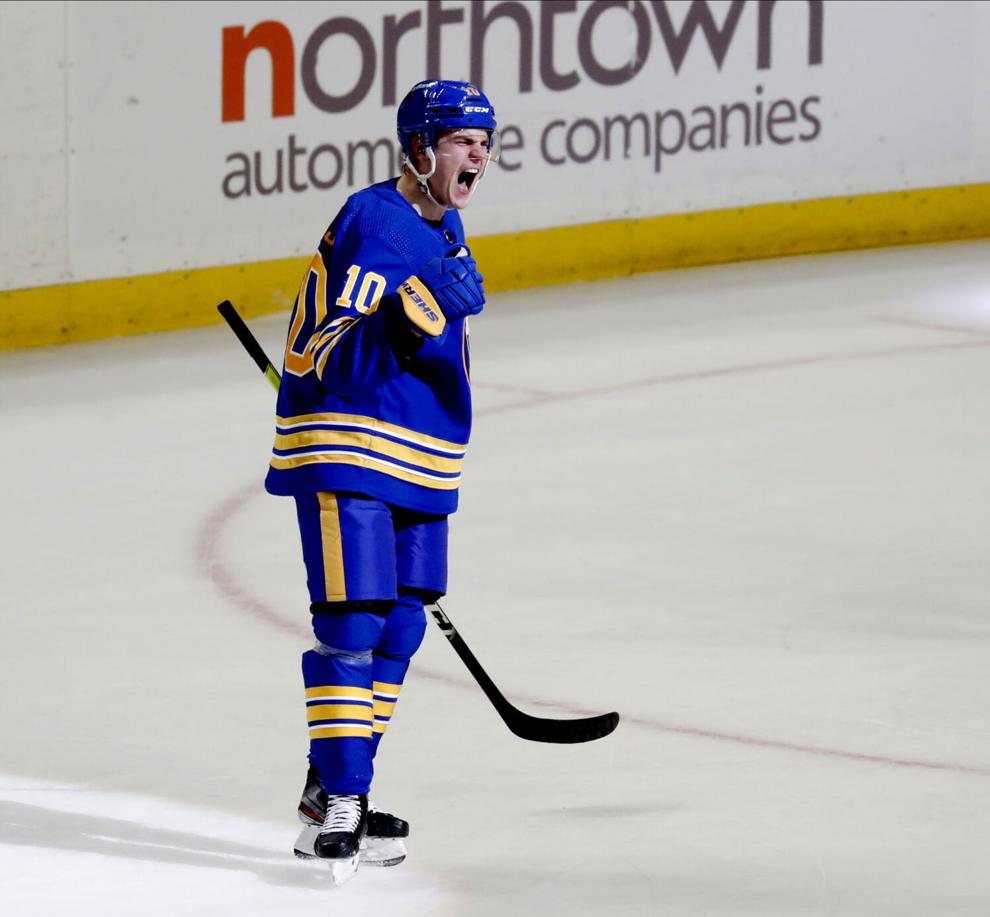 Jokiharju, who made $925,000 last year on the closing season of his entry-level deal, had three goals and five assists but took on a much more prominent role as the season went along, also thriving more under Granato while being paired with Rasmus Dahlin. 
Jokiharju averaged 18:23 per game in his second season with Buffalo after being acquired from Chicago in a 2019 trade for Alex Nylander, and the figure slid up to 19:01 during Granato's 27 games. Jokiharju also ranked second on the Sabres in even-strength ice time per game (18:09).
With the market for defensemen exploding this offseason, one of the club's key questions going into training camp is whether to go with a long-term, big-money deal for Dahlin right now to get the former No. 1 overall pick locked in for as many as the next eight years, or to try to negotiate a shorter bridge deal in the three-year range.