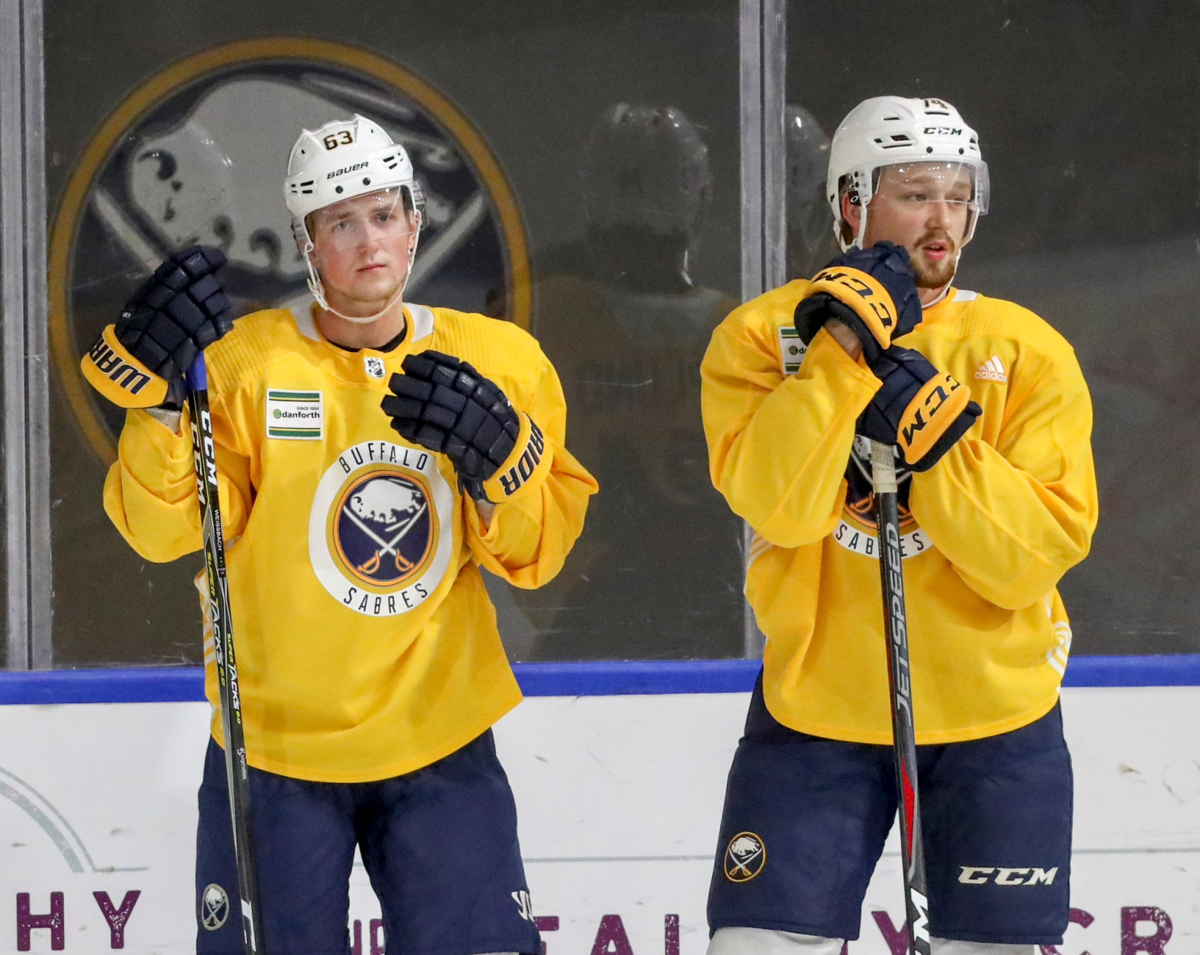 Don't be surprised if you hear ABBA echoing from the Buffalo Sabres' locker room at development camp.
Ten of the 42 prospects at HarborCenter this week are from Sweden, including this year's first-overall pick Rasmus Dahlin. That's without counting Mattias Samuelsson, who grew up in the U.S. while his Swedish-born father Kjell played in the NHL.
"You can almost talk Swedish in the locker room to everyone," said defenseman William Worge-Kreu, a seventh-round pick in this year's draft.
Many of the Swedes grew up competing with each other. Five of the players, Dahlin, left winger Victor Olofsson, defenseman Lawrence Pilut, center Rasmus Asplund and center Marcus Davidsson, played with and against each other at the country's highest level, the Swedish Hockey League, last season.
Pilut said that's helped ease the adjustment to the North American style of play. The 22-year-old, who the Sabres signed in mid-May, was named the SHL's top defender last season.
"It's always easier when you have a couple guys you know from the country," Pilut said. "You've got to get used to everything. It's all new for me to come over here and play on the smaller ice surface."
This year's NHL Draft added to the influx of Swedish flavor. Dahlin was obviously the focal point, as he joined Mats Sundin as the only Swedes to be selected first overall. Sabres General Manager Jason Botterill and his staff added two more Swedish defensemen in the later rounds in Linus Cronholm and William Worge-Kreu.
Botterill cited a fit between the Swedish style and Phil Housley's system as well as longer team control as reasons for the Swedish surge. He's personally accumulated six of the 10 Swedes in his two years running the show.
"You can look around the National Hockey League, so many Swedish defensemen have stepped in and played extremely well," Botterill told the media following the completion of the draft. "Good mobility, good hockey sense, they know how to move the puck, and those are the attributes we're looking for in our organization."
"I think he's actually stepping up at this camp right now and taking guys under his wing with all the Swedish players that we drafted," said Taylor, who is running this week's camp. "He's being a mentor to those kids. That's a first-step right there; he's not worrying about himself. He's looking after these young guys coming in for the first time. You see him up there watching practice, some guys wouldn't even watch practice. He's sitting with the young guys at the tables when we're eating and stuff like that. It's good to see. That's maturity level and I can tell he really wants it."
There's a benefit to stepping out of the Swedish clique too, as Cronholm pointed out after day two of camp.
"The most important thing is to talk to other guys, too," Cronholm said. "You try to learn some English, meet some new guys."
The Sabres system is a microcosm of a league-wide Swedish wave. A record-tying 28 Swedish-born players were taken in this year's draft, with only Canada and the U.S. getting more players selected. Two Swedish players, Tobias Bjornfot and Albin Grewe, are on TSN draft analyst Craig Button's early list of 19 players to keep an eye on for next year's draft.
Worge-Kreu, who rescheduled a Miami vacation to be at development camp, credited the coaching for preparing homegrown players for the next level.
"They are unbelievable," Worge-Kreu said. "They put so much work into these young guys. ... We have so much training going on, special training for the youths. It's really good back in Sweden."