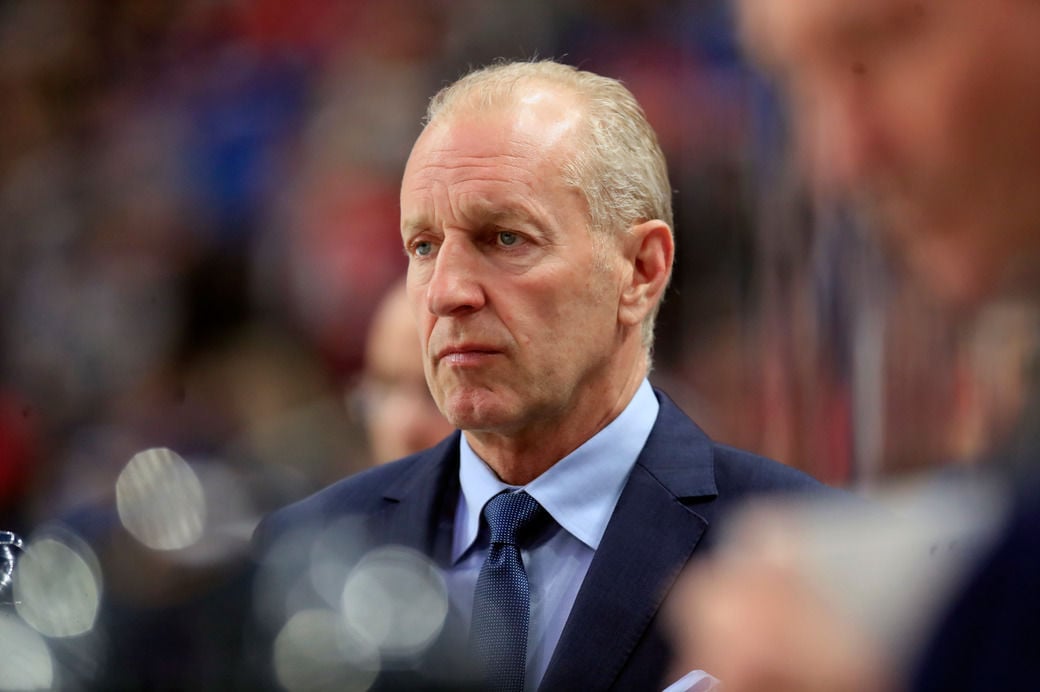 Ralph Krueger and his assistant coaches rejected a second voluntary pay reduction in July, sources confirmed to The Buffalo News.
According to TSN, the Sabres are one of at least 17 NHL clubs to reduce pay to hockey operations department staff members across the past six months. Former General Manager Jason Botterill was among the executives across Pegula Sports and Entertainment's businesses, hockey staff members, broadcasters and contracted employees to take a pay cut in April.
PSE also announced 104 furloughs and three long-serving Sabres vice presidents were among 21 employees laid off: Chris Bandura, Sabres' VP of media relations; John Sinclair, Sabres' VP of tickets and service; and Jennifer van Rysdam, PSE VP of live events.
The Sabres' staff directory now has 16 people listed in the hockey operations department, including General Manager Kevyn Adams and two development coaches. When Botterill was the first of 22 hockey operations staff members fired in June, owner Terry Pegula explained during a video call that he and Botterill had differing opinions on how to run the team in the future.
Since Adams' promotion, the Sabres have made two noteworthy promotions, elevating former pro scout Jeremiah Crowe to director of scouting and Jason Nightingale, director of analytics, added the title of assistant director of scouting. The team then hired Seth Appert to coach the Rochester Americans and former Sabre Matt Ellis was added as director of player development.
The decision by Krueger and his coaching staff came shortly after the NHL and NHL Players' Association ratified a new collective bargaining agreement that created a tentative calendar for the 2020-21 season. The NHL draft is currently scheduled for Oct. 6-7 with free agency to open Oct. 10. In response to the economic impact of the coronavirus pandemic, the CBA also established a flat salary cap over the next three seasons.
TSN reported the Sabres are considering an internal salary cap in the low $70 million range – the league's threshold is set at $81.5 million – though it noted other teams are considering a similar budget. Teams across the NHL are reportedly preparing for the economic fallout if fans are unable to attend games next season.
On the day that Botterill was fired, Pegula said the organization would operate in an "effective, efficient and economic" way, but denied there was any financial situation impacting the the Sabres' or Bills' finances.
"First off, there is no 'financial situation,' " he said. "I don't know where that rumor started. If you look at every oil and gas company, which is our core business outside of sports, they're all, you might use the word 'hurting.' But we don't have any debt on our oil and gas business.
"We need to do better moving forward in the sports business like every team is going to have to do, because if we don't have any fans in the seats next year, what are your economics in the world of sports? We need that component, especially in the National Hockey League, so even though times are not good in any of these businesses, it's still, you've got to find solutions and you've got to look up and try to find those solutions."
Training camps are tentatively scheduled to begin Nov. 17 with regular-season play set for Dec. 1. NHL Deputy Commissioner Bill Daly recently acknowledged it's unclear if the league will be able to follow that timeline given the unpredictability of the coronavirus pandemic. 
The Sabres went 30-31-8 during Krueger's first season as coach, missing the NHL's 24-team return-to-play format by only .007 percentage points.
Be the first to know
Get local news delivered to your inbox!