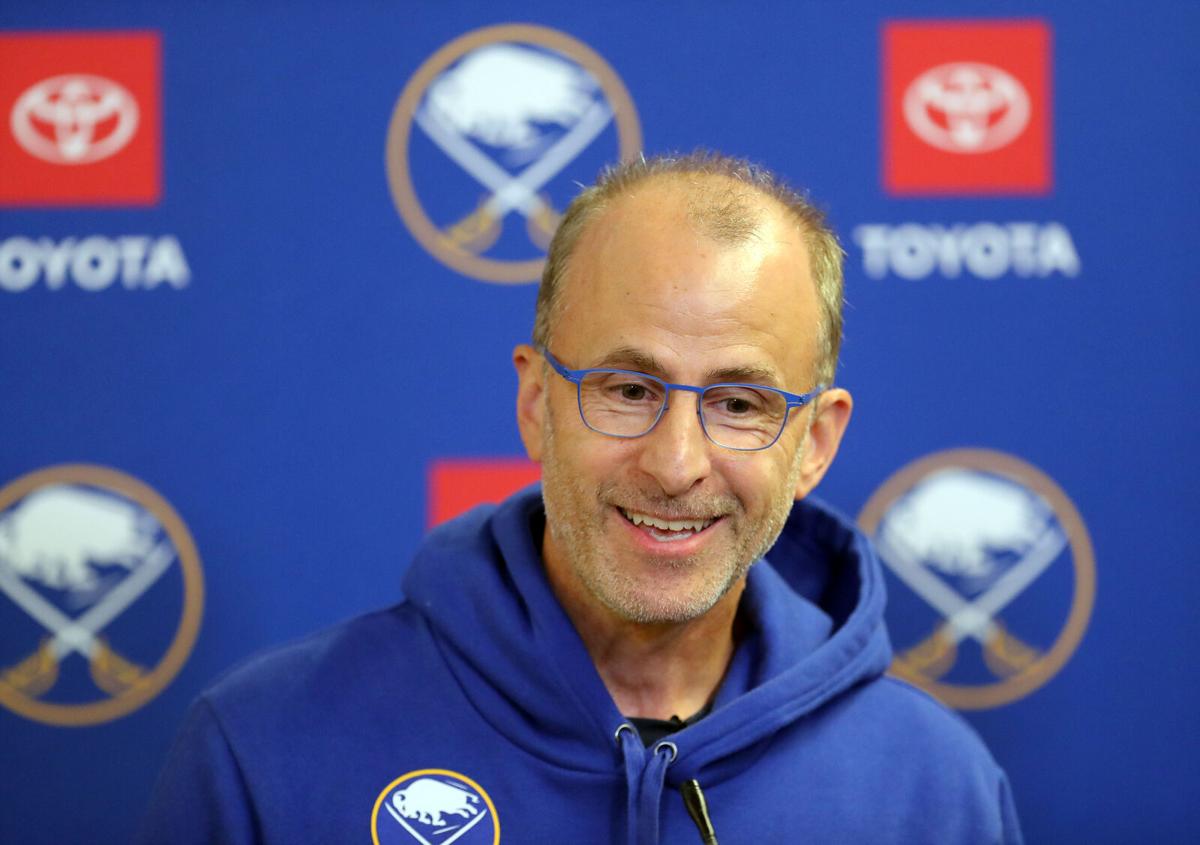 Don Granato will have a familiar person to lean on for advice in difficult times this season.
Granato explained to reporters following the morning skate Tuesday that assistant coach Jason Christie was added to the Buffalo Sabres' staff because of his extensive experience in the ECHL. Christie, 52, has been a head coach in the ECHL for 19 seasons, including the previous four with the Jacksonville Icemen.
"Jason Christie was a big part of things for me because of all his years of head-coaching experience," Granato explained. "I mean, the crisis management that you have at the ECHL level and being a head coach is amazing. You're dealing with not only agents and players, the entire staff, training, medical, all that stuff, immigration, you do everything. So, for Jason, he's like having another head coach right there every time that can help manage things. So he's got more of the macro."
The friendship between Granato and Christie dates to 1991-92 when they were teammates with the ECHL's Columbus Chill. Granato later hired Christie as a player assistant coach with the Chill in 1998-99. They were together again the following season in Peoria, as Granato coached Christie and the Rivermen to an ECHL Kelly Cup.
From 2008-10, Christie was an assistant coach under Granato with the American Hockey League's Chicago Wolves. Granato had a stint in pro scouting following his time in Chicago, while Christie coached in the Central Hockey League and ECHL until his hiring by the Sabres over the summer.
Christie will be on the bench for some games this season and will be an eye in the sky for others. During the second practice session Tuesday, Christie helped Casey Mittelstadt and other centers with faceoff technique. He won't be limited to one position group, though.
That won't be the case for the rest of the staff. Matt Ellis, who joined Granato's staff when Ralph Krueger was fired in March, is back coaching the forwards and has familiarity with the Sabres' prospects through his previous role as director of player development. Marty Wilford, who was on the Anaheim Ducks' coaching staff the past three seasons, is coaching the defense, and Mike Bales is entering his third season coaching the Sabres' goalies.
Christie, though, is another experienced head coach who can help Granato deal with the various situations that can arise throughout the season.
"He's ahead of his time as far as reading the game and reading players," Christie said of Granato during an interview with The Buffalo News in April. "He lives it. He absolutely takes pride in everything he does. We all say we do, but he's beyond that. He takes it to the next level."
Mittelstadt is slated to center the Sabres' top line Thursday night in Detroit, a preview of what could be his full-time assignment when the season begins Oct. 14. During the second practice Thursday, Mittelstadt worked on faceoffs with Christie, Cody Eakin and former Sabres center Michael Peca, who has been helping with on-ice sessions during training camp. Peca is entering his first season as an assistant coach with the Rochester Americans.
The Sabres' roster for Thursday is expected to include goalies Ukko-Pekka Luukkonen, Craig Anderson and Michael Houser. It's likely Luukkonen or Anderson will start, but they will share the net against Detroit. Granato won't have a goalie play an entire preseason game until later in the schedule.