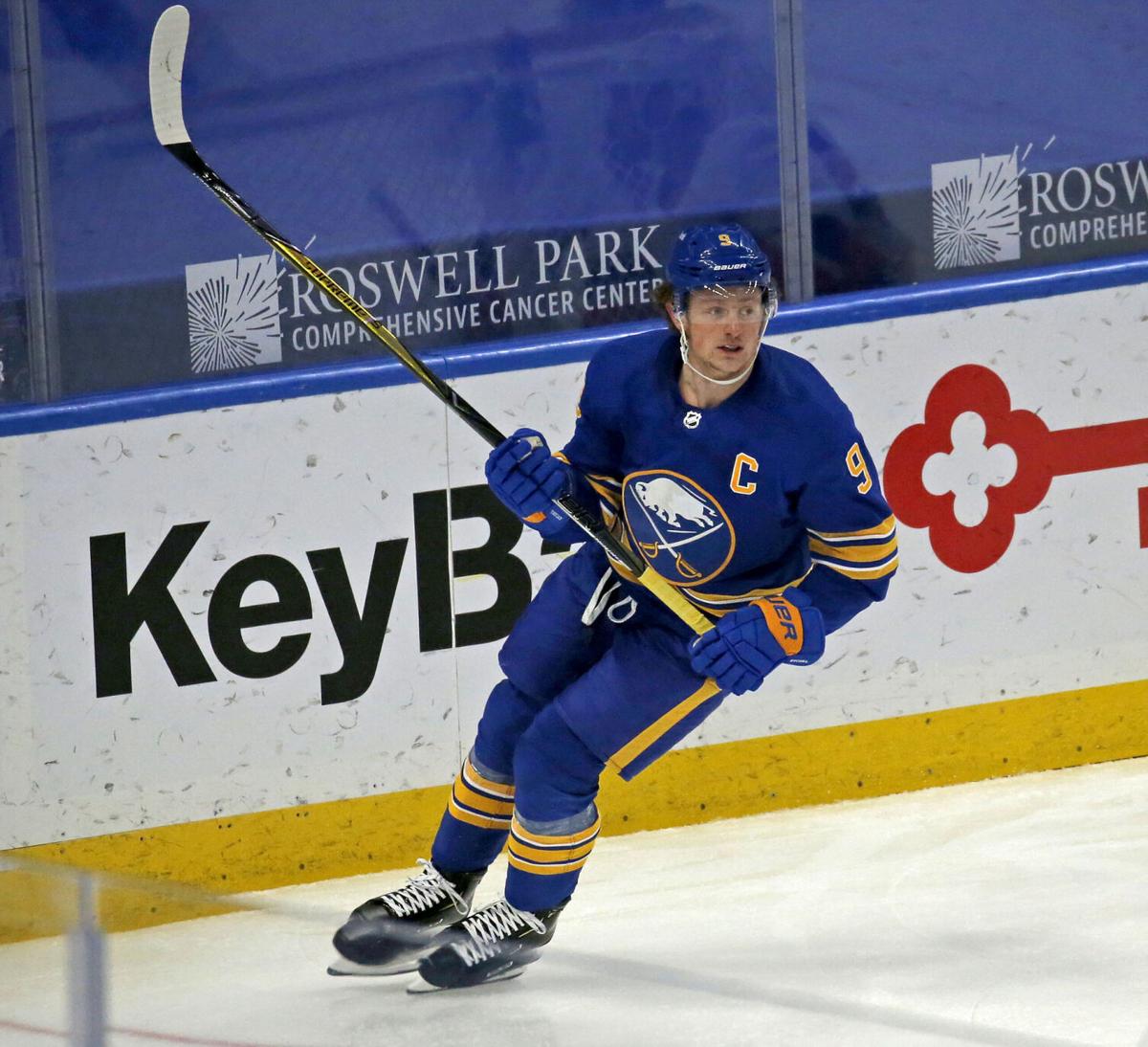 When free-agent frenzy concluded Wednesday, and the hockey world wondered why Jack Eichel wasn't traded by the Buffalo Sabres, general manager Manager Kevyn Adams wanted everyone to know who has leverage in negotiations.
"I think what's critically important to make sure is clear is that we're in control of this process, we have a player under contract, we don't feel any pressure," Adams said during a press conference in KeyBank Center on Thursday. "If there's a deal out there that we feel is the right thing for the Buffalo Sabres, that we feel is going to help us improve, whether that's improve right away or improve down the road – those are all the things we weigh – we'd be open to it."
"We're in control of this process," Kevyn Adams told reporters. "We have a player under control. We don't feel any pressure."
The Sabres' approach to weighing trade offers for the face of their franchise is no longer working for the 24-year-old captain and his representatives.
Eichel's agents, Peter Fish and Peter Donatelli, released a statement to the Buffalo News and other outlets late Friday night stating that not only is there a disconnect between the three-time all-star and the club that drafted him second overall in 2015, but that Eichel and his representatives were initially under the impression that Buffalo would approve the surgery Eichel wished to have on the herniated disk in his neck. They also wrote that they anticipated Eichel would be traded before the start of free agency on Wednesday and that the Sabres' refusal to approve the surgery could prevent Eichel from being ready for the start of the season.
"The process is not working," the statement read. "As previously stated, we fully anticipated a trade by the start of the NHL free agency period.  After the agreed upon and prescribed period for conservative rehabilitation lapsed in early June 2021, it was determined by the Sabres medical staff that a surgical procedure was required.  The recommendation by Jack's independent neurosurgeon, other spine specialists consulted, and the surgery Jack feels most comfortable having in order to correct a herniated disk in his neck is to proceed with artificial disk replacement surgery. A further point of concern is that our camp was initially under the impression that the Sabres specialist was in agreement with the artificial disk replacement surgery until that was no longer the case.
Several teams that have seemed to be good fits to acquire Eichel don't look that way anymore.
"What is being left out of the discussion is that Jack would be able to play in the NHL for the start of the season pending medical clearance if he were allowed to have the surgery he desires even as of this date. Repeated requests have been made to the Sabres since early June to no avail. This process is stopping Jack from playing in the NHL and it is not working."
Eichel was limited to only 21 games in 2020-21 because the injury prematurely ended his season March 7 after he totaled only two goals and 18 points. Following a 10th consecutive non-playoff season for the Sabres, Eichel told reporters during a conference call in May that a disconnect between him and the team regarding his preference to have surgery led him to question his future in Buffalo.
The Sabres' doctors initially prescribed a 12-week period of conservative treatment to address the herniated disk in his neck. However, Eichel wanted an artificial disk replacement, a procedure that has not been done on an NHL player.
The Sabres' doctors did not approve of the surgery, which contributed to Eichel's decision to request a trade from Buffalo with five years remaining on a contract that carries a $10 million annual cap hit. Eichel, a three-year captain for the Sabres, has totaled 139 goals and 355 points in 375 games with the Sabres. He's had five 20-goal seasons, including a career-high 36 in 2019-20.
The statement by Eichel's representatives contradicts what the Sabres have said since this disagreement went public in May. After Eichel made his initial expression of frustration to the media, Adams told reporters that team doctors and a second opinion prescribed conservative treatment, as opposed to surgery.
Eichel's disagreement with Sabres' doctors over treatment for a herniated disk led him to question his future in Buffalo and appears to have permanently fractured his relationship with the Sabres.
The situation has reportedly impacted Eichel's trade value, as the dynamic center remains with the Sabres despite a number of teams expressing interest in acquiring him this summer. Following the NHL draft on July 24, Adams told reporters that he would be willing to keep Eichel on the Sabres' roster for the 2021-22 season.
The statement caught some by surprise after the franchise dealt former cornerstone players Rasmus Ristolainen and Sam Reinhart during draft weekend. As expected, Adams wanted to remind the media and suitors that Buffalo doesn't have to trade Eichel this summer.
After all, Eichel is under contract and his no-movement clause does not kick in until next summer. He cannot have any type of medical procedure unless the Sabres give him permission. A trade was not imminent late Wednesday, according to TSN's Darren Dreger and Pierre LeBrun. 
Some of the potential suitors no longer have the cap space to acquire Eichel's contract, particularly the Los Angeles Kings, who signed former Montreal Canadiens center Phillip Danault to a six-year, $33 million contract. Anaheim, Minnesota and the New York Rangers are among the teams reportedly still interested in Eichel.
The Sabres' trades of Ristolainen and Reinhart signaled a rebuild, as Adams plans to build around centers Dylan Cozens and Casey Mittelstadt and defenseman Rasmus Dahlin. Buffalo wasn't a major player on the first day of free agency, as Adams only signed winger Vinnie Histronoza and defenseman Mark Pysyk.
The plan was to only spend money on role players because Adams does not want pricy free agents to take ice time away from Cozens, Mittelstadt and others. 
A waiting game is underway. Adams is reportedly asking for the equivalent of four first-round draft choices in any trade involving Eichel, and teams are waiting for the price to drop.
The Sabres are stating that Eichel won't be traded unless it helps the team in the short- and long-term, while his agents are countering by saying that Buffalo is impacting his trade value by delaying a surgical procedure that would eliminate any questions about his health and allow him to be ready for the start of the season.
The longer he doesn't have surgery, the more likely it is that he will miss the start of the season. This also impacts Eichel's ability to represent the United States in the Winter Olympics. Although the NHL has yet to finalize an agreement with the International Olympic Committee, the league's initial schedule includes a break for players to compete in the tournament. Eichel would be a sure-fire selection for Team USA, which would fulfill a lifelong dream for the native of North Chelmsford, Mass.
While Adams insists he has leverage, the league knows that it is unlikely that the Sabres want their disgruntled captain at training camp. Amid all the back and forth, Adams went out of his way Thursday to tell reporters that the team's stance hasn't changed.
"Just to kind of lay it out there, there's no change on the medical side, we're in the same spot as we were the last time I talked to you," Adams said. "We're continuing to have a lot of conversations with teams. We're open on all our players, as I've said over and over again, and Jack in particular. The phone rings, we have conversations. "