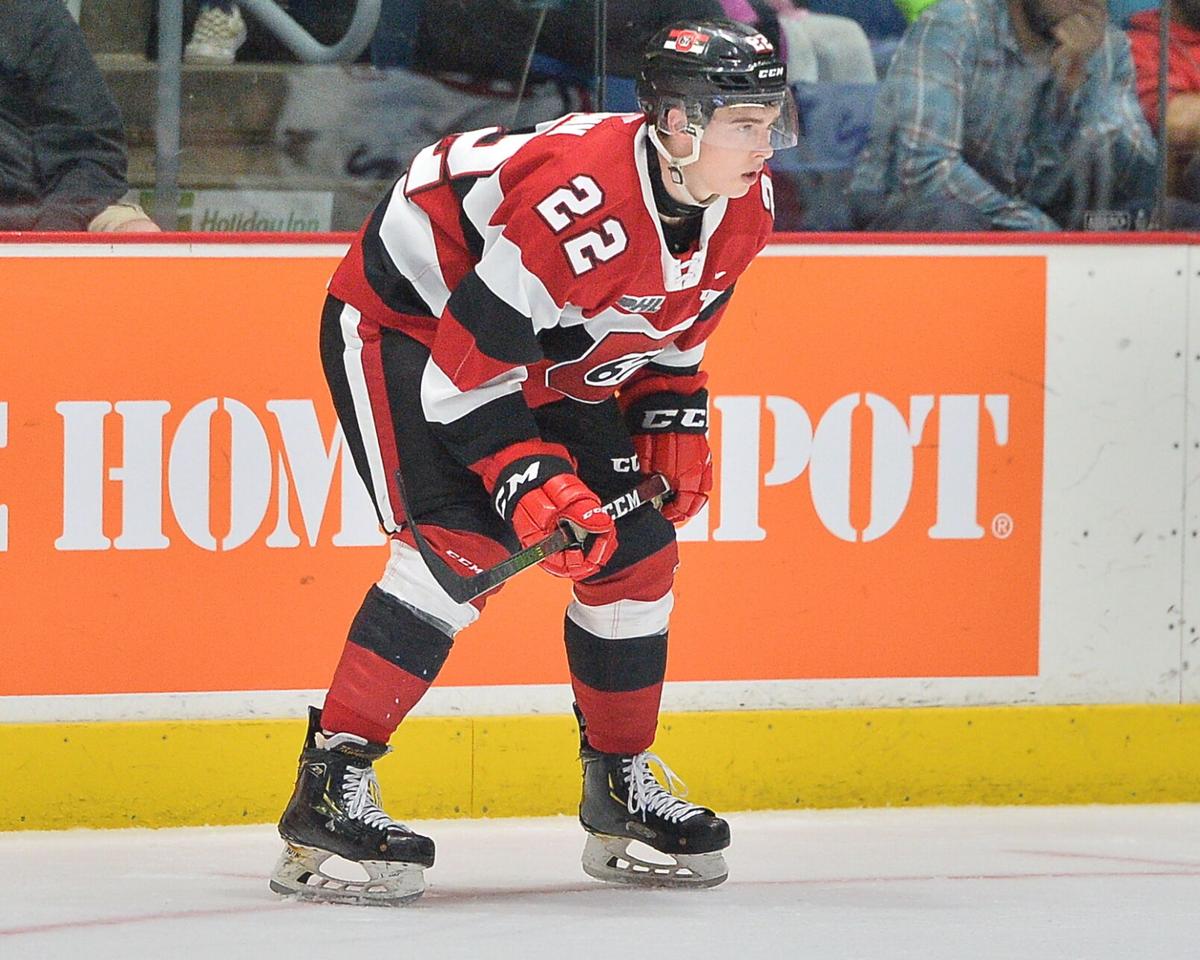 At the start of many workdays since becoming the Buffalo Sabres' director of player development, Matt Ellis receives an update on how the coronavirus pandemic is impacting hockey leagues around the globe.
Some Sabres prospects sat idle for weeks while their respective countries tried to control community spread of the virus. Many leagues have tentative start dates that have become a moving target – including the American Hockey League – and a few of the Sabres' most notable young players face an uncertain development path in 2021, most notably Jack Quinn.
Quinn, whom the Sabres drafted with the No. 8 pick in the first round last month, was one of 47 players invited to Hockey Canada's selection camp from Nov. 16 through Dec. 13 for the IIHF World Junior Championship. The tentative plan is for Quinn and Dylan Cozens to compete in the tournament, which runs Dec. 25 through Jan. 5, before both attend the Sabres' training camp.
Unlike Cozens, though, Quinn is unlikely to make the NHL roster and his best development opportunity could be a return to the Ottawa 67's of the Ontario Hockey League. The latter, though, is at the mercy of Ontario officials who continue to debate whether body checking should be allowed amid the pandemic.
Lisa MacLeod, Ontario's sports minister, has said publicly there won't be body checking. However, Doug Ford, Ontario's premier, tweeted Oct. 31, "To date, no decisions have been made."
"That's a very valid concern," said Ellis. "It's something that even from the time we drafted Jack, even prior to the draft, we knew what the rumors were and what was being speculated in Ontario with the government and the situation there.
"In a perfect-world scenario, we're ecstatic that Jack has been invited to participate in Team Canada's camp beginning in mid-November and hopefully see that through to the end of the tournament, which would be great for Jack and his development in the short-term. ... Things are changing every day, but it's a situation we'll continue to discuss and continue to monitor as that could be a major wrinkle in the development path for Jack if we end up (with no body checking in the OHL)."
Here are some additional prospect updates provided by Ellis:
On Cozens: The Sabres could face a difficult decision on Cozens, a 19-year-old who was drafted with the No. 7 pick in June 2019. If Cozens plays for Canada at world juniors, he could face a mandatory quarantine upon returning to Buffalo for Sabres camp. Additionally, the NHL is moving forward with a tentative season start date of Jan. 1, which would cause camps to open sometime in December. The protocols could change in the coming weeks.
Would the Sabres pull Cozens from the tournament if it could impact his ability to make the NHL roster?
"One, it's not new information to us as to what this is going to look like – the quarantine hurdles, everything that's gone on even from the New York state standpoint and the way things are with countries and other countries coming in," said Ellis. "We're well on top of what a quarantine could mean and we also understand that coming in with a quarantine is not ideal for an athlete trying to bring his best to make a hockey team. Those are valid concerns. … Those are things where you plan for A, B, C, D, E and F scenarios and you go from there. The bottom line is you have to have a plan in place."
On Ukko-Pekka Luukkonen: The Sabres' top goaltending prospect's loan agreement with TPS in Finland's Liiga expires Dec. 18, but both sides could consider an extension if the start date for NHL gets pushed back.
The Sabres' signing of AHL veteran Dustin Tokarski to a two-year contract will fulfill the organization's requirement for the expansion draft next offseason, but it also raised questions about their plan for Rochester. Is it conceivable to have three goalies share the workload in practices and games?
The Sabres will weigh risk versus reward when deciding how to approach Luukkonen's situation. Is it worth the risk of having his AHL season disrupted by the coronavirus when he may be able to play a full season in Finland's top men's league? Though Ellis would not comment about Luukkonen's situation specifically, he spoke about the value of "continuity."
"We've had to look big picture and what's best for all of our prospects, which at the end of the day are all individualized cases," said Ellis. "There's something to be said for continuity and having guys in good situations where at the end of this it's about forward trajectory and making sure the development continues. Also knowing where situations are that provide that for our athletes. Again, with all the challenges we see every day, even in North America with the USHL trying to get itself off the ground and it's roadblock after roadblock, but continuity is important."
On Aaron Huglen: Winger Aaron Huglen, a fourth-round draft pick in 2019, is not ready to play in games with Fargo (USHL) as he continues to recover from a microdiscectomy, the surgical removal of abnormal disc material that places pressure on a nerve root or the spinal cord.
Huglen has resumed skating, though, and is trending in the right direction, according to Ellis.
"There's a lot that's gone on," said Ellis. "If you ask Aaron how things are doing, he's taking steps in the right direction. Would he like the steps to be quicker? Absolutely. … It definitely hasn't been an easy road for Aaron, so that's something we monitor closely with what he's gone through and what it's going to look like for his path to get back to normal and continue to build."
Be the first to know
Get local news delivered to your inbox!