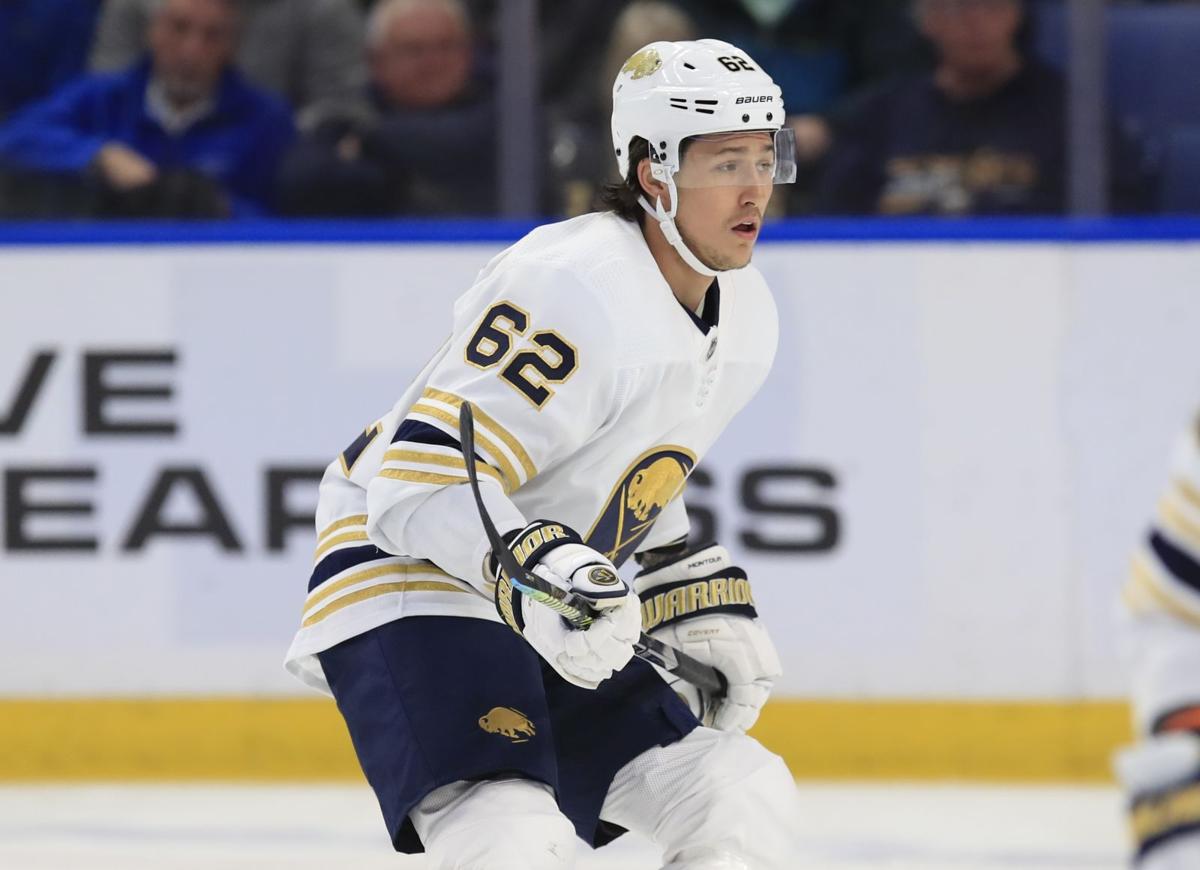 When Kevyn Adams spoke to reporters via conference call last week, the Sabres' general manager had yet to reflect on the fact that his first major roster move on the job involved a former teammate.
"I haven't had a lot of time to think about that because I've been so focused on this process and the work that goes into it, but thinking that through a little bit, it's my first trade as a general manager," Adams said. "It's special."
Acquiring Eric Staal, a six-time all-star with whom Adams won a Stanley Cup in Carolina, addresses the Sabres' two-year-long void at second-line center and should brighten Jack Eichel's outlook on the team's short-term prospects. Staal, 35, has won an Olympic gold medal and his resume includes 436 goals across 1,240 regular-season games.
Additionally, Adams saved money by parting with Marcus Johansson's $4.5 million salary for next season and there's minimal risk since Staal will play on an expiring contract that will count only $3.25 million against the cap. The Sabres won't have to rush Dylan Cozens or Casey Mittelstadt into a prominent role, and Adams now has flexibility to address significant holes.
According to CapFriendly.com, the Sabres have approximately $34.45 million in cap space, though they have the third most unrestricted free agents in the NHL, an overage from 2019-20 of up to $1.275 million. TSN reported the team is considering an "internal" budget next season in the low $70 million range. With Staal on board, what's next for the Sabres?
Sources told The Buffalo News that Adams is exploring a possible upgrade in goal. Linus Ullmark, 26, had a breakthrough 2019-20 season with a .926 save percentage at 5-on-5, but he struggled on the power play and his lower-body injury prevented the Sabres from gauging whether he can sustain the production for an entire season.
Carter Hutton, who was treated for a vision issue during the season, is entering the final year of his contract and could be moved to a contender, though Buffalo might have to retain some of his $2.75 million salary.
By acquiring Staal without parting with draft picks or prospects, the Sabres have the capital to trade for one of the talented goalies thought to be available – Adams reportedly expressed interest in Pittsburgh's Matt Murray – or they could make a run at an unrestricted free agent such as Braden Holtby, Thomas Greiss or Craig Anderson.
Though the Sabres are expected to have Ukko-Pekka Luukkonen in Rochester, the 21-year-old will likely need one or two more years of development before he's considered for a full-time promotion. Jonas Johansson, who appeared in six games for Buffalo last season, is in line to serve as the organization's No. 3 goaltender.
A complement to Ullmark, who is a pending restricted free agent, could be a greater need now for the Sabres because next season's schedule is expected to be condensed, which would prevent coach Ralph Krueger from giving the bulk of starts to one goalie.
Replacing departing forwards
Adams will need to address the holes created by the potential departures of unrestricted free agents Johan Larsson, Zemgus Girgensons, Jimmy Vesey, Michael Frolik and Vladimir Sobotka.
Though Tage Thompson and Rasmus Asplund are among the possible replacements, the Sabres need help on the wing and could use a veteran center with experience on the penalty kill, especially if Larsson parts as a free agent.
While the Sabres might not want to pay the high prices in free agency, and it's fair to wonder if they can attract players on the open market without overpaying, the team can move assets to add a forward, particularly a right wing to play next to Staal and Jeff Skinner.
The Sabres' needs could change depending on their plan for Cozens and Mittelstadt. If Adams and Krueger decide one of the two can center the third line, then the team can allocate resources to adding on the wing.
However, scouts suggested to The News that Cozens would benefit from spending one season on the wing, likely the right side, while he grows accustomed to Krueger's system and the physical grind of the National Hockey League.
Cozens, a right shot, could slot in on the second line, which would put the Sabres in the market for a third-line center and/or left wing because the team is projected to have the following right wing options next season: Thompson, Sam Reinhart, Dominik Kahun and Kyle Okposo.
Adams will also need to sign restricted free agents Ullmark, Kahun, Thompson, Mittelstadt, Victor Olofsson, Curtis Lazar, Reinhart and Brandon Montour.
The Sabres could trade one of their right-shot defensemen to acquire a forward and balance the depth chart. The team currently has only two returning players to man the left side: Rasmus Dahlin and Jake McCabe.
Lawrence Pilut, a pending restricted free agent, signed a two-year contract with the Kontinental Hockey League's Traktor Chelyabinsk, and Jacob Bryson, a prospect drafted by former general manager Jason Botterill, might not be ready for a promotion. Adding a left-shot defenseman should be among Adams' action items this offseason.
As right-shot defensemen, the Sabres have Montour, Rasmus Ristolainen, Henri Jokiharju, Colin Miller and Will Borgen. Ristolainen has been the subject of trade rumors since the trade deadline in 2019, but Krueger told reporters in May that he views the 25-year-old defenseman as a core player on the roster.
Adams is more likely to move on from Montour or Miller. Montour's production dipped last season while he was forced to play on his off side and Miller was a healthy scratch 18 times. Both have the skill set and contract – specifically Miller, who counts $3.875 against the salary cap – to help Adams land an impactful forward.
Adding to the prospect pool
The acquisition of Staal probably doesn't change the Sabres' plan for the No. 8 overall pick in the draft, which is scheduled for Oct. 6-7. Staal will only be around for one year and teams rarely consider short-term needs when evaluating a possible first-round selection.
And with a second-line center now on the roster, it's unlikely the Sabres will need to move the draft pick to address immediate needs on the roster. Buffalo currently owns six picks in this draft, one in each round except the third.
Be the first to know
Get local news delivered to your inbox!