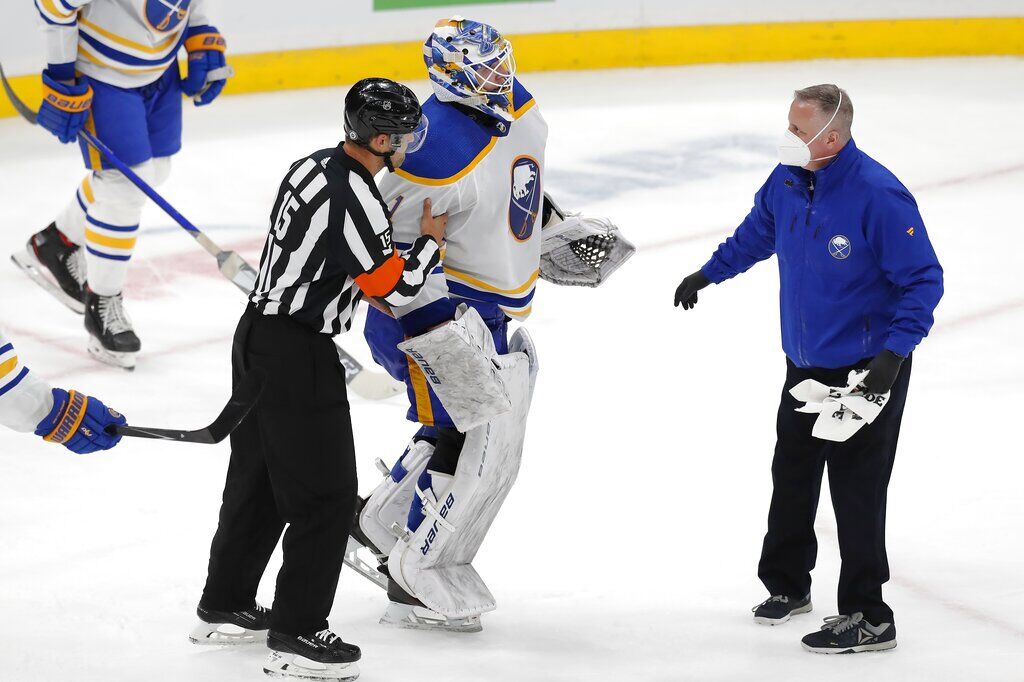 BOSTON – When players finally caught their breath following another fast-paced practice Friday afternoon in Warrior Ice Arena, Buffalo Sabres defenseman Henri Jokiharju skated over to Ukko-Pekka Luukkonen and playfully pushed the 22-year-old top goaltending prospect against the boards.
Rasmus Asplund soon joined in, repeatedly shoving Luukkonen as the group laughed at the conclusion of practice. Colin Miller, a 28-year-old defenseman, skated by with a grin and told his teammates to leave the netminder alone.
Luukkonen, tabbed a possible franchise goalie when he was drafted in the second round back in 2017, has endeared himself to teammates during his short time in the NHL. He has also provided fans with a glimpse at what the Sabres could have in net for years to come, showing pro-ready athleticism and rebound control.
The final games in a 10th consecutive non-playoff season were an opportunity to introduce Luukkonen to the rigors of the NHL and create a foundation for next season. The plan unraveled with his third consecutive start and fourth in a Sabres uniform.
Luukkonen suffered what sources say is an injury to his left ankle when a routine glide to the left post sent him crumpling to the ice in pain Saturday afternoon in TD Garden. He scrambled in the crease until time expired in the second period before leaving a game that ended with a 6-2 loss to the Boston Bruins.
"That's added on to the tough day," a somber interim coach Don Granato said afterward. "It was a tough day all around. That's obviously a big one, because this is a great opportunity for him to get some minutes and now that's in question. He battled tonight. Like I said, every now and then you have a tough day. Everybody had a really tough day today. His was the finish. But he battled extremely well up to that point, obviously."
According to Granato, the Sabres won't know the severity of Luukkonen's injury until the team returns to Buffalo. Luukkonen stood tall against a barrage of Bruins shots for 40 minutes, stopping 26 of 29 on net before the injury occurred.
Luukkonen, who is listed at 6-foot-4, 220 pounds, approached the moment with the proper technique. He glided to his left post while tracking the puck as the Bruins zipped tape-to-tape pass around the zone. When Luukkonen's torso leaned into the post, all his weight shifted to his left leg and he fell backward in pain. Rather than remaining on the ice, Luukkonen propped himself up to try to prevent the Bruins from scoring on a half-empty net. As time expired, he fell back down and needed to be helped off the ice.
This is the latest setback in a calamitous season for the Sabres, including in goal. They are one of only two NHL teams to use five goalies this season. Buffalo has not used six in a season since 2013-14.
Their top two options, Linus Ullmark and Carter Hutton, are unlikely to play another game this season.
Jonas Johansson, previously the team's No. 3, was traded to Colorado for a sixth-round draft pick. Injuries forced the Sabres to turn to Dustin Tokarski, a 31-year-old who prior to this season had not won an NHL game since Dec. 12, 2015. Tokarski stopped 11 of 14 shots in relief Saturday and owns a .904 save percentage in 13 games.
While Tokarski has been serviceable, the Sabres' future is Luukkonen. He had a .906 save percentage in four appearances, including 36 saves to earn a win over Boston in his NHL debut on April 23. Ullmark and Hutton are pending unrestricted free agents, although General Manager Kevyn Adams told reporters that signing Ullmark is a priority.
"It's tough, you know," Sabres defenseman Rasmus Dahlin said of Luukkonen's injury. "Especially how he played. He's been playing really well, he's got a bright future. It's never fun to see a goalie get injured."
Luukkonen faced 17 shots in the first period, two of which he did not stop. His teammates, meanwhile, had only four shots during that span and did not register their 10th until 30:38 into the game. Luukkonen could not do much to stop Craig Smith's easy tap-in, the first of his three goals, on a lapse in coverage by the Sabres at 1:21 into the game.
Luukkonen was unable to cover the puck on a sequence that led to Sean Kuraly's goal to make it 2-1 at 16:38 into the first. However, Luukkonen kept this a two-goal game through 40 minutes despite facing seven high-danger scoring chances at 5-on-5, according to NaturalStatTrick.com. The Bruins scored three goals after he exited the game.
"He works so hard and he's such a great a guy off the ice and he's been doing a great job," said Sabres center Riley Sheahan, who scored a shorthanded breakaway goal in the first period. "Yeah, it's tough seeing him go down. He's been playing great. Especially the timing, close to the end of the season. I hope he recovers quick."
The Sabres (13-32-7) have only four games remaining, capped by their season finale in Pittsburgh on May 8. This gives Luukkonen little time to recover in time to appear in another game for Buffalo, although the Rochester Americans' season does not end until May 16.
Long-term, the Sabres will want to ensure that Luukkonen has a healthy summer to train for training camp. In the short term, the team may need a goalie. Tokarski and Michael Houser, who has no NHL experience, are the only healthy options under contract, and the Sabres need at least three for puck drop Monday against the New York Islanders.
The Amerks' current goalies are both on professional tryouts – Steffanos Lekkas and Billy Christopolous – and had a combined .817 save percentage entering their game at Syracuse on Saturday night.
The Sabres will need a solution quickly because they have a back-to-back Monday and Tuesday, a scenario that could prevent Tokarski from starting both games. Meanwhile, Granato will need to correct all that went wrong Saturday when his players were outshot 43-19 and did little to help either goalie.
"Not good enough all over," said Granato. "They had a very simple put pucks to the net, put players to the net, create the traffic and (it was) obviously part of their game plan, they did it consistently. You could see it from anywhere. … But they played a real simple game and we struggled to simplify anything today."