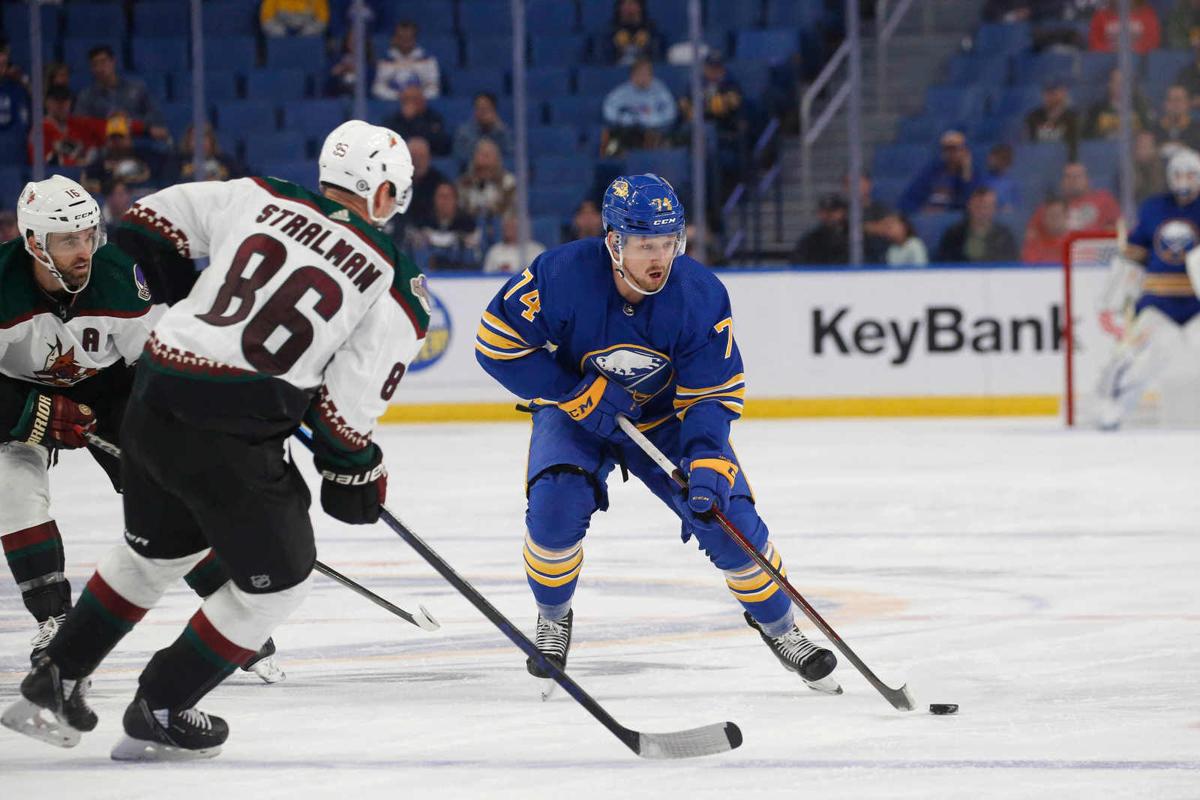 Rasmus Asplund was home in Sweden in July when, over the course of a week, General Manager Kevyn Adams reconstructed a Buffalo Sabres roster that finished last in the National Hockey League.
Asplund studied the additions, and the significant departures of former franchise cornerstones Sam Reinhart and Rasmus Ristolainen, to see if there was any vacant role that suited his talents. One immediately stood out to Asplund: net front on the power play.
"You just need opportunity and when you get it, you have to take it," Asplund, a 23-year-old winger, said in a matter-of-fact way.
This was Asplund's mentality long before he was drafted in the second round, 33rd overall, by the Sabres in 2016. When Asplund joined the Rochester Americans three years ago, he was willing to do whatever was asked of him and, along with Victor Olofsson, had to be pulled off the ice long after practice ended because he didn't want to stop working.
An assignment to the taxi squad in January 2020 didn't derail Asplund's development, either. He used the small-group practice sessions to prepare for the day when he would be needed on the Sabres' roster. When that time arrived, Asplund never relinquished his spot and he's now one of coach Don Granato's most trusted forwards.
In 11 games this season, Asplund has four goals and six assists for a team-high 10 points. His six-game point streak is the best of his young career and he's totaled eight points during that span. Asplund's 17:40 average ice time per game is also second among all Sabres forwards. He's scored at even strength, working net front on the power play and when shorthanded. His improvement is significant for a franchise in need of young, talented forwards who fit Adams' vision for the Sabres on the ice and in the dressing room.
"He has really matured as a player," Granato said. "He's taken, from the moment he came up in the NHL, his first game and just internalized everything. He's very, very engaged in his own progression and development. He's eyeing and seeing what he may be able to capitalize on as far as next opportunity. Power-play net front is a perfect example. If you ask him, he probably had that targeted. 'I'll be the guy that will pay the price to be at the front of the net.' Maybe observing that there's not somebody with that type of mentality or strong enough mentality. So, he is a very, very determined athlete and a very intelligent one."
Asplund didn't need anyone to remind him where he had offensive success late last season. Unprompted, he reminded reporters following practice Sunday that six of his seven goals in 28 games were close to the net. So, when Asplund realized after the roster changes that a spot on the power play could be obtained, he tasked his skills coach with running him through a number of net-front drills to practice screens.
Asplund's never been a perimeter player, though. He's always shown a willingness to get to the net and has the vision to get the puck to teammates when there's little space in the offensive zone. But some scouts questioned his upside offensively because of the low point production earlier in his career. Asplund never scored more than eight goals in the Swedish Hockey League and he had 13 in 108 games with the Amerks from 2018-20.
The stat sheet didn't tell the entire story. Asplund developed his game responsibly, first ensuring that he was reliable enough defensively to be considered for a role in the NHL. When a foundation away from the puck was in place, Asplund's play offensively began to take shape when Granato took over as interim coach in March.
Former Sabres coach Ralph Krueger didn't seem to view Asplund as anything other than a bottom-six, defensive-minded role player. Asplund wasn't even in the main practice group at the start of training camp in January 2020. Granato's preferred style of play unlocked Asplund's potential, as he totaled six goals and 10 points over the final 24 games after working his way up from the taxi squad.
"I think the one thing that hasn't been questioned about Aspy is he's hungry," said Sabres assistant coach Matt Ellis, who worked with Asplund on the taxi squad. "He's hungry to attack the game, he's hungry to attack practice. He's grateful for every opportunity that he's earned. He continues to go out there and earn things day to day and not take things for granted."
Asplund has at least one point in all but three games this season and, according to Evolving-Hockey.com, he ranks second among all Sabres in goals above replacement, a metric that measures a player's impact in all situations. He is performing above the two-year, $1.65 million contract he received in July.
Granato experimented with different personnel in every situation during his first training camp and with Ristolainen gone, someone needed to emerge as a net-front threat on the power play. Unlike Ristolainen and Reinhart gone, Asplund can execute low-high passes from behind the goal line, providing an important element that had been missing. On Saturday night against Detroit, it was Asplund who got the secondary assist on Rasmus Dahlin's power-play goal from the point.
Asplund isn't settling for what he's accomplished through the Sabres' 5-4-2 start to the season, either.
"I feel good, I feel confident," Asplund said. "Obviously, the points are getting in there, too, and I'm just trying to maintain that feeling and still be confident and still trying to develop and get better."
Winger Victor Olofsson (undisclosed injury) will miss a fourth consecutive game Monday and did not practice with the team before the Sabres left for Washington, D.C. He'll skate on his own and could be an option Friday night against Edmonton, Don Granato said.
Center Casey Mittelstadt (upper body) is also skating on his own, but there's no definitive timeline for his return. Mittelstadt, 22, is progressing and the intensity of his workouts will increase as the medical staff monitors how the injury is responding.
Goalie Craig Anderson didn't travel with the Sabres and remains day-to-day with an upper-body injury.